WDW
Équipe familiale pour des passionnées de Disney! ;) Nous n'acceptons pas d'autres membres pour cette équipe. Merci de votre compréhension jocegermain May 8
Disney Parks Wallpapers
Our suggestions, your personal city guide - Suggestme
Voyager avec l'iPhone: le guide complet à conserver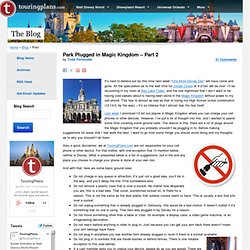 It's hard to believe but by this time next week "One More Disney Day" will have come and gone. All the speculation as to the wait time for Jungle Cruise at 4:27am will be over. I'll be recovering in my room at Bay Lake Tower, and the one nightmare that I don't want to be having cold sweats about is having been alone in the Magic Kingdom without power to my cell phone. This fear is almost as bad as that of losing my High School locker combination (12-14-0, by the way) – it's so intense that I almost fear the fear itself. Last week I promised I'd list out places in Magic Kingdom where you can charge your cell phones or other devices. However, I've put a lot of thought into this, and I wanted to spend some time covering some ground rules.
Park Plugged in Magic Kingdom – Part 2
Les applications indispensables pour voyager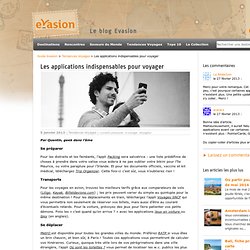 Par Quentin, geek dans l'âme Se préparer Pour les distraits et les fainéants, l'appli Packing sera salvatrice : une liste prédéfinie de choses à prendre dans votre valise vous aidera à ne pas oublier votre bikini pour l'île Maurice, ou votre parapluie pour l'Irlande. Et pour les documents officiels, vaccins et kit médical, téléchargez Trip Organizer. Cette fois-ci c'est sûr, vous n'oublierez rien ! Transports
Toutes les promotions en cours | WDWorld.com
Disney : If you lead, the rest will
Walt Disney World: Destination WDW
Description The official Walt Disney World® app! Now it's easier than ever to plan and share your vacation details—at home and on the go. •Quickly access real-time wait times, park hours, Character greetings, parade showtimes and more.
My Disney Experience – Walt Disney World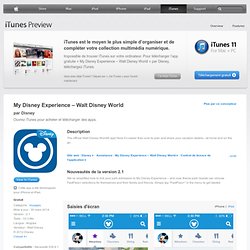 letterhead
Holiday planner interactive: where to go in 2013 | Travel
Free Internet access now available at Epcot
Epcot is the next theme park to receive free wifi after the launch of complimentary Wi-Fi at the Magic Kingdom earlier this month. Guests will need to join the WiFi called 'Disney-Guest' and accept the terms of conditions to connect their devices. The free WiFi is part of the "NextGen" project that's using technology to improve guest experiences. Free WiFi will be rolled out to all theme parks and Downtown Disney during the next few months. About Author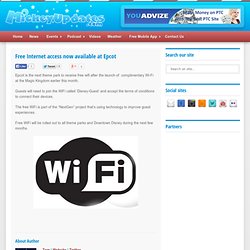 Service de transport Disney
Welcome to the Disney Food Blog. If you enjoy this post, you should check out the tour of the site to see all the great Disney Food information we have. We've packed tons of great Disney Dining info into our The DFB Guide to Walt Disney World® Dining 2013! Today, let's check out another great tip from the Guide! Refillable Mugs
Tip from the DFB Guide: Are Disney Refillable Mugs Worth the Cost?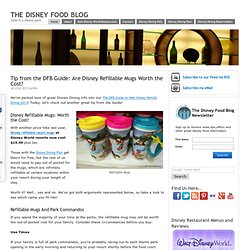 Visiteurs avec incapacité
En transit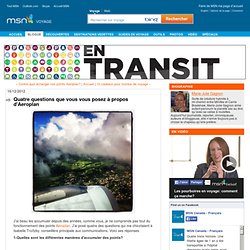 J'ai beau les accumuler depuis des années, comme vous, je ne comprends pas tout du fonctionnement des points Aeroplan. J'ai posé quatre des questions qui me chicotaient à Isabelle Troïtzky, conseillère principale aux communications. Voici ses réponses. 1-Quelles sont les différentes manières d'accumuler des points? 2- Pourquoi y a-t-il des restrictions et des variations du nombre de points exigé pour se procurer un billet d'avion?