WAVE the theory of everything !
All about waves from ripples in water to brain waves and quantum waves . And their relationships and comonalities . mirlen101 Nov 23
[S | t | ★★★★] keywords: simple harmonic motion, periodic motion, quantum revival, aliasing What it shows: Fifteen uncoupled simple pendulums of monotonically increasing lengths dance together to produce visual traveling waves, standing waves, beating, and random motion. One might call this kinetic art and the choreography of the dance of the pendulums is stunning!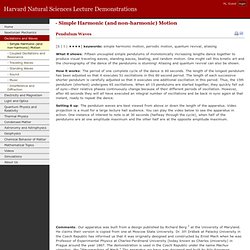 PHYS 101/102 #1: Electromagnetic Waves
The Electromagnetic Spectrum
Making Waves
How Bacteria Could Generate Radio waves
Sounds like a "modified" theory of everything coming up - we are all radios! We tune in at birth to the transmissions of the Universe and emote them. All is one; and we get a sense of participation by having a Mind. No wonder all the invented media is so naturally attractive when Life has been doing this all along. by pauljacobson May 1
Ya I remember seeing a video about those fractal antenas. Radio waves from bacteria may sound far fetched but everything emits electromagnetic waves because they are made up of charged particles . So there is no dought about the waves emitted . The question would be if these waves are minipulated or used by the bacteria .I'm sure that the structures of such biologicals evolved along the lines of electromagnetic wave forms . by mirlen101 Apr 30
The RF chips in mobiles now use nano-design to get a rather long antenna folded up neatly as a fractal. by pauljacobson Apr 30