Wares Leaks
BitMate - BitTorrent for the Less Privileged - Dritte
BitTorrent is a hugely popular peer-to-peer file sharing system. In countries where broadband Internet is widespread, BitTorrent accounts for as much as 70% of the overall Internet traffic. In contrast, in developing countries, BitTorrent is almost unusable on the typically low bandwidth dialup connections and accounts for less than 10% of the overall traffic. BitMate is designed to enhance the performance of hosts with low-bandwidth connections. Importantly, BitMate enhances the performance of low-bandwidth nodes without cheating, circumventing the fairness policy of BitTorrent or adversely affecting the performance of other peers. BitMate outperforms vanilla BitTorrent by as much as 70% in download performance, while at the same time improving upload contribution by as much as 1000%!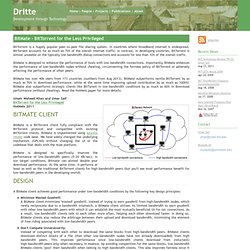 Warez.ag Downloads - Download Free Software, Movies, Games, TV Episodes, Music, eBooks, Mobile stuff from RapidShare, Hotfile, Megaupload, FileServe, FileSonic and more.
Windows 8 BluePoison è un tool multi-funzione sviluppato dal team di Windows Blog Italia . Forte di una splendida interfaccia rigorosamente in Metro-Design , leggera e intuitiva, grazie a Windows 8 BluePoison è possibile: Scaricare l'ultima build di Windows 8 e Office 15, e consultare le guide all'installazione.
Windows 8, Windows Phone 7, Office 15: Windows 8 BluePoison official download page: Windows 8 downloader / sbloccare tutte le funzioni nascoste di Windows 8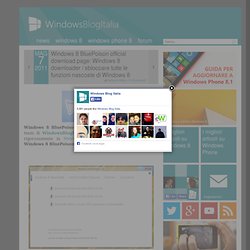 Download Windows 8 Leaked Build 7850 [Download] | Vodeblog
Software - BlackHat Warez
View forum - Optimization
Profiles Updated with Build Signatures, Recent Posts and more We've enhanced the site's User Profiles to include a few new sections: Build Signatures, Recent... OS X 10.8.3 and NVIDIA 6xx OpenCL Benchmarks With the release of OS X 10.8.3, users have noticed a significant decrease in OpenCL benchmark...