Photographes
Sometimes when she's taking pictures, Sonia Soberats forgets she cannot see.
Visions of a Blind Photographer
Today's New York Times front page, showing Silva's photograph A war photographer who was severely injured by a landmine in Afghanistan has returned to the front page today (28 July) with a picture in the New York Times. The image accompanies an inside-page story about the closure of the Walter Reed Medical Centre in Washington, where Portuguese-born Joao Silva has been recovering from his injuries for seven months. Silva was working for the New York Times, embedded with the US military in Kandahar Province, when he stepped on the mine on 23 October last year, losing both his legs below the knee.
Injured war photographer returns to front page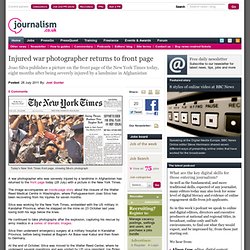 La photographe Sarah Caron, témoin d'un monde fébrile - culture-match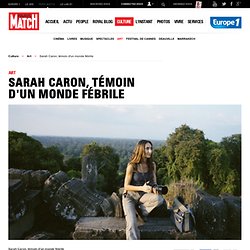 C'est une timide à sang-froid.
thomas haley - takeoff
Home | Olivier Laban-Mattei
The War in Hipstamatic - An FP Photo Essay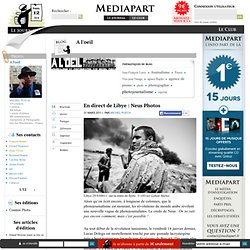 Alors qu'on écrit encore, à longueur de colonnes, que le photojournalisme est mourant, les révolutions du monde arabe révèlent une nouvelle vague de photojournalistes. Le credo de Neus : On ne sait pas encore comment, mais c'est possible ! Au tout début de la révolution tunisienne, le vendredi 14 janvier dernier, Lucas Dolega est mortellement touché par une grenade lacrymogène tirée à bout portant par les policiers du régime de Ben Ali. Dix jours plus tard, au cimetière du Père Lachaise où on l'enterre, dans la foule présente, il y a peu de « vieux », et beaucoup de jeunes photographes.
En direct de Libye : Neus Photos