Strategies
Just Read Now!
Many students, when they encounter a new word, tend to write it down in their notebook, together with a translation in their native language. They think that by doing so, they have "learned" the word. Not that simple! You can only say you have "learned" a word when you: know what it means know how to say it know how to spell it know when and when not to use it know the grammar of the word (e.g. which word must follow it)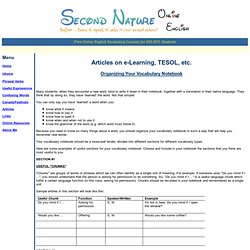 Article - Organizing Your Vocabulary Notebook
Homepage
Building Vocabulary
Teaching Academic Language and Vocabulary Across the Curriculum provides practices for teaching academic language and vocabulary that are useful in many contexts across the curriculum. Students need to be able to understand the teacher's explanations, discuss what is being learned, read for different purposes, and write about their learning. We call this type of language academic language, the language that is used by teachers and students for the purpose of acquiring new learning and skills. The emphasis on academic language increases each year from the time children enter school to their progression to higher grades. Vocabulary knowledge is directly related to content knowledge. Stahl and Fairbanks (1986) found that vocabulary instruction directly improves comprehension.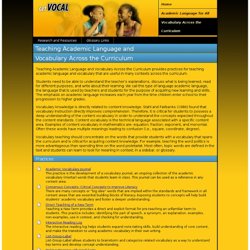 Teaching Academic Language and Vocabulary Across the Curriculum
Graphic organizers help students to visualize the relationships between words and their possible meanings. Teachers can use these graphic organizers with their explicit vocabulary instruction. These tools may also be used as classroom assessment for learning because they give teachers a quick look at students' vocabulary knowledge. A variety of samples have been provided.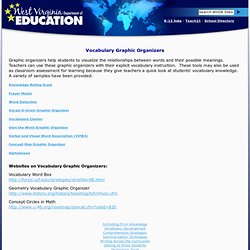 Nine things every teacher should know about words and vocabulary instruction Nine things every teacher should know about words and vocabulary instruction [pdf]
345VocabularyStrategiesK-12