Augmented Reality
ARToolKit Download
Source ARToolKit latest version on SourceForge.
Human Interface Technology Laboratory
Forum :: Index
SSTT visualizer is a viewer application for 3D models enabled with Augmented Reality. It demonstrates the capabilities of the SSTT library. SSTT visualizer augments rectangular symbols in the environment and can be used for a variety of application areas ranging from engineering to medical visualization where 3D prototypes need to be presented within the real environment.
SSTT Visualizer Augmented Reality Demo | technotecture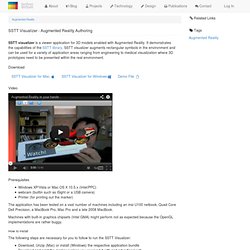 Augmented Reality in Education | Educational Applications of AR
*drawlogic - web, game and interactive development with flash, flex, silverlight, unity 3d, torque 3d, canvas - actionscript, c#, javascript, mono, python