Augmented Reality
ARToolKit Download
Source ARToolKit latest version on SourceForge. In order to run applications with the ARToolKit Library you will have to have the following: OpenGL DriverThe GLUT library which can be downloaded from here.Microsoft's DirectShow runtime available from here or the main Direct X page. Older ARToolKit versions: ARToolKit 2.65 Software, zip format [2.4 mb] Using the expanded video capture libraries developed by Thomas Pintaric
Human Interface Technology Laboratory
Forum :: Index
SSTT visualizer is a viewer application for 3D models enabled with Augmented Reality. It demonstrates the capabilities of the SSTT library. SSTT visualizer augments rectangular symbols in the environment and can be used for a variety of application areas ranging from engineering to medical visualization where 3D prototypes need to be presented within the real environment.
SSTT Visualizer Augmented Reality Demo | technotecture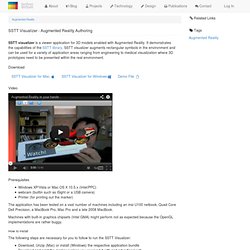 Augmented Reality in Education | Educational Applications of AR
Three years have passed since GE astonished us with their Smart Grid flash based AR commercial. Since then, AR has been slowly being embraced as mainstream technology and was deployed on various devices and platforms. During the GE campaign, we saw the release of first Web based AR implementation – FlartoolKit (ArtToolKit AR libraries for Flash). Three years later, there are several Web AR implementations. In2AR recently released Flash based AR SDK, and SLARToolkit was developed for the Microsoft Sliverlight platform. One problem many novice users come across is the creation of 3D models for their AR projects.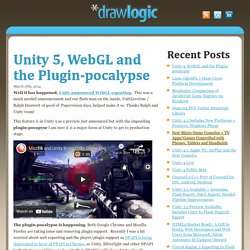 *drawlogic - web, game and interactive development with flash, flex, silverlight, unity 3d, torque 3d, canvas - actionscript, c#, javascript, mono, python
Unity 3.5 was released and is a game changer even for Unity, download it now !. There are so many great new features that have already made development faster and cool features to help bring your games to Flash from Unity ! Workflow Improvements Since I have been using Unity fulltime pretty much on games like SupaSupaCross for SupaSupa Games (pick up a copy at Apple , Amazon or Google for your devices!) and Kimi Raikkonnen IceOne Racing for 24mas while at Impossible Interactive from my * drawlabs game studio , Unity has addressed some major trouble points when doing a full scale multiplatform rollout to mobile (iOS + Android), web and desktop.