DesignFactors
Living Large in a 130-Square-Foot Apartment | Wired Design. With dense urban centers and housing that was built hundreds of years ago, Europeans have long known how to make their tiny spaces feel triumphant.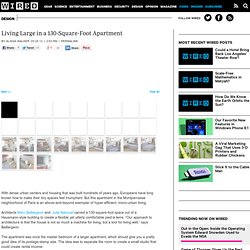 But this apartment in the Montparnasse neighborhood of Paris is an above-and-beyond exemplar of hyper-efficient, micro-urban living. Architects Marc Baillargeon and Julie Nabucet carved a 130-square-foot space out of a Hausmann-style building to create a flexible yet utterly comfortable pied-à-terre. "Our approach to architecture is that the house is not so much a machine for living, but a tool for living well," says Baillargeon. The apartment was once the master bedroom of a larger apartment, which should give you a pretty good idea of its postage-stamp size. The idea was to separate the room to create a small studio that could create rental income. Chinese Graphic Design from the 1920's and 1930's. Nowadays it's hard to imagine a time when graphic design didn't involve sitting in front of a computer screen.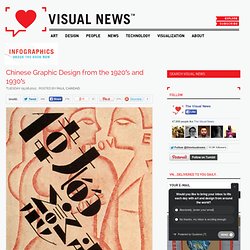 Perhaps that's why it is so intriguing to look through this collection of vintage Chinese graphic designs from the 1920′s and 1930′s. The illustrations come from the book Chinese Graphic Design in the Twentieth Century by Scott Minick and Jiao Ping. Lu Xun, who introduced modern woodblock techniques to China, influenced many of the design artists at the time. See Also IN THE HEIGHT OF THE DEPRESSION: VANITY FAIR MAGAZINE According to 50 Watts, "Lu Xun taught many Western techniques [and] he always encouraged designers to seek inspiration in Chinese design history."
100 Ideas That Changed Graphic Design. By Maria Popova From visual puns to the grid, or what Edward Tufte has to do with the invention of the fine print.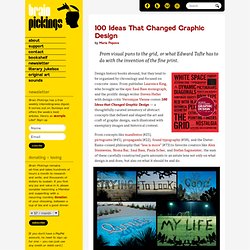 Design history books abound, but they tend to be organized by chronology and focused on concrete -isms. The Graff Ametis rain shower system is sleek, filled with LED lights, and sure to impress. Flash Dock — helpful photographic accessory or not-so-useful smartphone holder? IKEA introduces a clutter-free entertainment system: HDTV, media player included. You'd think that in the second decade of the 21st century, cords, wires, and antennas would be rendered obsolete.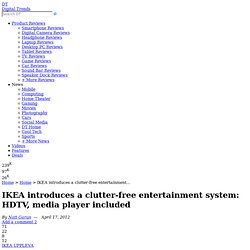 While we're still on our way to a completely wireless lifestyle, IKEA has come up with an immediate solution to our hatred for cables with the UPPLEVA entertainment system that can discreetly hide your wires so you can enjoy a sleek and clutter-free room. The UPPLEVA system contains a smart TV that has all the outlets, USB, and HDMI slots along the sides, so it maintains a thin exterior.
All the cable wires can be stored in the back of the television stand to keep them out of sight. And a universal remote control will be able to access all of these devices, sending sensor through the doors so you can keep everything looking minimal. Here's how one designer reimagined the Pringles chips packaging.
Dyson DC39 is a Topple-Free Vacuum From the Future. Dyson, the company that makes all those expensive and attractive vacuums and fans, has done it again.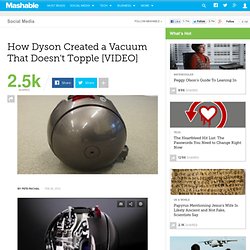 That is, it's rolled out another vacuum cleaner you might not buy but sucks up dirt in novel ways. The Dyson DC39, unveiled today, looks similar to the company's previous compact cylinder vacuums, but it's actually quite different. The DC39 reinvents the Dyson Ball design that's in some of Dyson's stand-up models and modifies it for the small form factor of a canister vacuum. Charles Eames on Design: Rare Q&A from 1972. By Maria Popova A lucid reflection on the role and culture of design by one of the most iconic and influential designers of all time.
Legendary design duo Charles and Ray Eames shaped the mid-century modern aesthetic and influenced the voice of design for decades to come. Paul Rand on The Role of the Imagination. By Maria Popova Paul Rand (1914-1996) — design legend, professional curmudgeon, uncompromising businessman.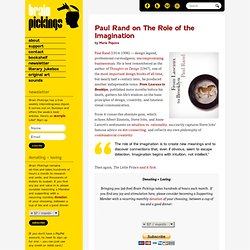 He is best remembered as the author of Thoughts on Design (1947), one of the most important design books of all time, but nearly half a century later, he produced another indispensable tome: From Lascaux to Brooklyn, published mere months before his death, gathers his life's wisdom on the basic principles of design, creativity, and timeless visual communication. From it comes this absolute gem, which echoes Albert Einstein, Steve Jobs, and Anne Lamott's sentiments on intuition vs. rationality, succinctly captures Steve Jobs' famous advice on dot-connecting, and reflects my own philosophy of combinatorial creativity: The role of the imagination is to create new meanings and to discover connections that, even if obvious, seem to escape detection.
Imagination begins with intuition, not intellect." Dyson DC39 is a Topple-Free Vacuum From the Future. If contemporary standards of beauty and the beauty. Dorothy | Song Map Signed Limited Edition. H60 x W80cm A road map made up of 390 song titles: from Highway to Hell to Penny Lane, Itchycoo Park to Heartbreak Hotel.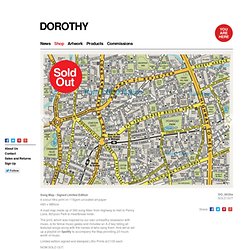 The print, which was inspired by our own unhealthy obsession with music, is for fellow music geeks and includes an A-Z key listing all featured songs along with the names of who sang them. Every Designer Should Start With Paper, Not Photoshop. Designers come from every background imaginable.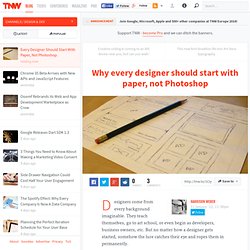 They teach themselves, go to art school, or even begin as developers, business owners, etc. But no matter how a designer gets started, somehow the lure catches their eye and ropes them in permanently. If you're hooked, there's typically no going back. Advice to Sink in Slowly: Designers Share Wisdom with First-Year Students in Poster Series. By Maria Popova Unpacking the secrets of happiness and creativity one poster at a time.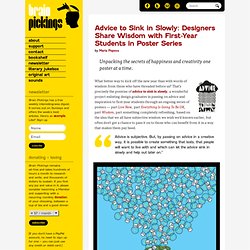 What better way to kick off the new year than with words of wisdom from those who have threaded before us? That's precisely the premise of advice to sink in slowly, a wonderful project enlisting design graduates in passing on advice and inspiration to first-year students through an ongoing series of posters — part Live Now, part Everything Is Going To Be OK, part Wisdom, part something completely refreshing, based on the idea that we all have subjective wisdom we wish we'd known earlier, but often don't get a chance to pass it on to those who can benefit from it in a way that makes them pay heed. Advice is subjective. But, by passing on advice in a creative way, it is possible to create something that lasts, that people will want to live with and which can let the advice sink in slowly and help out later on."
A Giant Statue of Confucius by Zhang Huan. Arab Art in the Age of Revolution. For many Arabs, 2011 has been spent peacefully resisting police brutality, or watching events unfold through Twitter streams and grainy YouTube footage. As the Arab Spring enters its second year, the initial shock has begun to die down, and Arab artists have begun to reflect on the incidents of the past year. Memories will perhaps consist of YouTube clips of shaky mobile phone footage, strung together over the nostalgic music. From the jubilant panoramic view of millions of people in Tahrir Square in early February to more recent images of brutality in Egypt, Yemen and Syria, scenes that have been burnt into our minds over the past year will undoubtedly feed into the cultural and artistic expressions of the new generation of Arab artists. In a photo-essay for the National Portrait Gallery, Malu Halasa reflects on the 2011 Arab revolutions and what it means for contemporary Arab photography, documentary and art.
Making of Streamschool. A little girl has an adventure with water as she travels from a small brook to the sea. A tale of growing up based on a Hungarian poem. Streamschool was my graduation film in BA Animation at Moholy- Nagy University of Arts and Design. I chose the poem from a Hungarian contemporary poet called Zsolt Miklya to make a short film for children. From Frida Kahlo to Freud, Finger Puppets of Cultural Icons. By Maria Popova Unibrows for fingers, or what Einstein's 'do has to do with silent film and the Cuban Revolution. A little over a year ago, I came across a line of literary action figures that quickly became a reader favorite. (Let's face it, the Brontë Sisters power dolls render one powerless to resist.) Now comes a series of finger-puppets-slash-magnets from the folks at Philosophers Guild, depicting cultural icons across the arts (Warhol, Van Gogh), science (Einstein, Freud), politics (Gandhi, Che Guevara) and beyond.
Ranging from the delightful (Come on, it's Frida Kahlo. Asia Today: Chinese Fashion Designers Enter Online Luxury Market; Take Prada and Gucci to Task. Design Lessons From India's Poorest Neighborhoods. "Jugaad" is a Hindi term referring to the ingenuity of citizens living in resource-constrained environments, a concept from which New Yorkers might derive some enlightenment. Enter Jugaad Urbanism: Resourceful Strategies for Indian Cities, an exhibition created with the help of curator Kanu Agrawal that opens at New York's Center for Architecture next week. The exhibition is "design by the people, for the people, of Delhi, Mumbai, Ahmedabad, and Pune," says Agrawal, and showcases everyday innovations of slum-dwelling residents and the designers and architects who work around them.
Agrawal, a Delhi native, studied at New Delhi's School of Planning and Architecture and worked with the acclaimed Achyut P. Kanvinde, and later completed his Master's in Environmental Design from the Yale School of Architecture. Kanvinde was one of the first to bring modern design to India. The future of User Interfaces. 3.5 Inches - Dustin Curtis. I've been wondering why Apple chose to make the iPhone 4's screen 3.5-inches when other comparable phones with Android and Windows Phone 7 have larger, more inviting screens.
When you first see a phone with a 4-inch or larger screen, it seems like a much better experience. I thought it was a technical decision, and it could be, but since switching to an Android phone – a Samsung Galaxy S II, the "best Android phone you can buy, anywhere" – 15 days ago, I have realized another huge downside of larger screens: when holding the phone with one hand, I can't reach the other side of the screen with my thumb.
Touching the upper right corner of the screen on the Galaxy S II using one hand, with its 4.27-inch screen, while you're walking down the street looking at Google Maps, is extremely difficult and frustrating.
---