Visual Thinking Software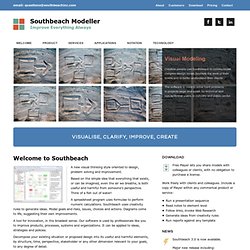 A new visual thinking style oriented to design, problem solving and improvement. Based on the simple idea that everything that exists, or can be imagined, even the air we breathe, is both useful and harmful from someone's perspective. Think of a fish out of water! A spreadsheet program uses formulae to perform numeric calculations.
Southbeach Notation - Improve Everything Always
An example method for developing Southbeach Notation Models
Whilst Southbeach Notation itself does not impose any methodology, it is sometimes useful to see how other people have been using it. This example is one way of assessing a situation, brainstorming improvement options, and establishing action plans involving the need to consult large numbers of people. It includes a very simple Southbeach model of a manufacturing firm by way of illustration. Several iterations of the model are shown to demonstrate how a model may be built up through structured questioning.