New ways to pay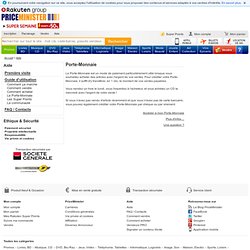 Le Porte-Monnaie est un mode de paiement particulièrement utile lorsque vous souhaitez acheter des articles avec l'argent de vos ventes. Pour créditer votre Porte-Monnaie, il suffit d'y transférer, en 1 clic, le montant de vos ventes payables. Vous vendez un livre le lundi, vous l'expédiez à l'acheteur, et vous achetez un CD le mercredi avec l'argent de votre vente !
Porte-monnaie PriceMinister
Dépenser Ukash est facile - Ukash
Hub Culture
Hub Culture is an invitation-led social network service that operates the global digital currency Ven , and according to its website, is "the first to merge online and physical world environments." [ 2 ] It was founded in November 2002. The Hub Culture group of companies is privately held with offices in Bermuda, Geneva, Hong Kong, London, San Francisco and Singapore. Dedicated representatives are in over 60 locations worldwide. The site has been noted in the Wall Street Journal , CNNMoney.com, New York Times , TechCrunch , Wired , Forbes , Bloomberg , PSFK, Huffington Post , Harvard Business Review, Trendhunting, GDR, and other trend and financial news related websites.
Hub Culture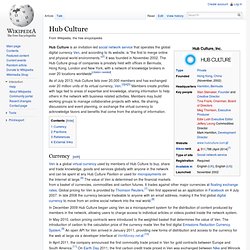 Ven is the global, virtual, social currency from Hub Culture
Givey
Buy digital goods with your mobile – easy, safe mobile payments | Zong
Twitpay
The Future of Money: It's Flexible, Frictionless and (Almost) Free | Magazine
Two months after PayPal opened its platform, 15,000 developers had used it to create new payment services. Illustration: Heads of State have spent 50 years building a proprietary, locked-down system that handles roughly $2 trillion in credit card transactions and another $1.3 trillion in debit card transactions every year. Until recently, vendors had little choice but to participate in this system, even though — like a medieval toll road — it is long and bumpy and full of intermediaries eager to take their cut.