Virtual Currency
The Software Ontology - homepage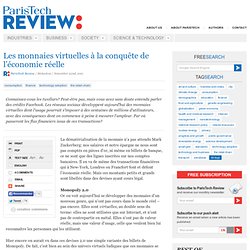 La dématérialisation de la monnaie n'a pas attendu Mark Zuckerberg: nos salaires et notre épargne ne nous sont pas comptés en pièces d'or, ni même en billets de banque, ce ne sont que des lignes inscrites sur nos comptes bancaires. Il en va de même des transactions financières qui à New-York, Londres ou Francfort font et défont l'économie réelle. Mais ces montants petits et grands sont libellés dans des devises ayant cours légal. Monopoly 2.0 Or on voit aujourd'hui se développer des monnaies d'un nouveau genre, qui n'ont pas cours dans le monde réel – pas encore. Elles sont virtuelles, au double sens du terme: elles ne sont utilisées que sur Internet, et n'ont pas de contrepartie en métal.
Les monnaies virtuelles à la conquête de l'économie réelle | ParisTech Review
Research links | Virtual Economy Research Network
First Meta
Boomerang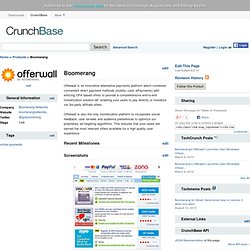 Offerwall is an innovative alternative payments platform which combines convenient direct payment methods (mobile, card, ePayments) with enticing CPA based offers to provide a comprehensive end-to-end monetization solution – enabling your users to pay directly or monetize via 3rd party affiliate offers. Offerwall is also the only monetization platform to incorporate social feedback, user reviews and audience preferences to optimize our proprietary ad targeting algorithms. This ensures that your users are served the most relevant offers available for a high quality user experience. Recent Milestones Screenshots Above: Boomerang Screenshot -- #1Uploaded: 3/8/10
gWallet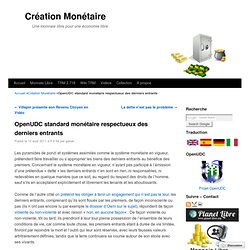 Les pyramides de ponzi et systèmes assimilés comme le système monétaire en vigueur, prétendent faire travailler ou s'approprier les biens des derniers entrants au bénéfice des premiers. Concernant le système monétaire en vigueur, n'ayant pas participé à l'émission d'une prétendue « dette » les derniers entrants n'en sont en rien, ni responsables, ni redevables en quelque manière que ce soit, au regard du respect des droits de l'homme, sauf s'ils en acceptaient explicitement et librement les tenants et les aboutissants. Comme de l'autre côté on prétend les obliger à tenir un engagement qui n'est pas le leur, les derniers entrants, comprenant qu'ils sont floués par les premiers, de façon inconsciente ou pas (ils n'ont pas encore lu par exemple le dossier d'Owni sur le sujet), répondent de façon violente ou non-violente et avec raison « non, en aucune façon« .
OpenUDC standard monétaire respectueux des derniers entrants
Virtual Currency Experts