Virtual Communities, Social Media & Virtual Worlds
Big Data Tools. Play games, make friends, make stuff. - Whirled. Capital - Nottingham's Number 1 Hit Music Station. Watch TV Shows Online _ Watch Online Free - MOPvideo! Dmoton. CAUTION!! Boundary Work Ahead for Internet Studies. This past October, Mary was one of the plenary speakers at the Association of Internet Researchers IR13.0.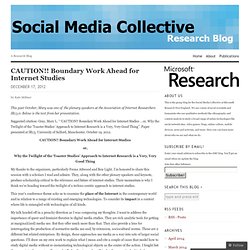 Below is the text from her presentation. Suggested citation: Gray, Mary L. " 'CAUTION!! Personal Learning Environments. 6 Possible Roles For Teachers In A Personalized Learning Environment. By Justin Marquis, Ph.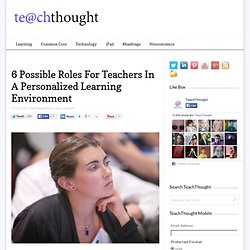 D There is a mountain of speculation and debate about what school and learning will look like in the near future. Will education be online? Individualized? Self-paced? Spicynodes : Home. Toyota Prius C. Toyota began adding different-sized cars to the Prius family last year, and the C is the second new model after the V.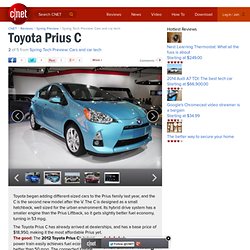 The C is designed as a small hatchback, well sized for the urban environment. Its hybrid drive system has a smaller engine than the Prius Liftback, so it gets slightly better fuel economy, turning in 53 mpg. Subaru BRZ - Spring Tech Preview: Cars and car tech. Philippines dating, Filipina Dating, Filipina Singles, Filipina Brides & Filipino Women, Asian Chat Dating at Cebuanas.com. Photos Odette ODE8831, , Philippines | Asian-ladies-for-marriage - Мозилин фајерфокс (Mozilla Firefox) Photos Ros ROS3323, , Philippines | Asian-women-for-marriage - Мозилин фајерфокс (Mozilla Firefox) Member3566664 from Dnipropetrovsk, Ukraine - Мозилин фајерфокс (Mozilla Firefox) COLLABORATION.
Download. SideVibe. Šta sve liječi najljekovitija biljka - Nekretnine i vrt. VestiOnline - 01.04.2012 07:02 Svi svoga konja hvale, a travari će među najbolje uvijek uvrstiti i žalfija.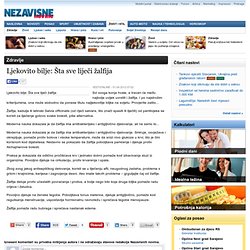 I po najstrožim kriterijumima, ona može slobodno da ponese titulu najljekovitije biljke na svijetu. Suosnivač Twitter-a poručio korisnicima: Višesatno tvitanje je nezdravo. Socialtext. Sherry Turkle - Interviews and Profiles. Sherry Turkle received her Bachelors of Arts summa cum laude in Social Studies from Harvard University and her Ph.D. in Sociology and Personality Psychology from Harvard University.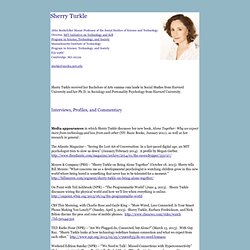 Media appearances in which Sherry Turkle discusses her new book, Alone Together: Why we expect more from technology and less from each other (NY: Basic Books, January 2011), as well as her research in general : The Atlantic Magazine – "Saving the Lost Art of Conversation: In a fast-paced digital age, an MIT psychologist tries to slow us down" (January/February 2014). A profile by Megan Garber. An Introduction to Networks in the Global Village.
NetLab is an interdisciplinary scholarly network studying the intersection of social networks, communication networks, and computer networks.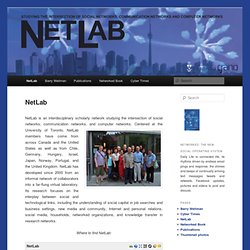 Centered at the University of Toronto, NetLab members have come from across Canada and the United States as well as from Chile, Germany, Hungary, Israel, Japan, Norway, Portugal, and the United Kingdom. NetLab has developed since 2000 from an informal network of collaborators into a far-flung virtual laboratory. Its research focuses on the interplay between social and technological links, including the understanding of social capital in job searches and business settings, new media and community, Internet and personal relations, social media, households, networked organizations, and knowledge transfer in research networks.
Online Education - Coursera. Education, pedagogy, & edtech. UC Berkeley Open Courses. University of California, Berkeley offers free lectures on a huge number of subjects.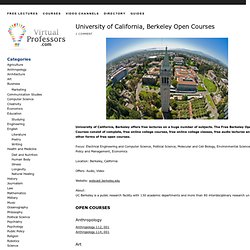 The Free Berkeley Open Courses consist of complete, free online college courses, free online college classes, free audio lectures and other forms of free open courses. Focus: Electrical Engineering and Computer Science, Political Science, Molecular and Cell Biology, Environmental Science, Policy and Management, Economics. Scott Klemmer · Stanford HCI Group. Design examples can powerfully illustrate concepts and alternatives.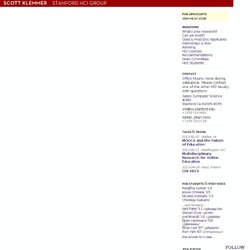 Online media offer examples at phenomenal scale and diversity. How can we leverage them? My group's research tools harvest and synthesize examples to empower more people to design, program, learn, and create. As a foundation, we study the social and psychological ingredients of design excellence. Engelbart: Augmenting Human Intellect (1962) These hypotheses imply great richness in the new evolutionary spaces opened by progressing from Stage 3 to Stage 4.
We would like to study the hypotheses further, examining their possible manifestations in our experience, ways of demonstrating their validity, and possible deductions relative to going to Stage 4. In search of some simple ways to determine what the Neo-Whorfian hypothesis might imply, we could imagine some relatively straightforward means of increasing our external symbol-manipulation capability and try to picture the consequent changes that could evolve in our language and methods of thinking.
Actually, it turned out to be simpler to invert the problem and consider a change that would reduce our capability for external symbol manipulation. This allowed an empirical approach which proved both simple and effective. Jan05_01. Editor's Note: This is a milestone article that deserves careful study.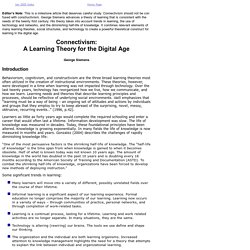 Connectivism should not be con fused with constructivism. George Siemens advances a theory of learning that is consistent with the needs of the twenty first century. His theory takes into account trends in learning, the use of technology and networks, and the diminishing half-life of knowledge. It combines relevant elements of many learning theories, social structures, and technology to create a powerful theoretical construct for learning in the digital age. Dangers of social groupthink: A case study in Enterprise 2.0, Social CRM and Social Business. For sure, there's a lot of Goodness in social media—in our personal lives and business.
But also a lot of issues to be worked out. That's why two years ago I established a Social Business category on CustomerThink, and last year launched SocialBusinessOne, a community dedicated to the topic. One of the downsides of social media is that it can accelerate getting locked into a point of view. The Power of Crowd and Place: A Conversation with Jeff Kirchick from SCVNGR. Jeff Kirchick is the Universities and Schools Specialist for SCVNGR, a gaming platform about doing challenges at places. I first met Jeff at the CASE Social Media Conference in San Francisco where he was organizing a "trek" for the conference. It was the most fun I'd had participating in extra-curricular activities at a conference. I asked Jeff to talk a little about how SCVNGR uses the power of "the crowd and place." What is SCVNGR? How to Adopt a Social Media Lifestyle. While most small business owners are starting to realize that social media is a necessary part of any marketing strategy, as a social media coach, the question I get most often is how to add social media to a day that is already way too full.
For those of us working as solopreneurs or small business owners, it may, at times, feel like we are working virtually around the clock so when are we really supposed to tweet, post or blog? I'll admit creating a social media plan that will stick is like starting an exercise program. You just have to take that leap and do it. Hrheingold: How I use Twitter, search, Diigo Delicious, DEVONthink, Scrivener to find, refine, organize information -->knowledge. Howard Rheingold interviews Pierre Lévy on collective intelligence | Howard rheingold's | tools for thought. Mindful Infotention: Dashboards, Radars, Filters | City Brights: Howard Rheingold.
Infotention is a word I came up with to describe the psycho-social-techno skill/tools we all need to find our way online today, a mind-machine combination of brain-powered attention skills with computer-powered information filters. The inside and outside of infotention work best together: Honing the mental ability to deploy the form of attention appropriate for each moment is an essential internal skill for people who want to find, direct, and manage streams of relevant information by using online media knowledgeably.Knowing how to put together intelligence dashboards, news radars, and information filters from online tools like persistent search and RSS is the external technical component of information literacy.
Knowing what to pay attention to is a cognitive skill that steers and focuses the technical knowledge of how to find information worth your attention. Twitter Literacy (I refuse to make up a Twittery name for it) | City Brights: Howard Rheingold. U. Why Schools Need to Get Social, Local and Mobile. As We May Think - Magazine. Could Twitter Help Us Create Smarter Transit? We, the Web Kids - Alexis Madrigal - Technology. Mamuna social media reviews. Webcast.berkeley | UC Berkeley Video and Podcasts for Courses & Events.
Infotention Filters - What combination of mental and online tools can deal with information overload? Society for New Communications Research. Methodspace - Research Methods community. Amber Case: We are all cyborgs now. Model Thinking.
Ubuntu Start Page. Scott E Page - University of Michigan. When people become brands and brands become people: an interview with Brian Solis (part 2) – The Bazaarvoice Social Commerce Blog. Omeka- web hosting. What Is An Online Community? The Virtual Community and User Experience. Critical to Restoring Voter Confidence by Christopher Tillman Neal.
---