Vintage
www.speedtracktales.co.uk
The Art of Vintage Leather Jackets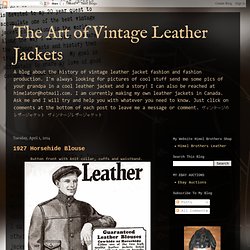 When you think of deerskin jackets, you probably think of products from the 1950s - 1970s. You think of western yokes and fringe. You think of the hippies and cowboys. But deerskin lends itself just as well to other styles.
The Vintagent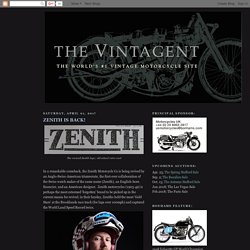 It's true there's an essay in every photo, but the story's always better when the image is packed with exceptional machinery and good clues to the date.. The 1953 Chevrolet Bel Air convertible in the background was brand new when this shot was taken at the Bonneville Salt Flats, and the Vincent Black Lightning (#9) in the photo is a famous machine which changed configuration dramatically by 1954... so I'm fairly certain we're gazing from the top of a ladder through a magic window onto September 4th, 1953. Marty Dickerson is being push-started at the head of the line, on his infamous 'Blue Bike'; he is about to break the magic 150mph barrier for a 'Class C' production machine on one run, while his record average was 147mph...all the more impressive as the rules limited machines to 90 octane pump fuel and an 8:1compression ratio. Dickerson's record stood from this day in 1953 until 1973, when a Kawasaki Z1 broke it (at 155mph).
Archival Clothing
Pike Brothers was founded by George and Joseph Pike in 1930. Their small but exclusive tailoring shop was located in the Portobello Road, Notting Hill, in the heart of London. Their specialty was custom-made menswear. During the Second World War with a steadily growing number of American soldiers coming to Britain, the Pike Brothers also specialized in the production of uniforms for the U.S. Armed Forces. They combined the finest fabrics with European craftsmanship and created an unmistakable profile of sturdy American menswear with European influence; a heritage to which we are still committed today.
Pike Brothers ~ Superior Garments ~ News