Vintage
www.speedtracktales.co.uk
The Art of Vintage Leather Jackets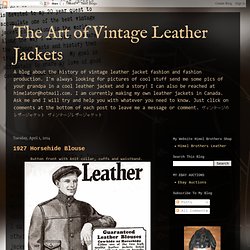 When you think of deerskin jackets, you probably think of products from the 1950s - 1970s. You think of western yokes and fringe. You think of the hippies and cowboys. But deerskin lends itself just as well to other styles.
The Vintagent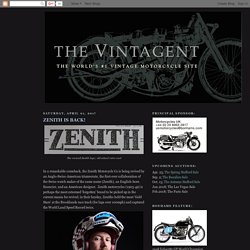 There are several de facto motorcycle conventions around the world, but none quite like the annual Las Vegas motorcycle auction week in early January. There isn't a swap meet or evening entertainment, not a banquet or panel discussion or even art show, although elements of all these can be found at Vegas. The focus is the auctions, even though hundreds of people arrive with no intention of bidding on anything, content to meet friends from distant places. Some buy bikes they weren't expecting, some take home bikes they expected to sell...such is the unpredictable mystery of the auction process. What can we glean from this year's auctions? The #1 trend I spotted this year was a solidification of prices for up-and-coming bikes, some of which have now truly entered the big time...and I'm talking about Harley Knuckleheads.
Archival Clothing
Pike Brothers was founded by George and Joseph Pike in 1930. Their small but exclusive tailoring shop was located in the Portobello Road, Notting Hill, in the heart of London. Their specialty was custom-made menswear. During the Second World War with a steadily growing number of American soldiers coming to Britain, the Pike Brothers also specialized in the production of uniforms for the U.S. Armed Forces. They combined the finest fabrics with European craftsmanship and created an unmistakable profile of sturdy American menswear with European influence; a heritage to which we are still committed today.
Pike Brothers ~ Superior Garments ~ News