Surf
Laird Hamilton SUP surfing epic waves in Malibu!! Shoots the pier twice!! Pays basque : et la vague géante, Belharra, se réveilla ! L y a un peu moins d'onze ans, le 22 novembre 2002, Peyo Lizarazu était déjà au rendez-vous.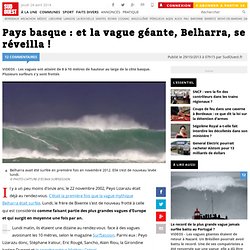 C'était la première fois que la vague mythique Belharra était surfée. Lundi, le frère de Bixente s'est de nouveau frotté à celle qui est considérée comme faisant partie des plus grandes vagues d'Europe et qui surgit en moyenne une fois par an. Andrew Cotton at Nazaré Feb.2 - 2014 Ride of the Year Entry - Billabong XXL Big Wave Awards. Pipeline Winter 2013. Greatest Moments - Moche Rip Curl Pro Portugal 2013. John John Florence: 10 Point Air - Oakley Pro Bali. Surfing the Heaviest Wave in the World - Teahupoo. HUUUUGE DAY AT CLOUDY. More info at Red Bull Media House, in association with MSP Films, presents Days of My Youth, a new film that will take a look into the lives of skiers everywhere, offering a peek into the journey of self-discovery that every skier experiences.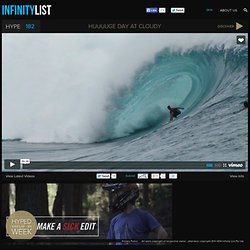 Featuring athletes such as Richard Permin, Mark Abma, Bobby Brown, James Heim, Cody Townsend, PK Hunder, Russ Henshaw, Michelle Parker, Gus Kenworthy, Markus Eder, Sam Anthamatten, and others, Days of My Youth will lay out the joys and struggles of shredding in the big mountain arena, and it will showcase the delight of childlike discovery that skiing can offer as more than just a form of recreation, but as a way of life. Traveling the globe, the MSP crew is looking through the lens in a new way and capturing moments that define the cutting-edge of what is possible on skis. Releasing Fall 2014. Garrett McNamara rides 90 Foot Wave With Gopro Cam (Full Video) Tow-in session of January 28th in Nazare, Portugal. / 28.01.2013. Gabriel Medina Backflip Surf. Surfing Backflip.
Ils surfent les plus grosses vagues du monde. Epicsesh.com- January 4th 2012 Epic JAWS! Fiji Vignette 3/3. OH good god that looks fun, Taj and Jay at play by shot and edited by Riley Blakeway to the strains of Frequency by Unouomedude.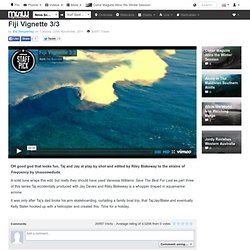 A solid tune wraps this edit, but really they should have used Vanessa Williams' Save The Best For Last as part three of this series Taj accidentally produced with Jay Davies and Riley Blakeway is a whopper draped in aquamarine ermine. It was only after Taj's dad broke his arm skateboarding, curtailing a family boat trip, that Taj/Jay/Blake and eventually Kelly Slater hooked up with a helicopter and created this. Teahupoo Code Red Record Breaking Swell 08.27.11. Heavy waves at Teahupoo – Video » Teahupoo » continentseven.com. Biggest Teahupoo Ever, Shot on the PHANTOM CAMERA. [Original 720p video] Wapala Mag n°51 / surf aerials / surf torrent / peche SUP. MATT MEOLA INNERSECTION FINAL. First Darkslide in Surfing, Zoltan Torkos 4/4/11. First Pulled Kickflip for Volcom Contest Zoltan Torkos. Insolite : le canard debout de Kai Lenny en Stand up Paddle !
---