Surf
Pays basque : et la vague géante, Belharra, se réveilla !
Greatest Moments - Moche Rip Curl Pro Portugal 2013
John John Florence: 10 Point Air - Oakley Pro Bali
Surfing the Heaviest Wave in the World - Teahupoo
HUUUUGE DAY AT CLOUDY
Garrett McNamara rides 90 Foot Wave With Gopro Cam (Full Video)
Tow-in session of January 28th in Nazare, Portugal. / 28.01.2013 on Vimeo
Gabriel Medina Backflip Surf
Surfing Backflip
surf - Ils surfent les plus grosses vagues du monde
Epicsesh.com- January 4th 2012 Epic JAWS!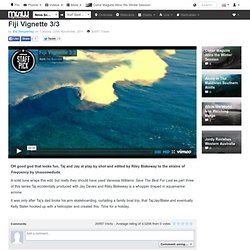 OH good god that looks fun, Taj and Jay at play by shot and edited by Riley Blakeway to the strains of Frequency by Unouomedude. A solid tune wraps this edit, but really they should have used Vanessa Williams' Save The Best For Last as part three of this series Taj accidentally produced with Jay Davies and Riley Blakeway is a whopper draped in aquamarine ermine. It was only after Taj's dad broke his arm skateboarding, curtailing a family boat trip, that Taj/Jay/Blake and eventually Kelly Slater hooked up with a helicopter and created this.
Surfing News - Fiji Vignette 3/3
Teahupoo Code Red Record Breaking Swell 08.27.11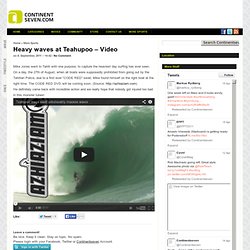 Heavy waves at Teahupoo – Video » Teahupoo » continentseven.com
Home » More Sports Mike Jones went to Tahiti with one purpose, to capture the heaviest day surfing has ever seen. On a day, the 27th of August, when all boats were supposedly prohibited from going out by the Tahitian Police, due to a first ever "CODE RED" swell, Mike found himself on the right boat at the right time.
Biggest Teahupoo Ever, Shot on the PHANTOM CAMERA. [Original 720p video]
Wapala Mag n°51 / surf aerials / surf torrent / peche SUP
MATT MEOLA INNERSECTION FINAL
First Darkslide in Surfing, Zoltan Torkos 4/4/11
First Pulled Kickflip for Volcom Contest Zoltan Torkos
Insolite : le canard debout de Kai Lenny en Stand up Paddle !