Gothic Clothing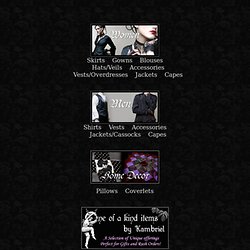 Skirts Gowns Blouses Hats/Veils Accessories Vests/Overdresses Jackets Capes Shirts Vests Accessories Jackets/Cassocks Capes Pillows Coverlets
Catalogue Page
www.Kambriel.com ~ Clothing and Accessories for Femme Fatales and Decadent Gentlemen. Click photo to enter the catalogue, or scroll down for more options. Be sure to check out the items available in our Etsy Shop! Also, please visit our One of a Kind Page!
Kambriel
Iris Noir: Gothic Clothing from Lip Service and Other Goth Brands
The Black Angel is your one-stop online store for all the best brands in gothic clothing and accessories, famous for quality, unique designs and outstanding service. Only European quality brands make it into our selection, and only their very best apparel designs get on our website. We offer fast and friendly service, and quick shipping to the USA, Europe and more, and one of the finest selections of men's and women's clothes on the web.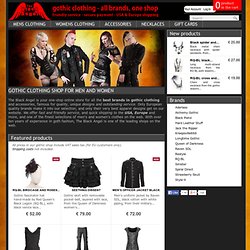 Lip service
Welcome to Cruella
L'antre de Syria la boutique gothique spécialisée dans la vente en ligne de vêtements, chaussures, bijoux et accessoires gothiques. Vous recherchez les dernières tendances de la mode Goth, lolita ou Cyber. La boutique gothique vous invite à venir découvrir le plus grand magasin gothique sur Internet.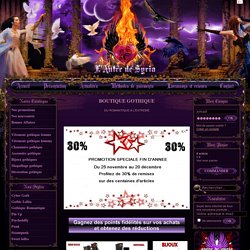 gloomth.com
The Black Rose was Established 1991 and have been trading online since before 1996. Based and Inspired by the London Goth, Rock and Punk sceen we have supplied alteranative streetwear , clothing and accessories all over the world from our London base for over 22 years. We offer a massive range of Goth, Punk, Metal ,Emo, Steampunk, Burlesque and rock merchandise from many of worlds coolest brands! Dragstrip Clothing is our own brand created for everyone who loves Hotrods, Tattoos, Kustom Bikes , Rockabilly, Psychobilly and whoever that lives and loves a Rock N Roll lifestyle !!
Goth Styles .com
Goths store
HEAVY RED - COUTURE NOIR WORLD FAMOUS GOTHIC CLOTHING PRESENTS GOTHIC FASHIONS FOR MEN & WOMEN. ESCAPE INTO THE DECADENT WORLD OF LOVE, DARKNESS, & ROMANCE WITH COUTURE NOIR FASHION THAT REDEFINES GOTH - CREATED BY THE GOTHIC FASHION TRENDSETTING - HEAVY RED COUTURE NOIR LINE. GOTHIC CLOTHING FOR WOMEN. GOTHIC CLOTHING FOR MEN.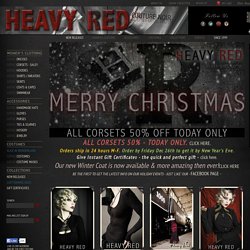 GOTHIQUE BRIDAL