Veille
On déchire sur le numérique ! hé ouai ! mattdarti Oct 19
Avec 125 millions d'utilisateurs par mois et des milliards d'abonnés , YouTube, rachetée par Google en 2006 pour 1,76 milliard de dollar, accélère le pas vers la monétisation.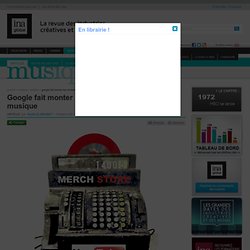 Musique - Article - Google fait monter les enchères sur le front de la musique
Expernova recense en ligne 1 million de chercheurs, Stratégies & Leadership
En mars 2008 , je m'enthousiasmais pour BookLamp, un service de recommandation de lecture imaginé par Aaron Stanton consistant à analyser le contenu des livres pour en dresser le graphe. Grâce à un logiciel d'analyse de texte, BookLamp était capable de lister des caractéristiques originales des livres, comme leur densité, le rapport description/dialogue, le ton, la tension, le volume d'action...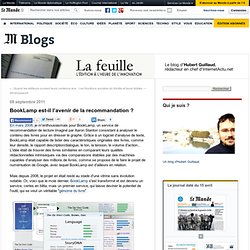 BookLamp est-il l'avenir de la recommandation
Nouvelles synergies entre agrégateurs et distributeurs de musique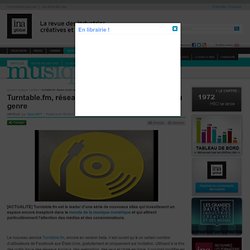 Musique - Article - Turntable.fm, réseau social musical d'un nouveau genre
The recently-introduced service Turntable.fm , free and currently available in the United States to Facebookers in invitation-only beta version, combines elements of social networking, Internet radio, online gaming and chat in a way that could potentially shake up how people interact with the music they listen to in substantial fashion, judging by they way it has been embraced by the 400,000 or so active users signed up so far – a twofold jump from last month.
MediaNet | Digital Content Fulfillment and Information Services
Fine Tuning - Actualités de la musique numérique et des réseaux sociaux.
Cloud and Go! Cloud computing, Média et Réseaux Sociaux, Web 2.0 pour les Entreprises
It has taken more than a year and two rounds of fundraising [FR] for us to achieve our goal of 1 million euros.
Letter from OWNI's CEO: The media paradox