Cités végétales - architecture bionique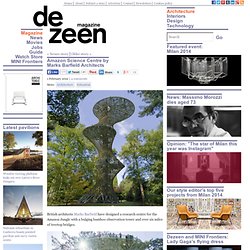 Amazon Science Centre by Marks Barfield Architects
British architects Marks Barfield have designed a research centre for the Amazon Jungle with a bulging bamboo observation tower and over six miles of treetop bridges. The centre would allow both researchers and tourists to survey the rainforest canopy from above.
Innovation architecturale et biomimétisme - Biomimétisme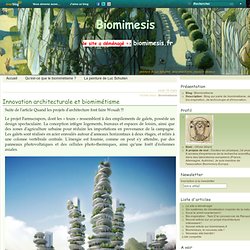 Lundi 18 mars 2013 1 18 / 03 / Mars / 2013 10:29 - Publié dans : Biomimétisme
MVRDV Proposes Towering Green Micro-City For Jakarta
With over 10 million inhabitants, Jakarta is the 13th most-populous city in the world.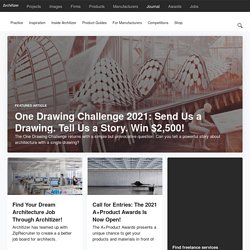 Housing Units in Nantes Winning Proposal / Hamonic + Masson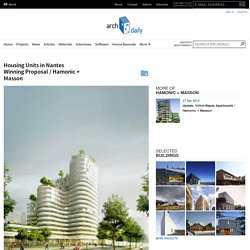 Designed by Hamonic + Masson , their winning proposal for the housing units in Nantes opens a dialogues with the surrounding space by introducing a new way of living together, mainly based on the generosity of the exterior private and community spaces.
Architectural Membrane for New York when Sea Level Rises
To confront with the sea level rising of New York, Tingwei Xu and Xie Zhang from the University of Pennsylvania designed an idea for protecting certain areas against water by wearing a "membrane'. Deriving from the intelligent components , we created a surface system that can reveal a continually changing expression. The transforming surface can combine the multiple functions such as waterproof, lighting and agricultural planting. Rather than a traditional hierarchy design thinking, each component on the surface has equal essentiality. It is a irreducible integrity.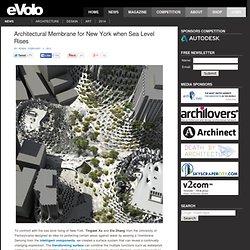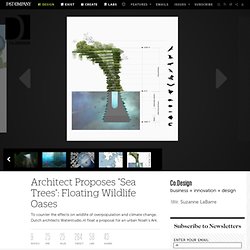 There are countless benefits to urbanization .
6 | Architect Proposes "Sea Trees": Floating Wildlife Oases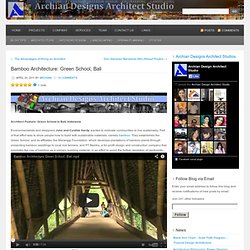 i
Bamboo Architecture: Green School, Bali | Archian Designs: Architects in Bacolod, Iloilo, Cebu, Davao & the Philippines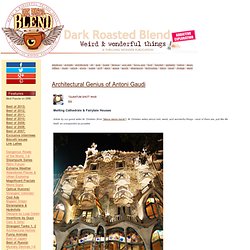 "QUANTUM SHOT" #448 link Melting Cathedrals & Fairytale Houses Article by our guest writer M. Christian (from "Meine kleine fabrik" ). M.
Architectural Genius of Antoni Gaudi
As with any civilisation, built environments must be able to adapt.
Gratte-ciel moderne une Testament à AdaptationDesignBuild Source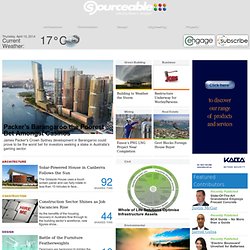 'asian cairns' by vincent callebaut architectures, shenzen, china images © vincent callebaut architectures
vincent callebaut architectures: asian cairns, shenzhen, china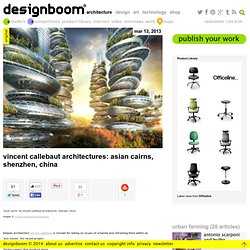 La ville du futur devrait viser une taille optimale pour assurer une meilleure utilisation de ses ressources plutôt qu'une vision de développement où tout converge vers le centre.
Optimiser la taille des villes de demain
Le Nouvel, Kuala Lumpur | Mur Vegetal Patrick Blanc
immeubles végétalisés architecture
One Central Park, Sydney | Mur Vegetal Patrick Blanc
Activités - CHAIRE-UNESCO Alimentations du monde
1er février 2013 Colloque annuel international DE LA CHAIRE UNESCO « ALIMENTATIONS DU MONDE »
Eco-friendly, cost effective, duplicable, artistic, sustainable, and beautiful; the One Community designs are meant to showcase and open source project-launch blueprint the diversity of eco-options available for large-scale self-sufficient and sustainable communal living and building at a fraction of the standard cost in almost any environment. Applying Highest Good thinking to infrastructure, we are researching, developing, and open source and free-sharing our idea of Highest Good Food , Energy , and Housing so they can be duplicated modularly or as complete self-sufficient and self-propagating teacher/demonstration communities, villages, and cities to be built all over the world. The primary goal of the One Community eco-building strategy is open source project-launch blueprinting , building, and demonstrating seven sustainable village models that will be the foundation for what we believe most people will consider a significantly more holistic and fulfilling living experience.
Sustainable Design: Environmental Values, Ecological Living, and the Art of the Ecobuild
Deuxième et dernier volet consacré à la ville biomimétique à l'occasion des conférences et de l'exposition qui ont été proposés à Velzy-Villacoublay.
Luc Schuiten : le vivant au cœur des cités futures ?
Biomimicry: Designing to Model Nature
BIOKON International | Home
Katrin Petit jardin et paysagiste »Saarow Bad Kurpark
Quand utopie et techniques opérationnelles se côtoient
A Man-Made, Net-Zero Energy Island Off the Coast of Istanbul - Design
Biomasse Parc Hugo
A Vertical Manifesto for Mumbai
Edouard Francois - TAMATA
Landscape Architecture at AECOM
Ecole Nationale Supérieure d'Architecture Paris-Malaquais, Actualité
Documents
AILA 2012 National Awards
Micro-Forêt - Forêt Urbaine
FLO Home - National Association for Olmsted Parks
Environment
Verdissement
Les métiers du paysage | Un blog utilisant WordPress
The City as an Ecosystem
THINK TANK architecture paysage urbanisme Marine de La Guerrande Adrien Pineau
Lufa Farms | Our vision is a city of rooftop farms...
Une Tour végétale à Nantes ??? Pas si sûr
Strategy and Tactics / a+t
LIVING LABS GLOBAL AWARD 2012
Ville-tour à Tainjin ou la ville verticale face aux enjeux du XXIème siècle
Unbelievable Floating Architectural Structures
Contemporary Habitable Bridge in Italy
Eco-Pods Produce Bio-Fuel Energy
5 Green Cities of the Future
Downtown Los Angeles on Vimeo
les solutions esquissées commencent vers la 7eme min ... by sizolabarchitecture Feb 7
The Taiwan Tower is a Sustainable Twin Syscraper for the 21st Century
Cités végétales, l'utopie des villes de demain
Utopia Forever
Vincent Callebaut Architecte DRAGONFLY
VINCENT CALLEBAUT ARCHITECTE SLIDESHOW
Vincent Callebaut's Futuristic Skyscraper
Vincent Callebaut Architecte PHYSALIA
Vincent Callebaut Architecte BRUGGE
Vincent Callebaut Architecte CORAL
VINCENT CALLEBAUT ARCHITECTE SLIDESHOW
Vincent Callebaut Architecte TAICHUNG
Vincent Callebaut Architecte QUAI BRANLY
oui ? .. un retour positif est toujours motivant ! by sizolabarchitecture Aug 26
Je n'ai pas pris le temps de tout regarder, juste un peu, mais cet avant gout me fait dire que tout cela est passionnant et bien fait... merci pour cette perle by chibanijacquot Aug 24
Self Sufficient Building - Students Research - Researchs - IaaC
pratiques directes _ howto's _ DiY
Autonomies DD Réseaux éco-villages - Tribus
ArchiStick - Le blog de l'architecture et du design utile et agréable !
oui, c'est incongru mais d'avoir entête la possibilité qu'on élève des animaux en ville .. est tout à fait intéressante ! by sizolabarchitecture Jan 30
"Je crois à la puissance de la recomposition de nos territoires urbains" - Interview de Michel Desvigne, Grand prix d'urbanisme
Nicolas Soulier : « à propos des grands ensembles : projet de courées à Aulnay 1994-1999 »
Nicolas Soulier : « Vivre en site propre…? »
Organic Nation.tv - Videos
Organic Rooftop Farming in Chicago
Bosco verticale, la forêt verticale de Stefano Boeri
Visualization - Seasteading Platform
Engineering | The Seasteading Institute
Sea Tree : un îlot de verdure (diaporama)