Vegetables
My One Fairy Tale Eggplant
July 23rd, 2010 Email 1 user recommends Can't wait to bring my Fairy Tale Eggplant into the kitchen. Photo by amy b under the Creative Commons Attribution License 2.0.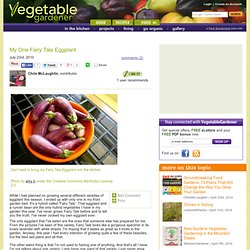 Fairy Tale is a variety of Eggplant which is a member of the Solanum family. Its botanical name is Solanum melongena 'Fairy Tale' . Fairy Tale is a patented hybrid variety. 'Fairy Tale' is a petite plant with decorative miniature eggplants.
Eggplant 'Fairy Tale' Plant Care & Growing Information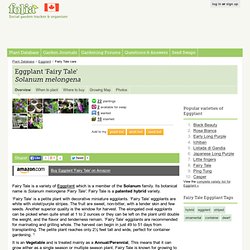 Cover crops
Growing Vegetables with Square Foot Gardening
Friday, July 30, 2010 by Jeremy Dore - Categories: square foot gardening, planning < Back to the GrowBlog Index Square Foot Gardening (commonly referred to as SFG) is a planting method that was developed by American author and TV presenter Mel Bartholomew in the 1970s.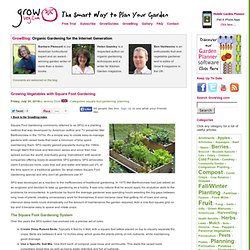 Vegetable Gardening - Simple, Healthy and Economical
How to Grow Great Rhubarb
How to Grow Celery | Backyard Gardening Blog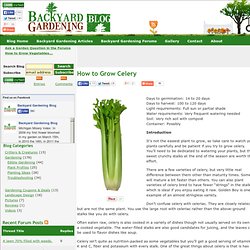 Days to germination: 14 to 20 days Days to harvest: 100 to 120 days Light requirements: Full sun or partial shade Water requirements: Very frequent watering needed Soil: Very rich soil with compost Container: Possibly Introduction It's not the easiest plant to grow, so take care to watch your plants carefully and be patient if you try to grow celery. You'll need to be dedicated to watering your plants, but the sweet crunchy stalks at the end of the season are worth the effort.
WW-00435 Reviewed 2009 Vincent A. Fritz Extension Horticulturist Department of Horticultural Science Southern Research and Outreach Center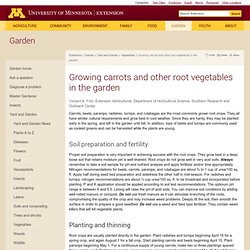 Growing Carrots and Other Root Vegetables in the Home Garden
An Organic Gardening Resource
What to Grow for a Family of Four
www.extension.iastate.edu/publications/pm534.pdf
How to Grow Garlic Instructions for Growing Garlic in Your Vegetable Garden Growing Garlic - Young Plants Garlic is a popular perennial vegetable, grown for its bulbs. It generally grows to 2 or 3 feet tall (but varieties like elephant garlic grows to 5 feet). Garlic plants tend to repel insects from other vegetables.
Learn How to Grow Garlic - Instructions and advice for growing Garlic bulbs and plants in Your Vegetable Garden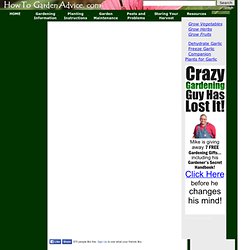 Growing garlic in containers is an excellent way of providing your kitchen with one the freshest, and most flavoursome of herbs, especially if you are a little short of space in the garden. Not only is garlic simple to grow, it has also been used throughout history for its medicinal value too. The best time to plant garlic in containers is mid-October as the cold weather helps to initialize growth that will result in far larger bulbs and a greater number of cloves. When planting at this time of year you must stick to using specific cultivated varieties such as 'White Pearl', 'Albigensian Wight', 'Early Purple Wight', ' Iberian Wight', 'Lautrec Wight' - widely regarded as Frances finest garlic, and Purple Moldovan Wight, all of which are known to suitable for growing our northern climates.
HOW TO GROW GARLIC IN POTS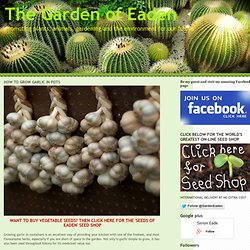 Growing Guide GROWING NOTES Prefers well-drained sandy loam to silt loam soil, high in organic matter, with pH between 6.5 and 7 and free of large stones. Good soil structure is important because growth is improved by good soil aeration. Beets grow poorly in acid soil. They tolerate low fertility but require consistent moisture. Do not plant in soils with pH less than 6.0. Beets use boron inefficiently.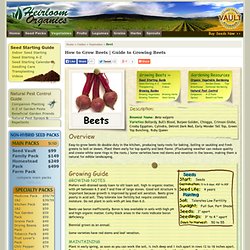 How to Grow Beets | Guide to Growing Beets