Virginia
wordpress/
Unitarian Universalist Fellowship of the Rappahannock (UUFR-VA)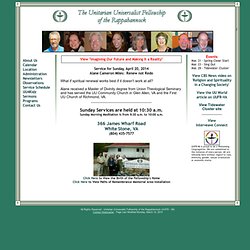 View "Imagining Our Future and Making It a Reality" Service for Sunday, January 19, 2014 Bob Weekley: What is the Bible to Unitarian Universalists? Sources of the Unitarian Universalist living tradition include "wisdom from the world's religions" and in particular from Jewish and Christian teachings. The Bible contains origins of these teachings and is the single most widely read and influential book in the western world.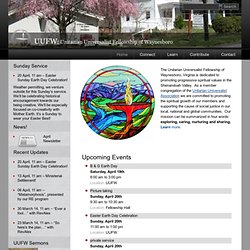 The Unitarian Universalist Fellowship of Waynesboro, Virginia is dedicated to promoting progressive spiritual values in the Shenandoah Valley. As a member congregation of the Unitarian Universalist Association we are committed to promoting the spiritual growth of our members and supporting the cause of social justice in our local, national and global communities. Our mission can be summarized in four words: exploring, caring, nurturing and sharing. Learn more. Choir PracticeThursday, January 16th7:00 pm to 9:00 pmLocation: UUFWBuildings and Grounds CommitteeSaturday, January 18th9:00 am to 11:00 amLocation: RE buildingMindfulness GroupSaturday, January 18th9:30 am to 10:30 amLocation: UUFW-Fellowship HallService Auction - PerkuchinSaturday, January 18th3:00 pm to 6:00 pmLocation: Fellowship HallMinisterial Search CommitteeSunday, January 19th9:00 am to 10:30 amLocation: To be decided Please visit our Calendar for more events.
Unitarian Universalist Fellowship of Waynesboro
Unitarian Universalists of Sterling - Home
UUCSV
BECOME A REGISTERED USER! - UUCSV Church Members click on REGISTERThis e-mail address is being protected from spambots. You need JavaScript enabled to view it to request access to the site. Your login information will be emailed to you, once access is approved Click Here for our New Quarterly Publication!
Rockbridge Unitarian - Universalist Fellowship 
Unitarian Universalist Church of Roanoke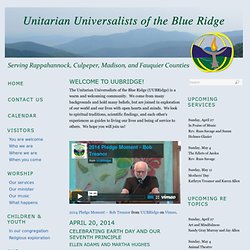 Unitarian Universalists of the Blue Ridge
Welcome to UUBRidge! The Unitarian Universalists of the Blue Ridge (UUBRidge) is a warm and welcoming community. We come from many backgrounds and hold many beliefs, but are joined in exploration of our world and our lives with open hearts and minds. We look to spiritual traditions, scientific findings, and each other's experiences as guides to living our lives and being of service to others. We hope you will join us! January is Volunteer Month at UUBRidge
Are you looking for a church that cherishes freedom and encourages open dialogue on all questions of faith, one in which it is okay to change your mind? Do you desire a place that values children and welcomes them on their own terms, a church they are eager to attend? Are you seeking a community of seekers who respect the differences between people and affirms every person as an individual, no matter their race, age, ability, gender, or whom they love? Are you eager to find a church that acts locally and thinks globally on the great issues of our time—world peace, women's rights, racial justice, homelessness, gay, lesbian, bisexual, and transgender rights, and protection of the environment? If so, First Unitarian Universalist Church of Richmond may very well be the church you can call home. Please visit for worship, fellowship, and programs.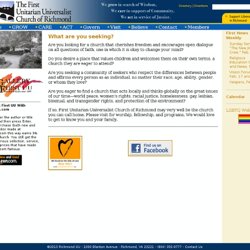 Richmond UU » Home!!
The Unitarian Universalist Church in Reston - Home
Click here to read our January Newsletter! Members and friends of UUCR, of all Ages: Please don't forget to read the beautiful History Wall, on the side wall of the sanctuary, which was constructed by you, the congregation, last Sunday during the History Wall Workshop. Each leaf on the history trees contains a reflection on a personal memory from the 35 folks who attended the workshop.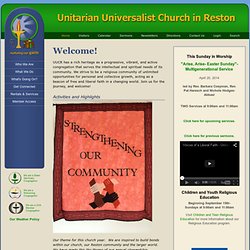 Welcome to our home on the Web! | Unitarian Universalist Congregation of Fairfax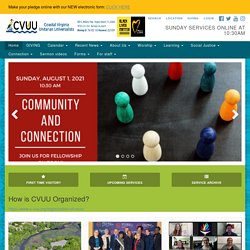 Unitarian Universalism welcomes people of every religious and ethnic background to join in our celebration of community without regard to race, age, gender or sexual orientation. Located on the Hague in the Ghent section of Norfolk, the Unitarian Church of Norfolk (Unitarian Universalist) is within comfortable driving distance of most South Hampton Roads locations. [Click for map/directions] Parking Advisory Because of our location, we have certain parking challenges.
Home | Unitarian Church of Norfolk
This is the Place! Looking for a religious home for you and/or your children? Somewhere that they don't teach kids the answers but show them how to seek their own answers?
Unitarian Unversalist Fellowship of the Peninsula 757-369-1098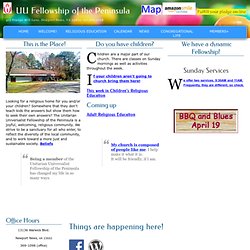 An open church for open minds! Please click this calendar link to see what's happening this Sunday (and next!) .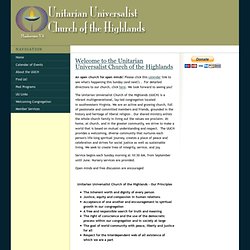 unitarian universalist church of the highlands | meadowview, va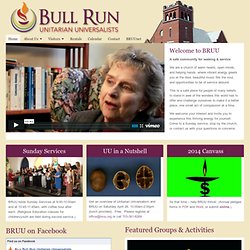 Welcome to BRUU A safe community for seeking & service We are a church of warm hearts, open minds, and helping hands, where vibrant energy greets you at the door, beautiful music fills the soul, and opportunities to be of service abound. This is a safe place for people of many beliefs to stand in awe of the wonders this world has to offer and challenge ourselves to make it a better place, one small act of compassion at a time. We welcome your interest and invite you to experience this thriving energy for yourself.
BRUU - Bull Run Unitarian Universalists
Vision Statement We shall strive to be a progressive and welcoming liberal religious community that affirms the worth and dignity of each human being, and the authority of conscience and reason in each person's search for truth and meaning. In this spirit, we shall strive to cultivate tolerance and compassion in ourselves and others, and to promote social justice and equality in the wider community. Mission Statement We the First Unitarian Church of Lynchburg, Virginia, Unitarian Universalist, a supporting member of the Unitarian Universalist Association, unite
First Unitarian Church of Lynchburg
Worship Services This Sunday, January 19th, Peggy Fallon will be in the pulpit with the message "Claiming Dr. Martin Luther King, Jr." Based on a sermon by Paul Sprecher, we'll explore King's flirtation with Unitarianism, Civil Rights' martyr James Reeb's Unitarian faith journey, and the common elements of our shared faith: the depths of spirit, the struggle for justice, and the commitment to the deep mysteries within us. ... Read More ... Religious Education
Welcome to the Unitarian Universalist Church of Loudoun
A Religious Community Serving Each Person's Spiritual Journey - One Journey, Many Paths Sunday Mornings at HUU ADULT RELIGIOUS EDUCATION: 9AM-10AM on the 2nd and 3rd Sundays of each month Sunday Morning Service: 10:30-11:30AM Children & Youth RE: 10:30-11:30AM January 19 10:30-11:30AM - Zac Smith will present "Music in My Life." Sunday, January 19, 9:00-10:00AM - Elizabeth Scott will again lead us through a Qi Gong practice.
Unitarian Universalist Fellowship of Harrisonburg Virginia
UUCC Glen Allen > Home
UUFF Home
Rejoice! Spring is finally here. We are thrilled to welcome you to the home of the UUFF at 25 Chalice Circle. The successful completion of this building in April 2012 is the culmination of many years of hard work and perseverance.
Thomas Jefferson Memorial Church - Unitarian Universalist
Accotink Unitarian Universalist Church - AUUC - Home Page
Unitarian Universalist Congregation (Blacksburg, VA)
Unitarian Universalist Church of Arlington, VA - A diverse, welcoming community of open hearts and minds since 1948
Mount Vernon Unitarian Church