UU Growth Resources
Sharing growth resources and case studies from around the wide world of Unitarian Universalism. revnaomi Jun 29
The Welcome Table Church, free universalist christian missional community
Throw yourself like seed
UUA Growth Resource Picks
Last night the Unitarian Universalist Association President Peter Morales addressed the Unitarian Universalist Ministers Association, meeting in Charlotte, North Carolina.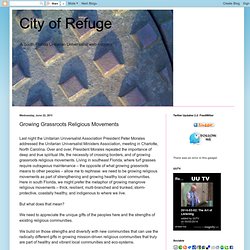 Growing Grassroots Religious Movements
Crossing Borders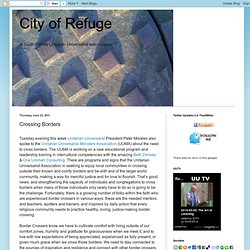 Tuesday evening this week Unitarian Universalist President Peter Morales also spoke to the Unitarian Universalist Ministers Association (UUMA) about the need to cross borders. The UUMA is working on a new educational program and leadership training in intercultural competencies with the amazing Beth Zemsky & One Ummah Consulting. There are programs and signs that the Unitarian Universalist Association in seeking to equip local communities in crossing outside their known and comfy borders and be with and of the larger world community, making a way for merciful justice and for love to flourish.
The second full day of Unitarian Universalist General Assembly in Charlotte, North Carolina was a big, long full day. I want to cheer and convey my joy and blessings to all my new colleagues who met their new stages of credentialing and to those who retired from active service this year. You bless this world every day with the gifts you bring – and we can all be grateful to you!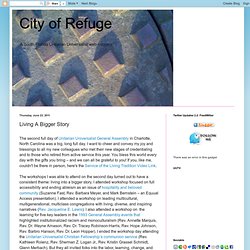 Living A Bigger Story
Michael Durall | Common Wealth Consulting Group
UUPlanet.org | Peter Bowdn's UU Projects
Leading Congregations | Congregational Life, Leadership and Change in the Digital Age
UU Growth Blog | Peter Bowden
The UU Growth Lab