Référencement
Comment bien référencer un blog Wordpress : Le guide complet - Julien Arcin
Référencer un blog WordPress est une étape cruciale pour s'imposer sur internet. La majorité du trafic sur le web provient des moteurs de recherche, c'est pourquoi vous devez faire en sorte d'optimiser votre site web pour être mieux placé dans les résultats. Travailler son référencement est chronophage et pénible, mais c'est pourtant un des domaines les plus importants. On ne peut pas passer à côté.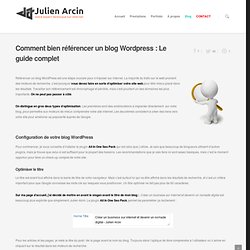 Position sur Google, position site google, positionnement Google
What The Trend: Year In Review
"rip
What's this? Each line in this chart represents a topic's mentions (y-axis: mentions every 100K tweets) over the last days (x-axis) The colored areas represent periods of time in which the topic was hot, the darker areas show the time with the most mentions of the topic. You can click on the areas to change the detail of that topic to be focused on that particular popular interval.