User interface
Wordpress. jQuery. UI examples. Headscape :: Sitemap demo. <div class="info i_error"><div class="info_top"><div class="info_tl">&#160;</div><div class="info_tr">&#160;</div></div><div class="infobox"><h3>Javascript is disabled</h3><p>You need to have Javascript enabled to use the administration features of this site.
<br /> Please enable Javascript and try again. </p></div><div class="info_bot"><div class="info_bl">&#160;</div><div class="info_br">&#160;</div></div></div> Site Map Site Structure. Welcome - Welcome   to mb.ideas. Imagining    a better web. Drag And Drop Everything With These 30 Handy jQuery Plugins. Do you want to become drag and drop feature expert?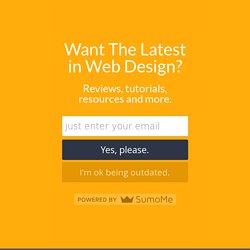 Then look no further – this article is just for you! Mostly these plugins are written in jQuery, and they are super easy to customize and implement in your own projects very fast. Why such plugins are so handy? The Museum of Me. The Skins Factory - Widgets/Gadget - ESPN. The Citrus Engine: An Industry-Strength Flash Game Engine. Scripty2: for a more delicious web.
June 26th, 2009 The script.aculo.us 2 alpha is out!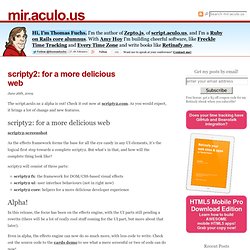 Check it out now at scripty2.com. As you would expect, it brings a lot of change and new features. 50 User Interface Design Tools A Web Designer Must Have. The success of web applications and websites depends in how well designed the User Interface is.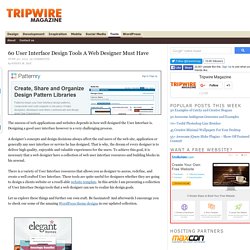 Designing a good user interface however is a very challenging process. A designer's concepts and design decisions always affect the end users of the web site, application or generally any user interface or service he has designed. Modkit and the Kickstarter Campaign - News. By zagGrad | September 22, 2010 | 28 comments We're suckers for creative ideas that will help bring new people to the world of physical computing.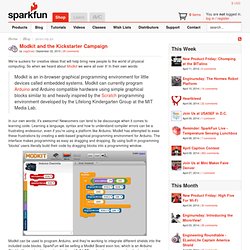 So when we heard about Modkit we were all over it! In their own words: It Editor. Alquimia mx 7. AlteredQualia. Archivojae.edaddeplata.org/jae_app/JaeMain.html. Www.moma.org/interactives/exhibitions/2008/elasticmind/elasticmind.swf. Cross-platform Face Recognition | Tag Friends in Your Photos & Videos. Retro handheld games collection. ANTIK ARS ® - CATALOGO GENERALE LINEA DELIZIA. JST ERATO Design UI Project. Rollerphone – Concept Braclet Phone by Alexey Chugunnikov. Super Sexy Roll Say hello to the Rollerphone concept!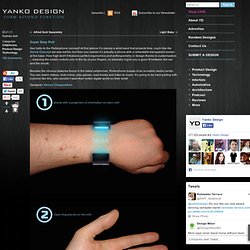 At first glance it's merely a wrist band that projects time, much like the Alessi Concept we saw earlier, but then you realize it's actually a phone with a retractable transparent screen at the base. How high-tech! It features perfect ergonomics and anthropometry in design thanks to customization – meaning the screen unfurls only to the tip of your fingers, so basically it give you a good fit between the ear and the mouth.
A Slightly Quirky Introduction. Interaction-Design.org. Un lecteur de flux RSS MultiTouch. Étant un véritable infovore, et donc un inconditionnel des flux RSS, voici une vidéo présentant un projet de lecteur de flux RSS sur table tactile MultiTouch qui a particulièrement attiré mon attention.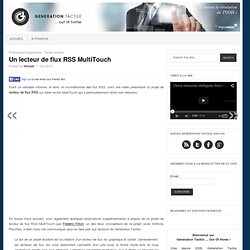 En bonus track exclusif, voici également quelques explications supplémentaires à propos de ce projet de lecteur de flux RSS MultiTouch que Frédéric Fillion, un des deux concepteurs de ce projet (avec Anthony Pecchia), a bien voulu me communiquer pour en faire part aux lecteurs de Génération Tactile : Le but de ce projet étudiant est la création d'un lecteur de flux rss graphique et tactile. Généralement, les lecteurs de flux rss nous présentent l'actualité d'un site sous la forme d'une liste et nous souhaitions rendre cela plus attrayant.
L'interface est simple et intuitive. Sur la droite se trouvent les boutons représentant les sites auxquels l'utilisateur est abonné. Japanese Show Off Gesture-Controlled Phone For Natal-Style Emailing. Treesaver.js. Treesaver® is a JavaScript framework for creating magazine-style layouts using standards-compliant HTML and CSS.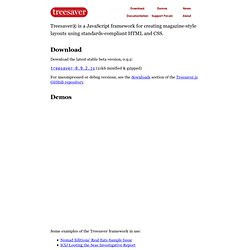 Download Download the latest stable beta version, 0.9.2: treesaver-0.9.2.js (21kb minified & gzipped) For uncompressed or debug versions, see the downloads section of the Treesaver.js GitHub repository. Demos. MephoBox | Web Design and Web Inspiration. SolidWorks Blog » Autodesk brings sketching to Android.
Welcome to this customized error page.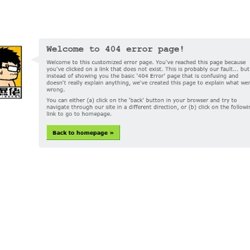 You've reached this page because you've clicked on a link that does not exist. This is probably our fault... but instead of showing you the basic '404 Error' page that is confusing and doesn't really explain anything, we've created this page to explain what went wrong. ChessTwit - Play Chess the Twitter Way. MooTools - a compact javascript framework. Script.aculo.us - web 2.0 javascript. Designing Convertbot. With the surprising success of Weightbot, it was only a matter of time before we would take on the challenge of outdoing ourselves.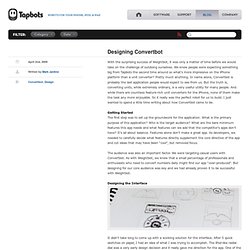 We knew people were expecting something big from Tapbots the second time around so what's more impressive on the iPhone platform than a unit converter? Pretty much anything. In name alone, Convertbot is probably the last application people would expect to see from us. Apple Archives ~ Flyosity by Mike Rundle. Entries From The Apple Category: Back when I was doing design work for clients, it seemed like my work would get re-purposed by fledgling and not-so-fledgling designers every month. Sometimes I'd get a tip in my email about a theft that someone saw, or sometimes the offenders would link the assets right off my client's website, but regardless of how I found out about the theft, it'd piss me off more than anything else.
I was the one who opened Photoshop, I cranked through iteration after iteration, I thought of execution details in the shower, I stayed up late at night, and then someone else just takes all that work and passes it off as their own. Tapbots — Robots for your iPhone & iPod Touch. What is Atlas? - Atlas is a Development Environment and Visual Layout Editor for Cappuccino. Atlas is a development tool for building Cappuccino applications. In addition to managing your project files and editing code, it includes a powerful visual layout tool for designing your interfaces without ever having to touch code. Designers are empowered to interact with their designs instantly, which means programmers get to finished applications faster. Atlas is still under development. Flash Engine. February 23rd 2014 Away3D at FITC Amsterdam 2014 Away3D and The Away Foundation are please to be a part of the upcoming… February 06th 2014 Away Foundation roadmap 2014 Welcome to another roadmap post, a condensed report outlining some of the areas we…
Designing Social Interfaces - O'Reilly Media. On the other hand, it is a useful book of definitions and patterns. The simple naming makes it easy to take a unknown description and map it to one of the pattern. I also appreciate that the book breaks down a pattern into "What", "Use When", "How", "Why", "Related patterns" and "As seen on". The "How" section provides a good sanity check for added features. This section gently reminds you that you can, for instance, add subscriptions or saved searches to a social search, and other minor things that you may not initially consider when trying to implement a pattern for the first time. All in all, I find this book to be a decent purchase, and a good reference tool when I need it. Social Patterns Talk - Web 2.0 version. Quirk eMarketing Blog | GottaQuirk. Conceptual Designs.
WxWidgets. Glimmer - Lab - MIX Online. Well-formed data | Elastic lists | Nobel prize winners demo. Flare | Data Visualization for the Web. 50 Great Examples of Data Visualization. Il cellulare che (ancora) non esiste: ''Erede dell'iPhone'' - Video. We Feel Fine / by Jonathan Harris and Sep Kamvar. Avaya Makes a Bold Move into the Video Collaboration Space | VoIP | Telecom| Mobility | Blog. Magic Piano for iPad [initial tour] Sproutcore Welcome. Cappuccino Web Framework - Build Desktop Class Applications in Objective-J and JavaScript. Sample Controls. Wiffiti.
Design rules by Jef Raskin - mprove.de. Apple Patents Rotary iPhone. Kevin Lynch's Web 2.0 Keynote / Flash Catalyst Demo at Mike Chambers. The Design and Implementation of Pie Menus. Pie Menus. Apple Opens Up iAd Creation to the Masses. Smartlook. Issuu Smart Look. WebFandom – Servizi gratuiti, Web Designer Freelance e grafica pubblicitaria. Progettare un Layout Grafico che funzioni sul Web. FlippingBook - software for creating online publications, magazines, photo albums and flip books with the real page turning effect. FlippingBook HTML Edition - Flip Book Maker. Sony Ericsson - My Extras. Boarrd. by weLaika — Rails Rumble MMX. UXPin | Paper prototyping redesigned.
INCEPTION: THE COBOL JOB. 20 Layout Design Sviluppati in una Singola Pagina. The future of User Interfaces. Conceptual Graphs Home Page. Giuseppe Sicari - Dottore in Ingegneria Informatica. Modello di navigazione in JavaServer Faces. PHP | Zalog Catalin's portfolio. Open Blocks download page | Scheller Teacher Education Program. OpenBlocks : an extendable framework for graphical block programming systems. PyMT : Open source library for multitouch development.
Jung von Matt/Neckar Bewegungsmelder. Crush + Lovely. Countries Relations. Nathan Borror. Bert Timmermans. Pattie Maes and Pranav Mistry demo SixthSense. Portfolio of the graphic designer Alexey Abramov. STEVEN HOLL ARCHITECTS. Navigation Menus: Trends and Examples - Smashing Magazine.
Construire un écran multitouch avec du flash. Information Dashboard Design: The Effective Visual Communication of Data (9780596100162): Stephen Few. Www.rossdawsonblog.com/Influence_Landscape_Beta_v1.pdf. 60 modèles de navigation commentés des bonnes pratiques d'ergono. Old-phone-4.jpg (548×624)
---