HTML5 COLLECTION
HTML5 Showcase: 48 Potential Flash-Killing Demos. So you've heard all rumors about HTML5 would take over Adobe Flash.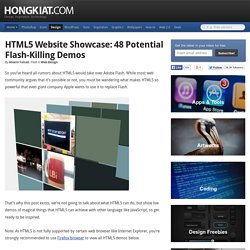 While most web community argues that it's possible or not, you must be wandering what makes HTML5 so powerful that even giant company Apple wants to use it to replace Flash. That's why this post exists, we're not going to talk about what HTML5 can do, but show live demos of magical things that HTML5 can achieve with other language like JavaScript, so get ready to be inspired. 5 awesome HTML5 demos. You've probably seen a bunch of tutorials or articles about HTML5 on design blogs recently, but didn't try to use it because most users will not be able to view it anyway.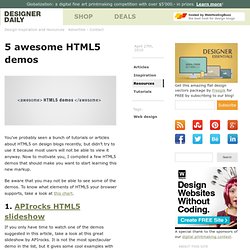 Now to motivate you, I compiled a few HTML5 demos that should make you want to start learning this new markup. Be aware that you may not be able to see some of the demos. To know what elements of HTML5 your browser supports, take a look at this chart. 1. APIrocks HTML5 slideshow. HTML5 Demos and Examples. 50 Advanced HTML5 Demos to show It's Power. Flash vs HTML5 is one of the hottest topic today , but we are not getting in the argument of which is superior to other and which is not.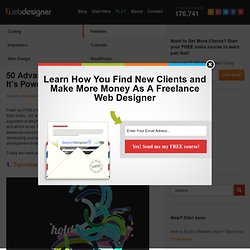 Flash will always be an awesome choice for rich content web applications and games same as HTML5 in developing cool animations and simple gaming applications unless some major development to be made in future years. Today we have collected 50 awesome HTML5 demos to show its potential. 1. Tunneler 2.
---