User Experience Design
Public Schedule - user-centered design courses - North America
Human Interface Guidelines: The Design Process
25 User Experience Videos That Are Worth Your Time - Smashing Magazine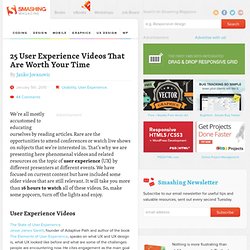 Advertisement We're all mostly accustomed to educating ourselves by reading articles. Rare are the opportunities to attend conferences or watch live shows on subjects that we're interested in. That's why we are presenting here phenomenal videos and related resources on the topic of user experience (UX) by different presenters at different events. We have focused on current content but have included some older videos that are still relevant. It will take you more than 16 hours to watch all of these videos.
NN/g conducts groundbreaking research, evaluates user interfaces, and reports real findings – not what's popular or expected. With our approach, NN/g will help you create better experiences for real people and improve the bottom line for your business. Richly illustrated reports include case studies and actionable design guidelines for websites, intranets, applications, and mobile interfaces. Browse all reports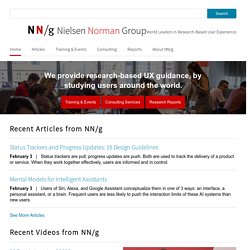 ROI of User Experience, with Susan Weinschenk Now you can perform various Return on Investment (ROI) calculations for improved usability of your Web site or application. Of course ROI is more than just the calculation of costs versus benefits as there could be other factors involved. But that being the case, these calculators can show you how small improvements in usability can result in big gains in ROI.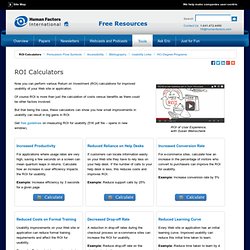 ROI Calculators