Useful Tips For iPad
50 Search Engines You Probably Don't Use Yet - Edudemic
New iPad 3 Concept Features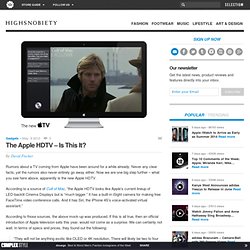 Rumors about a TV coming from Apple have been around for a while already. Never any clear facts, yet the rumors also never entirely go away either. Now we are one big step further – what you see here above, apparently is the new Apple HDTV. According to a source of Cult of Mac, "the Apple HDTV looks like Apple's current lineup of LED-backlit Cinema Displays but is "much bigger." It has a built-in iSight camera for making free FaceTime video conference calls.
Is this the new Apple TV Set?
apps for learning challenges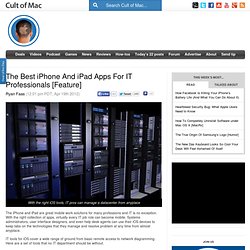 With the right iOS tools, IT pros can manage a datacenter from anyplace The iPhone and iPad are great mobile work solutions for many professions and IT is no exception. With the right collection of apps, virtually every IT job role can become mobile. Systems administrators, user interface designers, and even help desk agents can use their iOS devices to keep tabs on the technologies that they manage and resolve problem at any time from almost anyplace. IT tools for iOS cover a wide range of ground from basic remote access to network diagramming. Here are a set of tools that no IT department should be without.
The Best iPhone And iPad Apps For IT Professionals [Feature
Macworld: new version of iPad-compatible hard drive released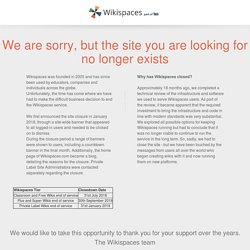 Get your brand new Wikispaces Classroom now and do "back to school" in style. guest Join | Help | Sign In cooltoolsforschools Home guest| Join | Help | Sign In Home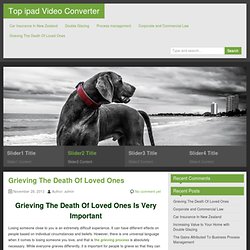 Losing someone close to you is an extremely difficult experience. It can have different effects on people based on individual circumstances and beliefs. However, there is one universal language when it comes to losing someone you love, and that is the grieving process is absolutely necessary.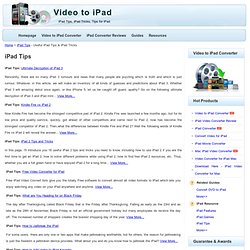 iPad Tips - Useful iPad Tips & iPad Tricks
Home > iPad Tips - Useful iPad Tips & iPad Tricks iPad Tips: Ultimate Decryption of iPad 3 Rencently, there are so many iPad 3 rumours and news that many people are puzzling which is truth and which is just rumour. Whatever, in this article, we will make an inventory of all kinds of guesses and predictions about iPad 3. Whether iPad 3 will amazing debut once again, or like iPhone 5, let us be caught off guard, apathy? Go on the following ultimate decryption of iPad 3 and iPad mini...
TextMe • Smart & Easy to Use Messenger App for iPhone, iPad, iPod Touch, Windows Phone 7 & Android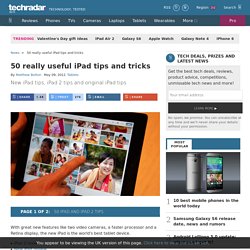 With great new features like two video cameras, a faster processor and a Retina display, the new iPad is the world's best tablet device. It's also fully capable of running the latest version of Apple's iOS operating system and great apps like iMovie and GarageBand. Here we present 50 really useful iPad tips. We cover everything from customising your Home screen through to getting more from built-in apps like Mail and Safari.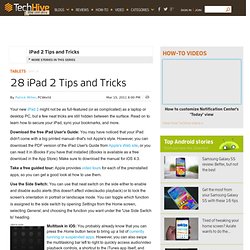 Your new iPad 2 might not be as full-featured (or as complicated) as a laptop or desktop PC, but a few neat tricks are still hidden between the surface. Read on to learn how to secure your iPad, sync your bookmarks, and more. Download the free iPad User's Guide: You may have noticed that your iPad didn't come with a big printed manual--that's not Apple's style.
May 31 2010 This is the age of iPhones, iPods and iPads, people simply love to have these amazing inventions of information technology. Apple iPhones have created a state of euphoria among its users with its amazing features and iPad is another product from Apple team that will let you browse internet, watch video, listen music, read books with just a finger touch.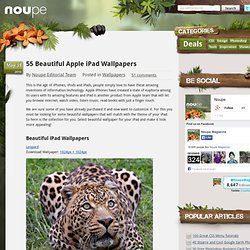 APP™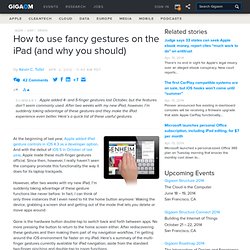 How to use fancy gestures on the iPad (and why you should) — Apple News, Tips and Reviews
At the beginning of last year, Apple added iPad gesture controls in iOS 4.3 as a developer option. And with the debut of iOS 5 in October of last year, Apple made these multi-finger gestures official. Since then, however, I really haven't seen the company promote this functionality the way it does for its laptop trackpads.
At some point, most tablet and smartphone owners think about buying a stylus. Today I have threes styluses from LOGiiX to show you that can be used for writing, drawing and even presenting at your next meeting. LOGiiX isn't a company that I was familiar with before they contacted me to ask if I'd review some of their offerings. I'm happy to say that the quality of their products is top notch. But let's delve in a bit deeper. Note: Click the images in this review to see a larger view.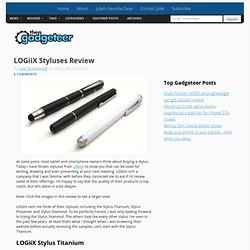 LOGiiX Styluses Review
If you have several iPhones, iPads, or iPods that need updating to the latest version of iOS, you can use a nice trick to save some bandwidth and download a single iOS update file to apply to multiple devices from either Mac OS X or Windows. This is a perfect solution for a family that has multiple iPhones or iPads that need updating, particularly when you don't want to download the same firmware multiple times. To be clear, the iOS devices must be of the same type and model, meaning three different iPhone 4s can use the same firmware, but an iPhone 4 can't use the same update file as an iPad 2 would, and an iPod touch can't use an iPhone 4S update file, and so on. Same models use the same IPSW, different models need different IPSW. To do this, you will need to download the iOS firmware files directly from Apple. Here are firmware links for iPad, iPod touch, iPhone if needed, once you have the file you place them into the folder where IPSW files are stored locally.
Download iOS Updates Once for Installing on Multiple Devices
iTim World | iPod and iPad Texting | Send and Receive Free Text Messages Online
Want a phone number for your texts on iTim? Get it Here NEW Features (learn more): 1. Make and Send Ringtones as text messages to any cellphone. 2.
CloudTalk - Home
HeyWire - Free Texting - Free SMS - in 45+ Countries, plus Facebook Chat, and Twitter
Join us on Saturday, April 12th, when our special guest will be Donna Román,"Featured Teacher". Donna Adams Román is a 5th grade teacher at Mill Creek School in Illinois, blogger, trainer, and presenter committed to providing rich learning opportunities for her learners and professional learning network. She is a recent recipient of ISTE's first place SIGOL Online Learning Award (2013) and a Microsoft Innovative Expert Educator. Donna is active in Professional Development online and in her district, CoSN, ISTE, and iEARN.
When Cody posted about Daniel Hooper's iPad keyboard demo, we had no idea that it would be as popular as it has turned out to be. Thousands of retweets later, the public has spoken out against how terrible the iPad's editing situation is. I think John Gruber summed it up best when he noted that the iPad was a great for typing, but poor for editing. The iPad keyboard demo video was created with the hopes that Apple would respond and implement something similar in the upcoming version of iOS. There's even instructions included on the video for submitting a bug report to Apple. Well, Apple may not listen, but someone else did.
iPad text editing concept comes to life thanks to this jailbreak tweak