Texas Gardening
Gardening during drought, semiarid conditions
We work with thousands of neighbors throughout Austin to galvanize communities around reengaging underutilized private and public space - turning it into productive urban gardens and farms, educational space, and activity centers. In addition to community education through Urban Patchwork, we connect a network of experienced consultants and contractors to provide a variety of job training and skill building apprenticeships that prepare people for planning, design, and maintenance opportunities that go beyond traditional style – productive, engaging, and beautiful open space that's a sustainable, long-term community asset.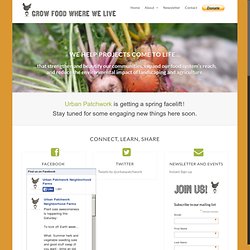 Urban Patchwork | Growing food and community in the city. | Austin, TX
Austin Urban Farming empowers our community with sustainable gardening and homebased food production
Austin Herb Society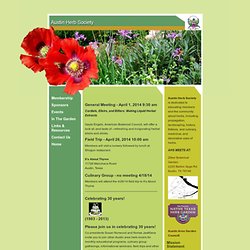 General Meeting - April 1, 2014 9:30 am Cordials, Elixirs, and Bitters: Making Liquid Herbal Extracts Gayle Engels, American Botanical Council, will offer a look at--and taste of --refreshing and invigorating herbal elixirs and drinks.
Herb & Spice Chart - Home Cooking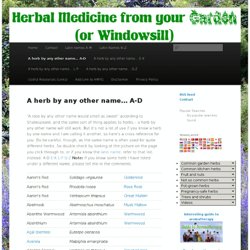 A herb by any other name… A-D
"A rose by any other name would smell as sweet" according to Shakespeare, and the same sort of thing applies to herbs – a herb by any other name will still work. But it's not a lot of use if you know a herb by one name and I am calling it another, so here's a cross reference for you. Do be careful, though, as the same name is often used for quite different herbs.
raised garden bed hugelkultur after one month raised garden bed hugelkultur after one year raised garden bed hugelkultur after two years raised garden bed hugelkultur after twenty years hugelkultur raised garden beds in a nutshell: grow a typical garden without irrigation or fertilizationhas been demonstrated to work in deserts as well as backyardsuse up rotting wood, twigs, branches and even whole trees that would otherwise go to the dump or be burnedit is pretty much nothing more than buried woodcan be flush with the ground, although raised garden beds are typically bettercan start small, and be added to latercan always be small - although bigger is betterYou can save the world from global warming by doing carbon sequestration in your own back yard!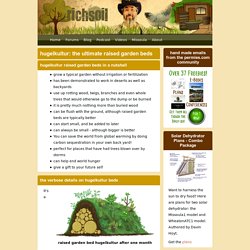 A Brief History of Gardening in Containers: Do you like gardening but digging in the dirt is too painful, messy, or time consuming? Container gardening is your answer. For many years now, container gardeners have been using pots, tubs, and boxes of all sizes to garden in. While raised bed gardens have also gained in popularity, so have "bucket gardens" or tubs become an economical way to garden with more control over your soil and more success with hard to grow vegetables.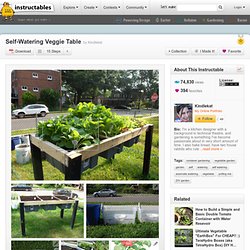 Lady Bird Johnson Wildflower Center - The University of Texas at Austin
The Natural Gardener: Organic Gardening Headquarters
Central Texas Gardening
Register for Summer 2013 STRONG STARTS!! Are you interested in starting a small-acreage, sustainable farm? Already farming, but interested in strengthening your cultivation methods, business plan, network of resources, or sales?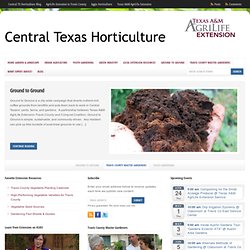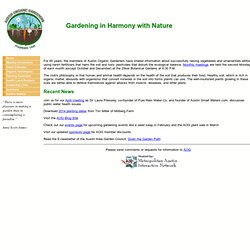 For 65 years, the members of Austin Organic Gardeners have shared information about successfully raising vegetables and ornamentals without using harsh fertilizers that harm the soil and toxic pesticides that disturb the ecological balance. Monthly meetings are held the second Monday of each month (except October and December) at the Zilker Botanical Gardens at 6:30 P.M. The club's philosophy is that human and animal health depends on the health of the soil that produces their food.
Austin Organic Gardeners - Home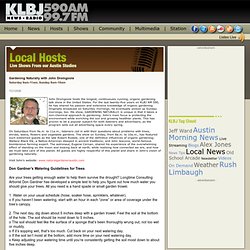 590 KLBJ Hosts and Shows
John Dromgoole hosts the longest, continuously running, organic gardening talk show in the United States. For the last twenty-five years on KLBJ AM 590, he has shared his passion and extensive knowledge of organic gardening. Originally broadcast on Saturday mornings, he eventually picked up Sunday mornings, too. His show, GARDENING NATURALLY, is unique in that it takes a non-chemical approach to gardening.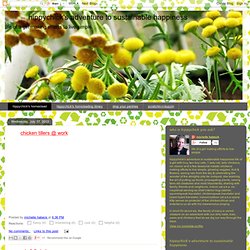 hippychick's adventure to sustainable happiness
hey ya'll welcome back! it's been a while since i've checked in and caught folks up with the goings on about the place. a whole lot has changed, improved, shifted and plans are being made daily for the next thing and the next, next thing. me, i'm just happy to have hit the summer break. no teaching for me this round. it means less cash flowing but it also means more quality time to spend at the homestead a.k.a. the wee keep and that's just fine with me. in fact i think the gods had a great good deal to do with it and i thank them. so let's get to it - what's happened? happening? going to happen?