Texas Gardening
Diatomaceous Earth (food grade): Bug Killer You Can Eat! Urban Patchwork | Growing food and community in the city. | Austin, TX. Austin Urban Farming empowers our community with sustainable gardening and homebased food production. Austin Herb Society. Herb & Spice Chart - Home Cooking. A herb by any other name… A-D. "A rose by any other name would smell as sweet" according to Shakespeare, and the same sort of thing applies to herbs – a herb by any other name will still work.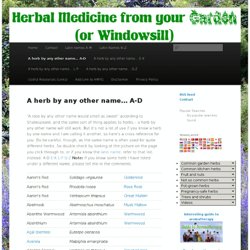 But it's not a lot of use if you know a herb by one name and I am calling it another, so here's a cross reference for you. Do be careful, though, as the same name is often used for quite different herbs. Raised garden beds: hugelkultur instead of irrigation. Raised garden bed hugelkultur after one month raised garden bed hugelkultur after one year raised garden bed hugelkultur after two years raised garden bed hugelkultur after twenty years hugelkultur raised garden beds in a nutshell: grow a typical garden without irrigation or fertilizationhas been demonstrated to work in deserts as well as backyardsuse up rotting wood, twigs, branches and even whole trees that would otherwise go to the dump or be burnedit is pretty much nothing more than buried woodcan be flush with the ground, although raised garden beds are typically bettercan start small, and be added to latercan always be small - although bigger is betterYou can save the world from global warming by doing carbon sequestration in your own back yard!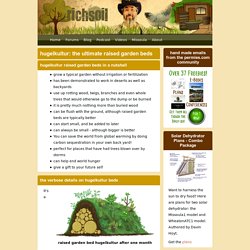 Self-Watering Veggie Table. A Brief History of Gardening in Containers: Do you like gardening but digging in the dirt is too painful, messy, or time consuming?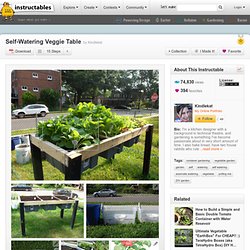 Container gardening is your answer. For many years now, container gardeners have been using pots, tubs, and boxes of all sizes to garden in. While raised bed gardens have also gained in popularity, so have "bucket gardens" or tubs become an economical way to garden with more control over your soil and more success with hard to grow vegetables. Lady Bird Johnson Wildflower Center - The University of Texas at Austin. The Natural Gardener: Organic Gardening Headquarters. Central Texas Gardening. Register for Summer 2013 STRONG STARTS!!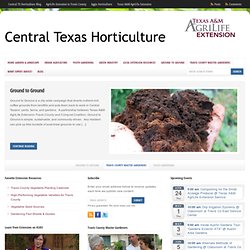 Are you interested in starting a small-acreage, sustainable farm? Already farming, but interested in strengthening your cultivation methods, business plan, network of resources, or sales? Austin Organic Gardeners - Home. For 65 years, the members of Austin Organic Gardeners have shared information about successfully raising vegetables and ornamentals without using harsh fertilizers that harm the soil and toxic pesticides that disturb the ecological balance.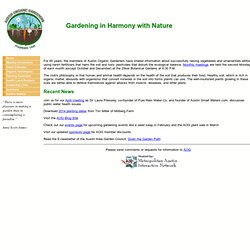 Monthly meetings are held the second Monday of each month (except October and December) at the Zilker Botanical Gardens at 6:30 P.M. The club's philosophy is that human and animal health depends on the health of the soil that produces their food. 590 KLBJ Hosts and Shows. John Dromgoole hosts the longest, continuously running, organic gardening talk show in the United States.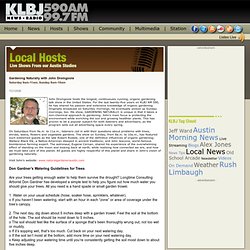 For the last twenty-five years on KLBJ AM 590, he has shared his passion and extensive knowledge of organic gardening. Originally broadcast on Saturday mornings, he eventually picked up Sunday mornings, too. His show, GARDENING NATURALLY, is unique in that it takes a non-chemical approach to gardening. Hippychick's adventure to sustainable happiness.
---