Texas Gardening
Gardening during drought, semiarid conditions
Urban Patchwork | Growing food and community in the city. | Austin, TX
Austin Urban Farming empowers our community with sustainable gardening and homebased food production
Austin Herb Society
Herb & Spice Chart - Home Cooking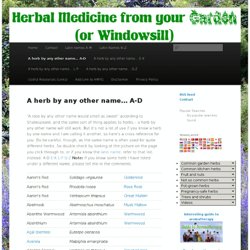 A herb by any other name… A-D
"A rose by any other name would smell as sweet" according to Shakespeare, and the same sort of thing applies to herbs – a herb by any other name will still work. But it's not a lot of use if you know a herb by one name and I am calling it another, so here's a cross reference for you. Do be careful, though, as the same name is often used for quite different herbs.
raised garden bed hugelkultur after one month raised garden bed hugelkultur after one year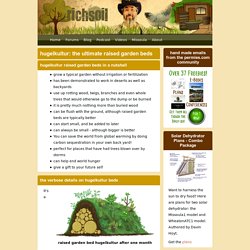 A Brief History of Gardening in Containers: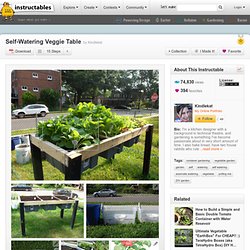 Lady Bird Johnson Wildflower Center - The University of Texas at Austin
The Natural Gardener: Organic Gardening Headquarters
Central Texas Gardening
Register for Summer 2013 STRONG STARTS!! Are you interested in starting a small-acreage, sustainable farm? Already farming, but interested in strengthening your cultivation methods, business plan, network of resources, or sales?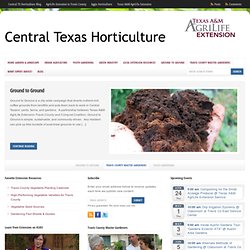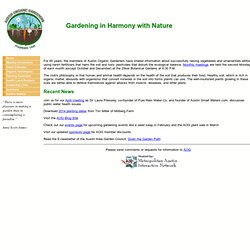 For 65 years, the members of Austin Organic Gardeners have shared information about successfully raising vegetables and ornamentals without using harsh fertilizers that harm the soil and toxic pesticides that disturb the ecological balance. Monthly meetings are held the second Monday of each month (except October and December) at the Zilker Botanical Gardens at 6:30 P.M. The club's philosophy is that human and animal health depends on the health of the soil that produces their food.
Austin Organic Gardeners - Home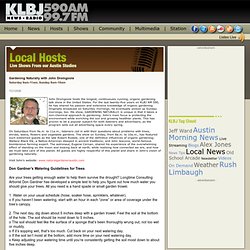 590 KLBJ Hosts and Shows
John Dromgoole hosts the longest, continuously running, organic gardening talk show in the United States.
hippychick's adventure to sustainable happiness