Gardening during drought, semiarid conditions
Drought Protection on a Budget « Sustainable Sources
This article first appeared in the Austin American Statesman. by John Gleason As the weather turns warmer, landscapes are breaking their winter dormancy and waking up to a powerful thirst. Although the current drought has been especially tough on ranchers and farmers, homeowners are to feeling the pinch too. Many are turning to local irrigation contractors, who are scrambling to fulfill an overload of requests for sprinkler system installations and repairs.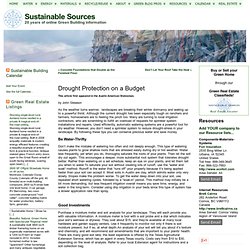 Mr. Smarty Plants - List of native perennial Texas flowers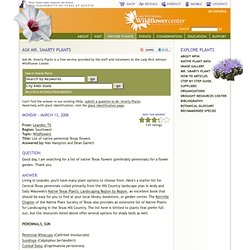 Ask Mr. Smarty Plants is a free service provided by the staff and volunteers at the Lady Bird Johnson Wildflower Center. Can't find the answer in our existing FAQs, submit a question to Mr.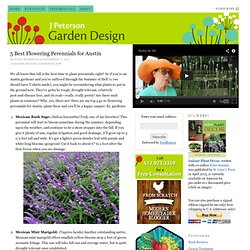 We all know that fall is the best time to plant perennials, right? So if you're an Austin gardener and you've suffered through the Summer of Hell '11 (we should have T-shirts made), you might be reconsidering what plants to put in the ground now. They've gotta be tough, drought tolerant, relatively pest-and-disease free, and oh yeah—really, really pretty! Are there such plants in existence? Why, yes, there are!
5 Best Flowering Perennials for Austin — J Peterson Garden Design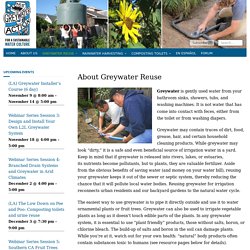 Greywater Action | For a sustainable water culture
Greywater irrigated landscape Greywater is water from your bathroom sinks, showers, tubs, and washing machines. It is not water that has come into contact with feces, either from the toilet or from washing diapers.
City council proposal approves increase in greywater systems
Greywater by Suzy Banks Thousands of otherwise law-abiding citizens are greywater hoodlums. You know who you are, with your washing machine draining onto your lawn or your bathtub water drenching your prized petunias.
www.austinchronicle.com/issues/spec/greenbuild/greywater.html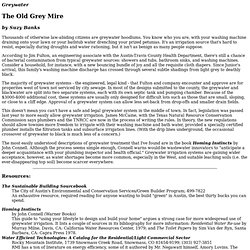 Greywater, or sullage, is wastewater generated from domestic activities such as laundry, dishwashing, and bathing, which can be recycled on-site for uses such as landscape irrigation and constructed wetlands . Greywater differs from water from the toilets which is designated sewage or blackwater to indicate it contains human waste . [ edit ] Definition
Greywater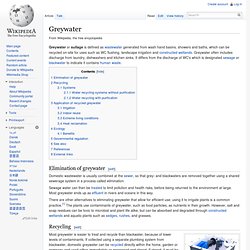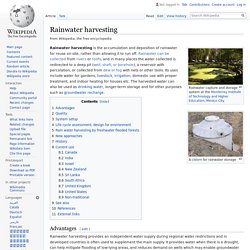 Rainwater harvesting
Rainwater harvesting is the accumulation and deposition of rainwater for reuse before it reaches the aquifer .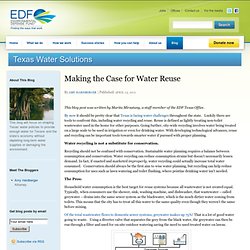 This blog post was written by Marita Mirzatuny, a staff member of the EDF Texas Office. By now it should be pretty clear that Texas is facing water challenges throughout the state. Luckily there are tools to confront this, including water recycling and reuse. Reuse is defined as lightly treating non-toilet wastewater used in the home for other purposes.
Making the Case for Water Reuse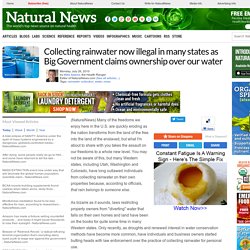 Collecting rainwater now illegal in many states as Big Government claims ownership over our water
(NaturalNews) Many of the freedoms we enjoy here in the U.S. are quickly eroding as the nation transforms from the land of the free into the land of the enslaved, but what I'm about to share with you takes the assault on our freedoms to a whole new level.
Tips for a Successful Drought-Tolerant Garden
Tips for a Drought Friendly Vegetable Garden | A Sonoma Garden
As a native Californian, you get used to the word 'drought'. It comes up every once in a while so you do what you can to cut back on your water usage. Sometimes it gets so bad that you expect that everyone has to let their lawn die that summer, you adopt the rule, "if it's yellow, it's mellow, if it's brown, flush it down." You put buckets under the bathtub faucet to catch all the cold water before it turns hot. You do what you can. But this year is different.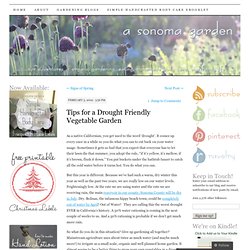 Want drought-hardy plants? It's time to think agave
By Diana C. Kirby The long-term forecast for Central Texas is a little daunting for gardeners. Some experts are predicting that our current drought pattern could hang around until 2020. That's a long time to wait for rain.
Creating Xeriscaping Gardens using Native - Drought Tolerant Plants
The Natural Gardener - 404