US DEATH PENALTY
One might have hoped that, by this hour, the very sight of chains on black flesh, or the very sight of chains, would be so intolerable a sight for the American people, and so unbearable a memory, that they would themselves spontaneously rise up and strike off the manacles. But no, they appear to glory in their chains; now, more than ever, they appear to measure their safety in chains and corpses. -James Baldwin to Angela Davis.
Preacher's Daughter: "We Who Believe in Freedom Cannot Rest" in Wake of Troy Davis' Judicial Lynching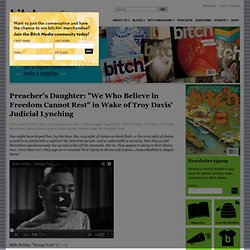 Georgia Parole Board's Decisions on Troy Davis vs. Samuel Crowe Cases Almost Like Black and White
Editorial - High Cost of Death Row
UPDATE: Prisoner pronounced dead at 6:25 PM. Final words: "Game over." (Reuters) An Alabama man who has spent just four years on death row for the suffocation and beating death of his infant son is set to die by lethal injection on Thursday. The execution of Christopher Thomas Johnson, 39, is scheduled for 6 p.m. local time at the Holman Correctional Facility in Atmore.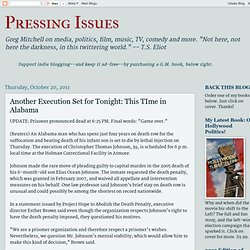 This TIme in Alabama
The World's Top Executioners - By Joshua E. Keating
Number of executions: Thousands -- reliable statistics are hard to come by.
"Using conservative rough projections, the Commission estimates the annual costs of the present system ($137 million per year), the present system after implementation of the reforms ... ($232.7 million per year) ... and a system which imposes a maximum penalty of lifetime incarceration instead of the death penalty ($11.5 million)." Recent Cost Studies A 2003 legislative audit in Kansas found that the estimated cost of a death penalty case was 70% more than the cost of a comparable non-death penalty case.
Death Penalty Cost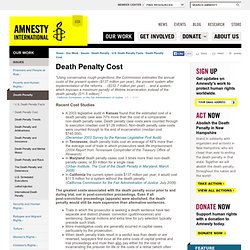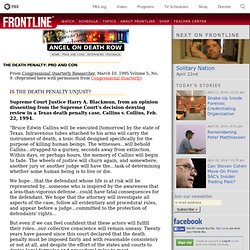 From Congressional Quarterly Researcher, March 10, 1995 Volume 5, No. 9. (Reprinted here with permission from Congressional Quarterly) IS THE DEATH PENALTY UNJUST? Supreme Court Justice Harry A.
Supreme Court/ Death Penalty
Reuters: "Enough is enough," state Senator John Whitmire wrote in a letter on Thursday to prison officials, prompting the move. "It is extremely inappropriate to give a person sentenced to death such a privilege. It's a privilege which the perpetrator did not provide to their victim."The letter was in apparent response to the dinner requested, but not eaten, by white supremacist Lawrence Brewer before he was put to death on Wednesday night for the 1998 dragging death of James Byrd Jr.Brewer requested an elaborate meal that included a triple-meat bacon cheeseburger, a meat-lover's pizza, a big bowl of okra with ketchup, a pound of barbecue, a half a loaf of bread, peanut butter fudge, a pint of ice cream and two chicken-fried steaks.When it arrived around 4 p.m. at Brewer's cell, he declined it all, telling prison officials he wasn't hungry. Apparently, death penalty opponents are not bothered by the change.
Texas Abolishes Last Meal For Death Row Inmates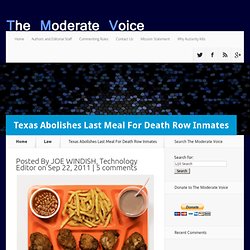 Beta
The state of Georgia shamefully executed Troy Davis on September 21, 2011 despite serious doubts about his guilt.