More..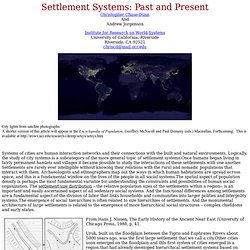 City Systems
Christopher Chase-DunnAnd Andrew Jorgenson Institute for Research on World-SystemsUniversity of California, Riverside Riverside, CA 92521 chriscd@mail.ucr.edu City lights from satellite photographs. A shorter version of this article will appear in the Encyclopedia of Population, Geoffrey McNicoll and Paul Demeny (eds.) Macmillan, Forthcoming. This is available at http://irows.ucr.edu/research/citemp/setsys/setsys.htm
Municipalities and urban development
Learning Materials
Many Western cities face marked changes that are associated with post-industrialisation of the urban environment. In this article, four political perspectives on the threats and opportunities associated with post-industrialisation are discussed: liberal productivism; communitarianism; institutional perfectionism and participative democracy. In cultural terms these four approaches appear to be remarkably biased. As such, they are unlikely to match the complicated, confusing and unpredictable processes that are taking place in Western cities. The complexities of post-industrialisation demand cultural variety in the public domain.
The post-industrialising city: political perspectives and cultur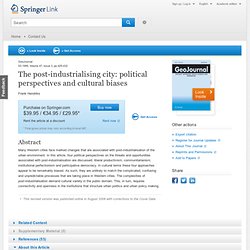 Cyburbia - urban planning community
URBAN STRATEGIES - Urban Planning Design - Toronto Canada
Sustainable Cities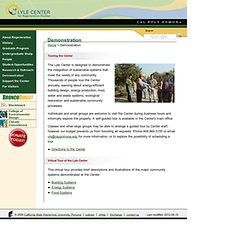 Home > Demonstration Touring the Center The Lyle Center is designed to demonstrate the integration of sustainable systems that meet the needs of any community. Thousands of people tour the Center annually, learning about energy-efficient building design, energy production, food, water and waste systems, ecological restoration and sustainable community processes. Individuals and small groups are welcome to visit the Center during business hours and informally explore the property. A self-guided tour is available in the Center's main office.
John T. Lyle Center for Regenerative Studies - Demonstration
Free Online Course Materials | Urban Studies and Planning
PROUD - Promoting Urban Sustainable Development in Local Authorities
About EUKN
The key objective of EUKN is to enhance the exchange of knowledge and expertise on urban development throughout Europe, bridging urban policy, research and practice. About EUKN EUKN is characterised by a demand-driven approach, based on the needs of urban practitioners and policymakers. EUKN has developed an extensive, high-quality knowledge database, based on shared standards and protocols. This extensive e-library provides free access to case studies, research results, policy documents, context issues, network descriptions, updated news and meetings.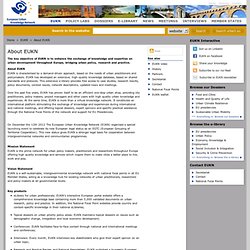 urban planning research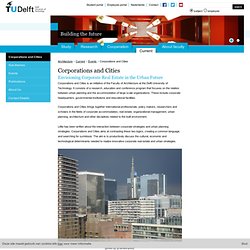 Corporations and Cities is an initiative of the Faculty of Architecture at the Delft University of Technology. It consists of a research, education and conference program that focuses on the relation between urban planning and the accommodation of large scale organizations. These include corporate headquarters, governmental institutions and educational facilities. Corporations and Cities brings together international professionals, policy makers, researchers and scholars in the fields of corporate accommodation, real estate, organizational management, urban planning, architecture and other disciplines related to the built environment.
TU Delft - Corporations and Cities
Our research on cities and communities cuts across several Urban Institute specialties—housing trends, crime prevention, economic development, arts and culture, and more. Our urban studies define much of our history, from evaluations of community development corporations in poor neighborhoods to road-tested ideas for rebuilding New Orleans after Hurricane Katrina, to more recent projects helping policymakers monitor communities' progress. We also work closely with local groups to grasp and address the Washington, D.C., area's challenges. Read more. Featured Links
Cities and Neighborhoods