More..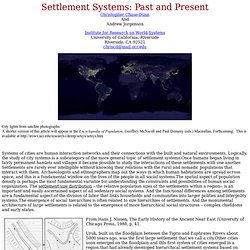 City Systems
Christopher Chase-DunnAnd Andrew Jorgenson Institute for Research on World-SystemsUniversity of California, Riverside Riverside, CA 92521 chriscd@mail.ucr.edu City lights from satellite photographs. A shorter version of this article will appear in the Encyclopedia of Population, Geoffrey McNicoll and Paul Demeny (eds.) Macmillan, Forthcoming. This is available at http://irows.ucr.edu/research/citemp/setsys/setsys.htm
Municipalities and urban development
Learning Materials
Many Western cities face marked changes that are associated with post-industrialisation of the urban environment. In this article, four political perspectives on the threats and opportunities associated with post-industrialisation are discussed: liberal productivism; communitarianism; institutional perfectionism and participative democracy. In cultural terms these four approaches appear to be remarkably biased. As such, they are unlikely to match the complicated, confusing and unpredictable processes that are taking place in Western cities. The complexities of post-industrialisation demand cultural variety in the public domain.
The post-industrialising city: political perspectives and cultur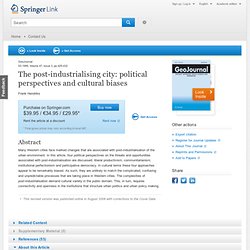 Cyburbia - urban planning community
URBAN STRATEGIES - Urban Planning Design - Toronto Canada
Sustainable Cities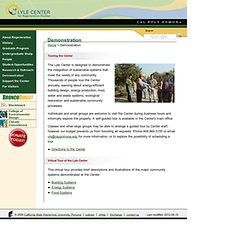 Home > Demonstration Touring the Center
John T. Lyle Center for Regenerative Studies - Demonstration
Free Online Course Materials | Urban Studies and Planning | MIT OpenCourseWare
PROUD - Promoting Urban Sustainable Development in Local Authorities
About EUKN
The key objective of EUKN is to enhance the exchange of knowledge and expertise on urban development throughout Europe, bridging urban policy, research and practice.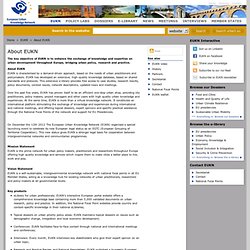 urban planning research
TU Delft - Corporations and Cities
Our research on cities and communities cuts across several Urban Institute specialties—housing trends, crime prevention, economic development, arts and culture, and more.
Cities and Neighborhoods