#upGRADE
#NewhouseSM4 Team Teaching Presentation group researching the influence of Klout scores and social media presence in relation to brand perks and customer benefits mrmurp02 Feb 20
upGRADE Presentation*
Klout provides social media analytics to measure the influence of a profile across social media networks. You are given you a Klout Score based on your ability to drive action through creating content and engagement; how often links are clicked on, responded to, retweeted and how many followers or fans you have. This is all calculated by an algorithm and incorporates true reach, amplification and network impact. The Klout Score is currently used by over 3500 companies who reward influencers with Klout Perks.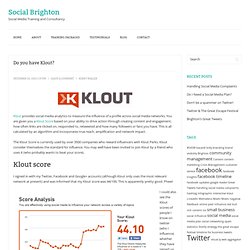 Do you have Klout? | Social Brighton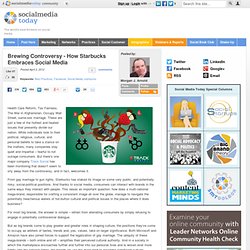 Health Care Reform, Tax Fairness, The War in Afghanistan, Occupy Wall Street, same-sex marriage. These are just a few of the hottest and heated issues that presently divide our nation. While individuals look to their political, religious, cultural, and personal beliefs to take a stance on the matters, many companies stay quiet and impartial – fearful to not outrage consumers. But there's one major company Track Social has been monitoring that doesn't seem to shy away from the controversy, and in fact, welcomes it. From gay marriage to gun rights, Starbucks has staked its image on some very public, and potentially risky, social-political positions.
Brewing Controversy - How Starbucks Embraces Social Media
Survey: Majority of Marketers Will Ask Shops to Lower Costs | CMO Strategy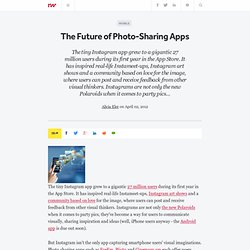 The Future of Photo-Sharing Apps
The tiny Instagram app grew to a gigantic 27 million users during its first year in the App Store. It has inspired real-life Instameet-ups, Instagram art shows and a community based on love for the image, where users can post and receive feedback from other visual thinkers. Instagrams are not only the new Polaroids when it comes to party pics, they've become a way for users to communicate visually, sharing inspiration and ideas (well, iPhone users anyway - the Android app is due out soon). But Instagram isn't the only app capturing smartphone users' visual imaginations. Photo-sharing apps such as EyeEm, Piictu and Cinemagr.am each offer users opportunities to connect and organize visually and categorically in non-Instagram ways. The Web-based photo social network pasts of Flickr, PhotoBucket, Picasa, Shutterfly and Kodak Slideshare are over.
As Garnier Pitchwoman, Tina Fey Trades Geeky for Glam | MediaWorks
Many Magazines Racing to Capitalize on Pinterest | MediaWorks
upGRADE Presentation*
Why Influencer Marketing Isn't About the 'Influencers'
Google+ Hangouts are an ideal place for people to share experiences online just like they do in real life. Now, sharing slides live is even better with the Google+ Hangouts SlideShare App. Whether you're in a conference presentation or collaborating with a group, this new app allows you and your friends & colleagues around the world to present and discuss SlideShare content in real time. Click the big red button to launch Google+ Hangouts with the SlideShare App. You can search and discover a SlideShare presentation, present Face-to-Face-to-Face and change the presentation and presenter at any time during the Hangout.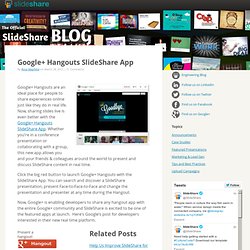 Google+ Hangouts SlideShare App
For Good
Do you have to be Ashton Kutcher to have influence on Twitter? If not, what does it take to be an influencer on social networks? And Is there a return on investment on the time you spend on social media tasks? Virgin America airlines is examining what influencers can do for their brand and is depending on a social media analytics company to surface the results so they reward those that do the best job.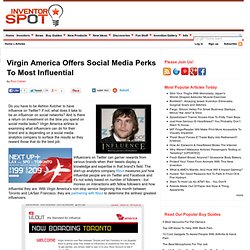 Virgin America Offers Social Media Perks To Most Influential
Klout Offers Spotify Invites as Perk to Online Influencers
The people at Klout headquarters recently got a sneak peek at Spotify — the highly praised European music service that launched in the U.S. today — and now they're giving away 100,000 invites via their Klout Perks platform. Klout users can check whether they have a high enough Klout score to nab an invite here. If you qualify for the Klout Perk, you will be dubbed a "U.S Spotify Ambassador" and receive a code to launch your Spotify account. Additionally, if you get five friends to sign up for Klout, you will receive a one-month trial of Spotify's premium version. Klout is just one brand boosting Spotify's profile in the U.S.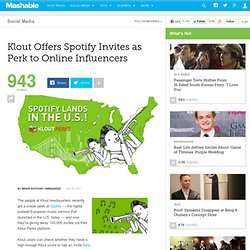 Want a Spotify invite? Start boosting your Klout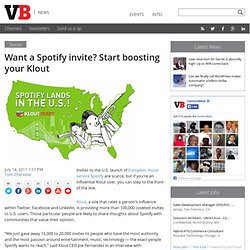 Invites to the U.S. launch of European music service Spotify are scarce, but if you're an influential Klout user, you can step to the front of the line. Klout, a site that rates a person's influence within Twitter, Facebook and LinkedIn, is providing more than 100,000 coveted invites to U.S. users. Those particular people are likely to share thoughts about Spotify with communities that value their opinion. "We just gave away 15,000 to 20,000 invites to people who have the most authority and the most passion around entertainment, music, technology — the exact people Spotify wants to reach," said Klout CEO Joe Fernandez in an interview with VentureBeat Thursday.
Years of thinking social archives > Photo by Kaseylizbeth via flickr If you're like me, a fashion enthusiast who shops online for luxury items, then you know how gratifying discovering a discount can be. What's even more gratifying – sharing the discount with your social community! How many times have you passed along a discount or talked about a brand and thought to yourself, "I should get a commission on these sales".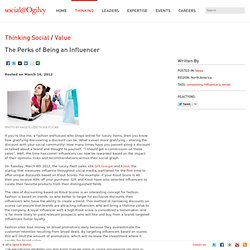 Social@Ogilvy
Is The New Customer Service Tool Twitter? | Business 2 Community
Appinions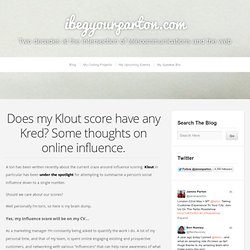 Does my Klout score have any Kred? Some thoughts on online influence. - I Beg Your Parton
A ton has been written recently about the current craze around influence scoring. Klout in particular has been under the spotlight for attempting to summarise a person's social influence down to a single number. Should we care about our scores? Well personally I'm torn, so here is my brain dump. Yes, my influence score will be on my CV…
Perks
Announcing our #KloutChat schedule March 21st, 2011 by Megan Berry On February 17th, we hosted our first-ever #KloutChat to create an open dialogue between Klout and it's many users, fans, critics, and those looking to learn more. It was a great success and we greatly enjoyed hearing everyone's questions and thoughts.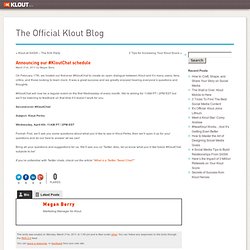 Announcing our #KloutChat schedule
New York, New York, March 5, 2012 - Gilt Groupe Inc., the innovative online shopping destination, announced today an exclusive partnership with Klout, the standard for influence. Through this first-of-its-kind partnership, Gilt members and Klout users can use their influence to receive a percentage off of their Gilt.com purchase that matches their Klout Score – for example, if your Klout Score is 81-100, you could receive up to 100 percent off of your purchase. This Perk starts on Tuesday, March 6, will roll out in increments to users and is valid for a limited amount of time.
Groupe, Inc. and Klout Partner to Offer First-of-its-Kind Reward to Users | Gilt Groupe | About
It was only five days ago that Google+ launched the first part of its application programming interface. The available API was launched just before Google+ finally opened itself to the public following its 90 day beta testing period, no doubt to get developers started in the right direction and prepped for the more robust API in Google+'s future. In the five days after Google+'s API launch, Klout actively worked on using the available data to integrate G+'s service onto its own platform. Now, less than a week later, Klout has become the first social scoring analytics tool to build on the public data.
Klout CEO Joe Fernandez talks with us about the future of social influence scoring
How Social Influence Has Changed the Game of Promotional Giveaways
When did subject-line bait like "you may already be a winner" and "you have been chosen" become a real thing? If you've been checking your junk email lately, you might have noticed that promotional giveaways have gotten a lot more interesting, in part because brands are now able to measure a person's influence online through social media tracking sites like Klout. Here are some emerging trends. Plenty of social media users have been willing to give up their contact information and solicit votes from their friends for a shot at a dream wedding from Crate & Barrel or a walk-on role on an episode of "Glee." But that's a lot of entries for contest administrators to go through, and not everyone has a big prize to offer. Peanut Butter & Co., a gourmet peanut butter manufacturer and sandwich shop based in New York; and Bob's Red Mill, a natural foods company based in Milwaukie, OR, took a different approach with a recipe contest.
Measuring the Influence of Social Media
70,876 views by Brian Cavoli ... by Brian Cavoli One of the most common questions companies have today about social media is how to measure and evaluate success of their efforts. Since we are well beyond need to "do it because it's cool", marketers need to demonstrate how their blogging, community participation and influencer outreach is impacting their business. Social media is all about relationships.
How Klout Is Using Analytics To Measure Social Media Influence
ANA Social Media Influencer Outreach Brand Ambassador Case Study
How "influencers" on social media are rewarded
WELCOME TO THE REPUTATION ECONOMY
Morgan Brown: How Klout Perks Really Work – Influencer Marketing Review
How Social Media Is Changing The Landscape Of Customer Service [INFOGRAPHIC]
Gilt Group Rewards Shoppers With High Klout Scores
Forget Money. Power is Social Influence. Thanks @Klout @GiltGroupe | Tripped Media
Getting perks out of your social media score | Video | 6abc
9 Ways Top Brands Use Social Media for Better Customer Service
How Has Social Media Affected Customer Service? [Infographic]
Klout, Kred and the Ugly Truth About Social Influence Measurement
Social Media Finds Room At The Inn
Kred and Klout: Too Close for Start-Up Comfort in SOMA (Literally) - Liz Gannes - Social