More
The University of Toledo -
Inside UTMC UTMC breast surgeon Dr. Helen Mabry on what you need to know about breast health. Watch video Dozens of Physicians from The University of Toledo Medical Center Named to Prestigious 2014 Best Doctors in America ® List 34 University of Toledo Medical Center physicians appear on the Best Doctors in America® List for 2014. Only five percent of doctors in America earn this prestigious honor, decided by impartial peer review.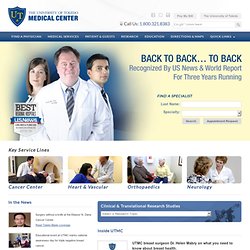 utmc.utoledo
Wright State University - Dayton, Ohio
Youngstown State Univeristy - An Urban Research University located in Northeast, Ohio.
Aspirational Goals of Vision 2020 Twelve distinctive aspirations provide a foundation for achieving Vision 2020 and reflect the University's commitment to the principles of relevance (delivering tangible benefits to the campus and community), connectivity (achieving greater impact through partnerships, collaborations, and collective initiatives), and productivity, (adding value to the ecosystem with the University as an active agent of opportunity and innovation). These aspirational goals are: Enroll up to 40,000 studentsIncrease diversityIncrease graduation ratesEnhance job placementDiversify revenue sourcesIncrease annual research expendituresIncrease private philanthropyAttain national recognition for The Akron ExperienceRevitalize the campus neighborhoodAchieve recognition as a leader in academic innovationAttain national recognition for The Akron ModelBenchmark achievements against national and international peer universitiesSee also:UA's strategic plan: "Vision 2020"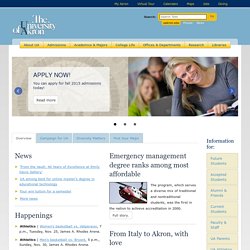 :: Ohio University Zanesville
Shawnee State University
:: Ohio University Eastern - Home ::
Welcome to the Ohio University Lancaster Campus. Ohio University Lancaster offers the academic foundation of a university education, the convenience of a small campus setting, the affordability of state-assisted tuition, and relevant education for today's competitive job market. We also provide convenience throughout Fairfield County by offering students the option to attend classes on the Lancaster Campus or Pickerington Center.
:: ohio.university.lancaster ::
Welcome to Ohio University
The Ohio State University at Marion | Do Something Great
If you want the atmosphere of a small liberal arts college and the educational resources of a major university, The Ohio State University at Marion is for you. At Ohio State Marion, you can pursue your university education in more than 170 areas of study or complete your Ohio State degree in a growing number of majors on the Marion campus. As an Ohio State Marion student, you are part of the Ohio State family and have access to opportunities and activities on the Marion and Columbus campuses, including libraries, research facilities, computer labs, student organizations, concerts, and even football tickets. The Ohio State University is one university with many campuses. Regardless of which one you attend, you are an Ohio State student, you are a Buckeye!
University of Cincinnati
University of Cincinnati, Raymond Walters College