On LinkedIn (1,561)
Experienced consultant and facilitator focused on providing individuals, teams and organizations with the ability to generate their own actionable insights for improvement via focused, tailored interventions. Specializing in leading innovative simulation-based workshops focused on change management, innovation and teamwork - see: http://www.calt.insead.edu/eis/. Available for ThinkTank® Group Consensus Facilitation.
Tanja E.J. Vos - 260
Raul Soriano Hontanilla - 128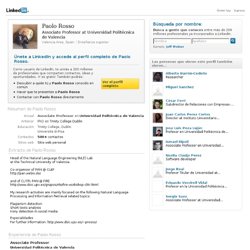 Head of the Natural Language Engineering (NLE) Lab at the Technical University of Valencia. Co-organiser of PAN @ CLEF http://pan.webis.de/ and of CL!
Paolo Rosso - 324
Moritz Bradler - 13
Conor Patterson - 1
Joe English - 164
Ronan Dennedy - 184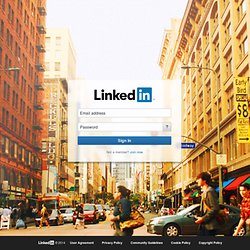 Orla Casey - 216
In a nutshell, I work with companies and organisations to craft winning business & marketing plans and providing the tools for SME growth. Much of my work is sectoral based - working with groups of companies and development organisations to bring original solutions to group marketing - food, tourism creative industries, green tech sectors etc..