Universities
Two-Time Champs Webster Chess team wins President's Cup The Webster University chess team took home their second consecutive President's Cup, known as the "Final Four of College Chess." Read More Summer Camps Kids & Teachers
Webster University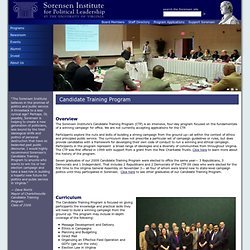 Candidate Training Program | Sorensen Institute
Overview The Sorensen Institute's Candidate Training Program (CTP) is an intensive, four-day program focused on the fundamentals of a winning campaign for office. We are not currently accepting applications for the CTP. Participants explore the nuts and bolts of building a strong campaign from the ground up—all within the context of ethics and principled public service. The curriculum does not prescribe a particular set of campaign guidelines or rules, but does provide candidates with a framework for developing their own code of conduct to run a winning and ethical campaign. Participants in the program represent a broad range of ideologies and a diversity of communities from throughout Virginia.
Higher Education in the US of America & Canada Welcome to your career destination! If the US is your choice to chase academic heights and you sense the need for proper guidance, you've headed to the right place.
US Colleges | US Universities | Higher Education in the US of America & Canada | Canadian Universities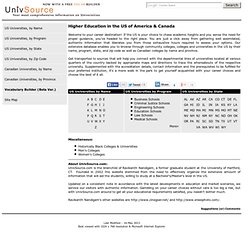 Spring 2010 1- OPEC - Lecture 5. Stephen Chen, Farah Ereiqat, Stephanie Hall ,Jennifer Wong. 2- Olive Oil Certification / Ready to Eat Cereal Industry - Lecture 10, Daley Kutzman, Ana Castillo, Andrew Postal, and Alice Tu.
EEP 142 - Industrial Organization with Applications to Agriculture and Natural Resources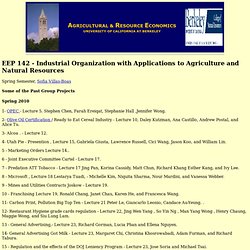 Skip Navigation A Program of CLIR Login Site Map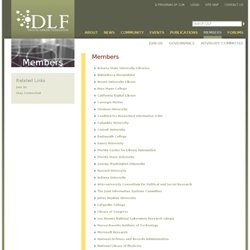 DLF » Members
Beginning in 2005, a two-day seminar on Global Administrative Law has been held anually (usually in mid-June) in Viterbo, Italy, at the Political Science Faculty of La Tuscia University. A theme is specified for each year, and a call for papers is issued (and posted on this website) to invite scholars from around the world to submit paper proposals. For papers and summaries of discussions, follow the link to each year's seminar. These seminars, convened by Professors Stefano Battini and Giulio Vesperini, draw from research projects headed by Professor Sabino Cassese at the University of Rome "La Sapienza" and at the Institute for Research on Public Administration (IRPA), and regularly involve scholars from universities in Italy and other parts of Europe, NYU, and elsewhere.
GALViterbo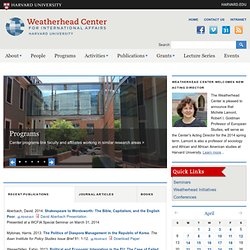 The Weatherhead Center for International Affairs
Davis, Diane, and Onesimo Dewey. 2013. How to Defeat a Megaproject: Lessons from Mexico City's Airport Controversy. In Urban Megaprojects: A Worldwide View.
Florida Coastal Immigrant and Human Rights Clinic has been representing Human Trafficking Victims in Jacksonville since 2007. This past week the clinic obtained a Trafficking Visa for a victim of labor trafficking. The victim had entered the United States lawfully on an agricultural visa but had been abused and taken advantage of by an employer after arrival in the United States. When the victim asked to be released from the employers charge the employer threatened to have the victim deported and refused to return his documents. The case was part of a larger group of cases involving victims from around the state of Florida and is the second labor trafficking case the clinic has won this semester. The victim is now able to live without fear and begin rebuilding his life.
Coastal Law