Universities
Webster University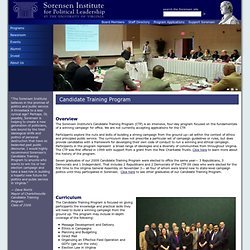 Candidate Training Program | Sorensen Institute
Overview The Sorensen Institute's Candidate Training Program (CTP) is an intensive, four-day program focused on the fundamentals of a winning campaign for office.
US Colleges | US Universities | Higher Education in the US of America & Canada | Canadian Universities
Spring 2010 1- OPEC - Lecture 5. Stephen Chen, Farah Ereiqat, Stephanie Hall ,Jennifer Wong. 2- Olive Oil Certification / Ready to Eat Cereal Industry - Lecture 10, Daley Kutzman, Ana Castillo, Andrew Postal, and Alice Tu.
EEP 142 - Industrial Organization with Applications to Agriculture and Natural Resources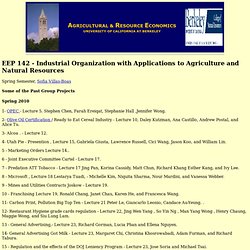 Skip Navigation A Program of CLIR Login Site Map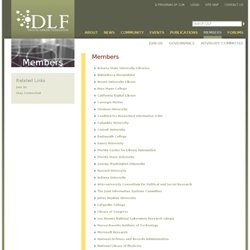 DLF » Members
Beginning in 2005, a two-day seminar on Global Administrative Law has been held anually (usually in mid-June) in Viterbo, Italy, at the Political Science Faculty of La Tuscia University. A theme is specified for each year, and a call for papers is issued (and posted on this website) to invite scholars from around the world to submit paper proposals. For papers and summaries of discussions, follow the link to each year's seminar. These seminars, convened by Professors Stefano Battini and Giulio Vesperini, draw from research projects headed by Professor Sabino Cassese at the University of Rome "La Sapienza" and at the Institute for Research on Public Administration (IRPA), and regularly involve scholars from universities in Italy and other parts of Europe, NYU, and elsewhere.
GALViterbo
eScholarship: University of California
The Weatherhead Center for International Affairs
Coastal Law