Unitarian Universalist (UU) Bloggers
WORSHIPcast | Christian Copyright Solutions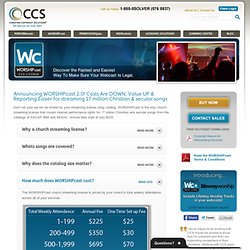 Don't let your set list be limited by your streaming license song catalog. WORSHIPcast is the only church streaming license that covers internet performance rights for 17 million Christian and secular songs from the catalogs of ASCAP, BMI and SESAC. Annual fees start at only $225.
Chalice Light
chaliceout - Love, dance us from one year to the next, with great hope, great thankfulness & great joy. chalicelight - Wisdom help us dare to be creative in our maladjustment, our loving, our dreaming & our making peace chaliceout - Wisdom may we find meaning and purpose in making peace, caring for the earth, & loving one another. chalicelight - Lover of Life may we lean into our greater purpose of loving boldly, living compassionately, & creating joy. chaliceout - Working together, may we make a more equitable & just, peaceful & joyful world. chalicelight - Working together, may we gift the world with what is right & good & beautiful.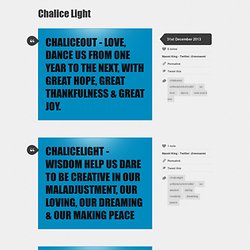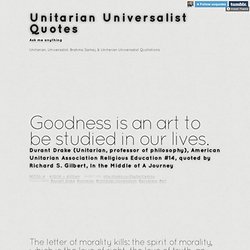 Goodness is an art to be studied in our lives. Durant Drake (Unitarian, professor of philosophy), American Unitarian Association Religious Education #14, quoted by Richard S. Gilbert, In the Middle of A Journey The letter of morality kills: the spirit of morality, which is the love of right, the love of truth, an inward truthfulness of soul, a fidelity to one's own highest nature, an aspiration after whatever things are pure, and lovely, and noble, — this it is which fills the soul through and through, at once with magnanimity and humility, at once with courage and modesty; makes us faithful without pedantry, and holy without cant and pretense. James Freeman Clarke, The Hour Which Cometh (1868) p.20 (Unitarian, clergy, author, reformer) Setting is preliminary to brighter rising; decay is a process of advancement; death is the condition of higher and more fruitful life.
Unitarian Universalist Quotes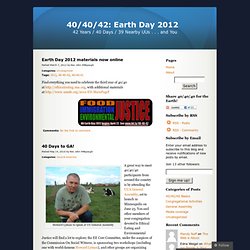 Howard Lyman to speak at UU General Assembly A great way to meet 40/40/40 participants from around the country is by attending the UUA General Assembly, set to launch in Minneapolis on June 23. You and other members of your congregation devoted to Ethical Eating and Environmental Justice will find a lot to explore; the EE Core Committee, under the auspices of the Commission On Social Witness, is sponsoring two workshops (including one with world-famous Howard Lyman), and other groups are organizing activities as well. #3013 Saving the World One Fork at a TimeFriday 1:00pm – 2:15pm Minneapolis Convention Center – 200 FG Commission on Social Witness and The UU Animal Ministry The standard American diet is the root cause of the top four causes of death in the US and is the leading cause of the environmental meltdown on the earth today. Saving ourselves may save the earth.Howard Lyman, Rev.
40/40/40 for the Earth!
UU Religious Educators Blogging
UUpdates - All updates
Displaying 1-20 of 2405 results. The cartoon Its mouseover text: "I can't remember where I heard this, but someone once said that defending a position by citing free speech is sort of the ultimate concession; you're saying that the m censorship / free speech XKCD