UNA eLearning
Have you come across any good research material on
e-learning (particularly interactive or apps) and how it compares to traditional learning methods and suits different learning styles?
Best Practice Guides - eLearning Network. Stephen Walsh explains how rapid e-learning design is different -- and better -- than traditional methods.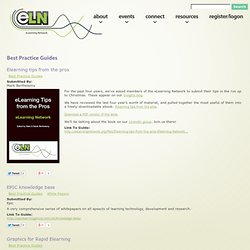 Is there room for design in Rapid E-learning? You better believe it. Best practices in e-learning study. eLearn Magazine.
eLearning apps
---