Mode
Vanity Fair Magazine. Elle. Teen Vogue. Vogue. Hitched Prom Dress. New Look's celebrated range of dresses are as fabulous as they are stylish, with styles and looks to fit every body shape and every occasion.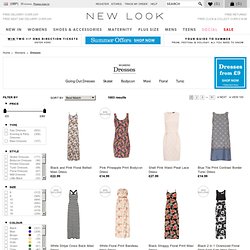 Ensure you're ready for the party season with our range of bodycon dresses, matched with an elegant pair of high heels, or discover our stylish collection of day dresses, perfectly paired with a rock n roll biker jacket. New Look have taken their inspiration straight from the catwalk, incorporating cutting edge trends into their dress design, ensuring your style is effortlessly contemporary, both fashionable and classic. Whether you're after a prom dress or a hip skater dress, New Look's exclusive range brings you fashion that's affordable and unique.
Complete your look with complete style inspiration from New Look's fashion experts at NL Daily.
---