Web typography
Cross-browser kerning-pairs & ligatures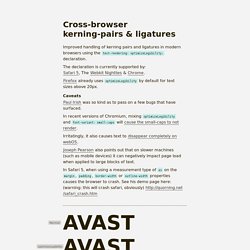 Improved handling of kerning pairs and ligatures in modern browsers using the text-rendering: optimizeLegibility; declaration. The declaration is currently supported by: Safari 5, The Webkit Nightlies & Chrome.
CSS3 Transforms & @font-face Experiment | neography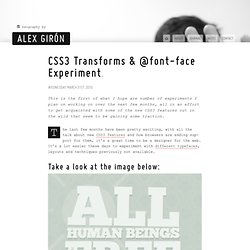 Wednesday, March 31st, 2010 This is the first of what I hope are num­ber of exper­i­ments I plan on work­ing on over the next few months, all in an effort to get acquain­ted with some of the new CSS3 fea­tures out in the wild that seem to be gain­ing some traction.
Proggy Programming Fonts
Web Typography with CSS3