WAI
Below are some useful tips and links that can help to make your site accessible by all browsers, and better in general. This is not meant to be a complete guide to HTML, just a look at web design from an accessibility point of view. I have tried whenever possible to provide links to sites with more indepth information than what is here- please let me know of any sites that would enhance the usefulness of any of the sections below, or if I have missed any important topics in accessibility . Remember when reading this page that the advice provided is as general and thorough as possible to make it the most useful to the most readers. When enhancing the accesibility of your site, make sure to consider any special needs of your site, as well as the intended audience and available time and skill.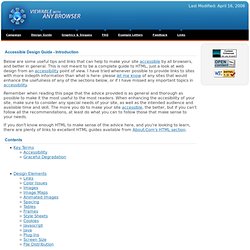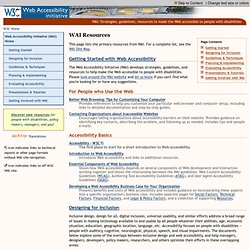 This page lists the primary resources from WAI. For a complete list, see the WAI Site Map . Getting Started with Web Accessibility The Web Accessibility Initiative (WAI) develops strategies, guidelines, and resources to help make the Web accessible to people with disabilities. Please look around the WAI website and let us know if you can't find what you're looking for or have any suggestions. For People who Use the Web
WAI Resources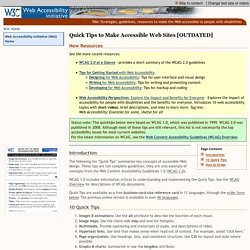 See updated Web Accessibility QuickTips: WCAG 2.0 at a Glance Status note: These quicktips were based on WCAG 1.0, which was published in 1999. WCAG 2.0 was published in 2008. Although most of these tips are still relevant, this list is not necessarily the top accessibility issues for most current websites. For the latest information on WCAG, see the Web Content Accessibility Guidelines (WCAG) Overview .
WAI, Quick Tips to Make Accessible Web Sites