UBUNTU
Ubuntu Buzz ! : Unofficial Ubuntu Blog
The latest popular internet browser firefox 27 has been released. With a tagline "Proudly non-profit, Innovating for you, Fast, flexible,secure" Firefox 27 come with several bug fix, the complate list you can find in : Firefox 27 the change log What's New ? trought Mozilla Firefox official bog, Firefox adds new social partners, new providers you can integrate with Firefox include delicious and Saavn. Firefox is built for how you use the Web and we've been working on ways to expand our social integration in Firefox to quickly and easily connect you with your friends and family.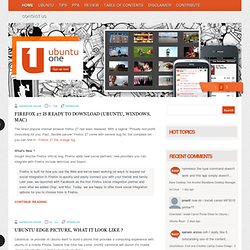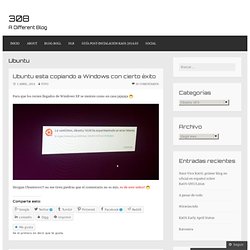 Para que los recien llegados de Windows XP se sienten como en casa jajajaja XD Hoygan Ubunteros!!! no me tiren piedras que el comentario no es mío, es de este señor! XD Me gusta:
Ubuntu « Deb Linux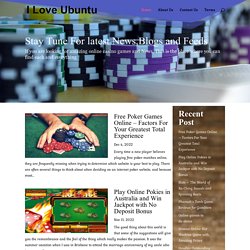 Cycles ago, the developers moved the app menus from within the app windows to the Unity panel, feature labeled as appmenu or global menu. Yet, since the appmenu implementation, various users have expressed demands for a within-windows menu, in order to easily access the menu. If you have been using the appmenu and you are still uncomfortable with it, then you are to welcome the newly-arrived in-window titlebars, new menus landed in Ubuntu 14.04 via the regular updates.
Gnome-Pie | Simon Schneegans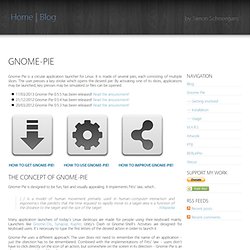 Gnome-Pie is a circular application launcher for Linux. It is made of several pies, each consisting of multiple slices. The user presses a key stroke which opens the desired pie. By activating one of its slices, applications may be launched, key presses may be simulated or files can be opened.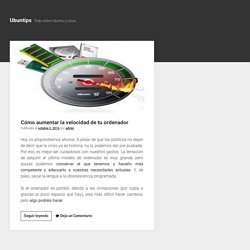 Ha sido liberada Snowlinux 3 "Crystal" en su versión XFCE, basada en Linux Debian 6 "Squeeze" Stable y 100% compatible con los repositorios de Debian. Entre las novedades más importantes podemos citar: Continuar leyendo Se encuentra disponible la versión 1.5.11 de Wine, aplicación que permite la ejecución de programas de Windows en GNU/Linux. Recién hace unas horas han subido los paquetes al PPA, por lo que ya podemos instalar o actualizar a Wine 1.5.11 por esta vía
Ubuntips | Ubuntu, Software Libre y algo más...
Ubuntued
Artwork for Ubuntu - Ubuntu-Art.org
La mayoría de nosotros recurrimos a Internet para realizar compras de los artículos que deseamos, ya sea porque no lo localizamos en nuestra ciudad, se encuentra descatalogado, o incluso porque podemos encontrarlo a un precio más interesante. En otras ocasiones hacemos uso de la red para cosas tan diferentes como informarnos de cursos de formación disponibles, compartir coche en un viaje o encontrar a gente para nuestro equipo de fútbol.
Nosinmiubuntu | Ubuntu en concreto, GNU/Linux en general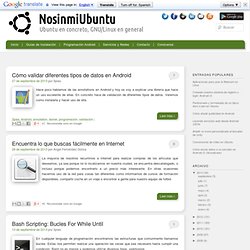 Slice of Linux
Cesarius Revolutions | Cibercultura, GNU/Linux y Software Libre
XAMPP es un servidor, para desarrollar aplicaciones en php, con conexión a base de datos sql (LAMPP= Linux + Apache + MySQL + PHP + Perl) XAMPP es una forma fácil de instalar y utilizar la distribución Apache que contiene MySQL, PHP y Perl. Es realmente simple de instalar y usar, pero hay que tener en cuenta que no está desarrollado para su uso en producción (lo veremos al final de la guía). Tiene licencia GNU y es multiplataforma, teniendo en estos momentos versiones para: GNU/Linux, Win2, Mac Os X y Solaris. Página oficial: http://www.apachefriends.org/es/xampp.html Aquellos que quieran instalar Xampp 1.8.0, pueden ver la siguiente guía, que ya hice hace algún tiempo:http://www.ubuntu-guia.com/2011/07/instalar-xampp-en-ubuntu.html
ubuntu-guia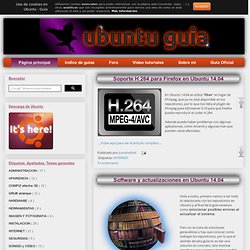 Quien no conozca popcorn time es que ha estado desconectado de la red últimamente. Es una aplicación que permite hacer streaming de torrents y funciona de manera similar a netflix por ejemplo: Una forma de ver cine a la carta. No entraré en terminos de si es legal o no legal en tu país. El proyecto fue desarrollado por dos programadores argentinos y a los pocos dias cancelado, sin embargo ya hay forks del codigo disponibles. Si queremos instalarlo en ubuntu, hay binarios en esta pagina o podemos hacer uso de un script de Web Upd8 que nos permite traer y compilar la ultima versión disponible del mismo (aparte de instalar las dependencias necesarias para su funcionamiento). Para ello, descargamos el script: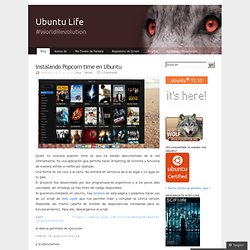 Laptop Mode Tools is a package that allows you to extend the battery life of your laptop by enabling the Laptop Mode Linux kernel feature along with other power-related tweaks. This was a command line only tool until version 1.64, which introduces a GUI that lets you toggle individual power saving modules. The new GUI configuration tool isn't exactly pretty as you can see in the screenshot below, but it's definitely an useful addition because it no longer requires users to work with various configuration files.