Typography
Verlag, the affable Modernist.
Verlag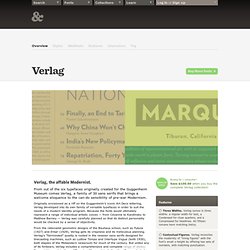 TypeDrawing originally started with online project in Jan 2005. Since then, a number of users have made fun and arty drawings using this program. Also, TypeDrawing has been featured on various famous websites like theFWA, and won several awards such as from FlashForward.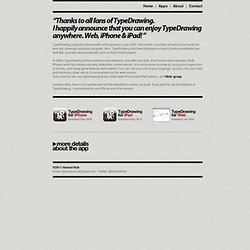 TypeDrawing - Hansol Huh
FontEditor BitfontMaker
Dingbats
Store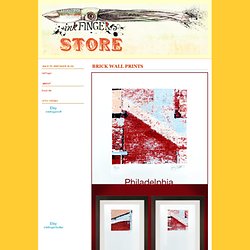 *SOLD OUT- CLICK EACH PORTRAIT TO SEE A LARGER VERSION (if you see nothing click here for an animated gif) It took me a little while but I have finally gotten these portraits done. This is a series of 4 sort-of-blind-contour drawing prints. That means whenever the pen was moving I wasn't looking but I DID look many times to place the pen down on the page in a new (and better) position. I realized this was the only way I could draw a reasonably good portrait. Anyway, I'm pretty happen with the results.
NEWS : L I S A >> R I E N E R M A N N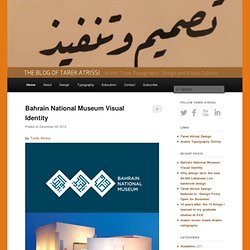 | Arabic Type, Typography, Design and Visual Culture: The Blog of Tarek Atrissi
By Tarek Atrissi It is hard to believe that it has been 10 years since I graduated from SVA, the School of Visual Arts in New York. In 2003, I earned my MFA in Design after two years of graduates studies at the MFA Design program of one of most prestigious art schools in the United States. So much happened in my life and career afterwards, and the program had so much positive influences on my growth as a person and as a designer in so many aspects. Ten years after, I look back at this wonderful educational experience at SVA to pick the most important 10 things I learned at the "Designer as Author" program.
untitled
I Love Typography: The Rather Difficult Font Game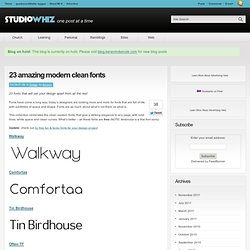 On 04.01.09, In Design, by Keranm 23 fonts that will set your design apart from all the rest Fonts have come a long way, today's designers are looking more and more for fonts that are full of life, with subtleties of space and shape.
23 amazing free modern clean sans serif fonts for designers on studiowhiz.com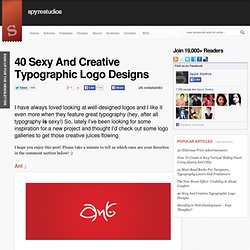 I have always loved looking at well-designed logos and I like it even more when they feature great typography (hey, after all typography is sexy!) So, lately I've been looking for some inspiration for a new project and thought I'd check out some logo galleries to get those creative juices flowing. I hope you enjoy this post! Please take a minute to tell us which ones are your favorites in the comment section below! :) Ant ↓