Twitter and WikiLeaks - subpoena
WIKILEAKS: Australians Call For Legislation to Protect Whistleblowers
SYDNEY, Mar 23, 2011 (IPS) - Some Australians are convinced their government is sharing intelligence information with foreign powers about citizens implicated by documents released by Wikileaks. The government's refusal to acknowledge any hand in the case against Wikileaks' Australian founder Julian Assange has earned the ire of students, academics, lawyers, journalists, and teachers, plus members of the community who are supporting Assange and free speech. "The Australian government, like other western governments, is increasingly involved in activities which its citizens would renounce if they knew of them," Julian Burnside, a human rights and refugee advocate here, told IPS. Assange has accused Prime Minister Julia Gillard of swapping information about Australians with foreign countries - particularly those who work with Wikileaks.
Brussels plenary session 23-24 March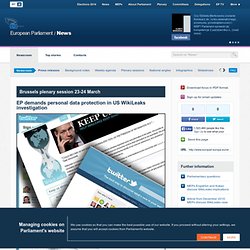 On 23 March MEPs asked the Commission and the Council about the implications for EU citizens of a US court order obliging Twitter to hand over personal data, messages and communications of users considered to be related to WikiLeaks.
Posted on 29 March 2011. Not satisfied with the court's decision that it has to turn over account details of three of its users to the US Department of Justice, three Twitter users have filed a motion to overthrow the decision made by US Magistrate Judge Theresa Carroll Buchanan of the Eastern District of Virginia on March 11. The users in question are American security researcher Jacob Appelbaum, Icelandic politician Birgitta Jonsdottir and Dutch computer programmer Rop Gonggrijp. They are believed to be (or have been) in contact with WikiLeaks, and the US government is trying to find out details about their possible involvement with the release of the US diplomatic cables, Wikileaks founder Julian Assange and/or Bradley Manning, the military analyst that has allegedly shared the cables with WikiLeaks.
Lawyers appeal Twitter data handover decision in WikiLeaks case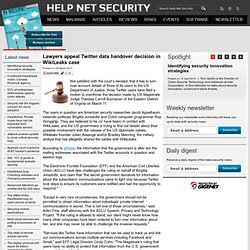 The government should be required to obtain a search warrant to get the IP addresses of Twitter users linked to WikiLeaks, argues a court brief filed Thursday by a group of respected security experts who say the addresses carry a higher expectation of privacy than mere phone numbers. The amicus brief, filed in the U.S. District Court in Alexandria, Virginia, argues that IP addresses, like cellphone location data, can reveal a lot about a person's movement, activities and even associations, and therefore should enjoy a higher degree of protection than phone numbers. (.pdf) The brief was filed by Steve Bellovin, computer science professor at Columbia University; Matt Blaze, computer science professor at the University of Pennsylvania; Peter Neuman, principal scientist at SRI International; Bruce Schneier, chief security technology officer at BT; and others.
Top Computer Scientists Back WikiLeaks Associates in Twitter Case | Threat Level
Computer experts back appeal in Twitter-Wikileaks case
Posted on 01 April 2011. A number of respected security experts have decided to formally speak up in favor of the appeal that lawyers have filed against the Twitter data handover decision in WikiLeaks case, so they filed an amicus brief - a legal opinion that could influence the court's final decision - stating that they think the government needs to obtain a search warrant if they want to get the IP addresses of the Twitter users linked to WikiLeaks. The brief was filed in the U.S. District Court in Alexandria, Virginia, by Steven Bellovin, computer science professor at Columbia University; Peter Neumann, Principal Scientist at the SRI International Computer Science Laboratory; Bruce Schneier, Chief Security Technology Officer at BT; Susan Landau, a fellow at the Radcliffe Institute for Advanced Study at Harvard and former Sun Microsystem engineer; and others.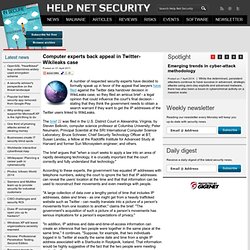 Datacide 11 – Political news compiled by Nemeton | Datacide
The WikiLeaks-related Twitter subpoenas were a United States Department of Justice subpoena accompanied by a national security letter issued to Twitter in relation to ongoing investigations of WikiLeaks issued on 14 December 2010.[1][2] While only five people were individually named within the subpeona, according to lawyer Mark Stephens the order effectively entailed the collection in relation to criminal prosecution of the personal identifying information of over six hundred thousand Twitter users, principally those who were followers of WikiLeaks.[1][2][3][4] The U.S. government also sent Twitter a subpoena for information about Julian Assange and several other WikiLeaks-related persons, including Chelsea Manning (then known as Bradley).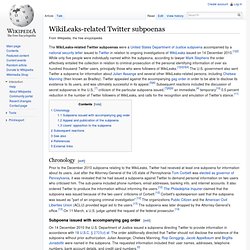 Twitter subpoena
US wants Twitter details of Wikileaks activists
8 January 2011Last updated at 13:09 ET Wikileaks founder Julian Assange is currently fighting extradition from the UK to Sweden The US government has subpoenaed the social networking site Twitter for personal details of people connected to Wikileaks, court documents show. The US District Court in Virginia said it wanted information including user names, addresses, connection records, telephone numbers and payment details.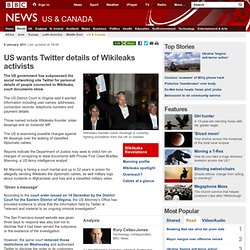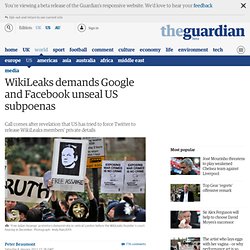 'Free Julian Assange' protestors demonstrate in central London before the WikiLeaks founder's court hearing in December.
WikiLeaks: Too late to unfollow; tric
WikiLeaks: WARNING all 637,000 @wikil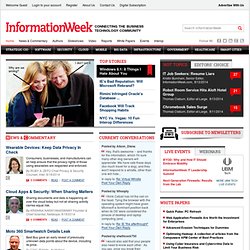 Twitter Court Order Could Turn Off Followers
Every so often We the People get one of those wakeup calls that shines a light on the fact that what we say and do on the Internet can and will be used against us. Such an alert came this week with the revelation that the US government issued a court order to Twitter, demanding account information for people associated with WikiLeaks, like Julian Assange, the site's founder, and others. More startling (for those in the crowd still capable of being startled by the feds), is that the government also requested a list of every user following WikiLeaks on Twitter. Would that include you? I personally lifted an eyebrow upon realizing I'd be on that list and seeing this Tweet from WikiLeaks: "WARNING all 637,000 @wikileaks followers are a target of US gov subpoena against Twitter." WikiLeaks then followed that with: "Too late to unfollow; trick used is to demand the lists, dates and IPs of all who received our twitter messages."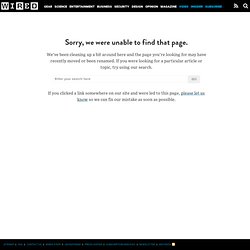 ANALYSIS: Twitter introduced a new feature last month without telling anyone about it, and the rest of the tech world should take note and come up with its own version of it. Twitter beta-tested a spine. On Friday, it emerged that the U.S. government recently got a court order demanding that Twitter turn over information about a number of people connected to WikiLeaks, including founder Julian Assange, accused leaker Pfc. Bradley Manning, former WikiLeaks spokeswoman Birgitta Jonsdottir and WikiLeaks activist Jacob Appelbaum. The request was approved by a magistrate judge in Alexandria, Virginia, where a federal grand jury is looking into charges against WikiLeaks related to its acquisition and publishing of U.S.-government classified information.
Why Twitter Was the Only Company to Challenge the Secret WikiLeaks Subpoena
Alexander Macgillivray" />Secret subpoenas* information requests of the kind the Department of Justice sent Twitter are apparently not unusual. In fact, other tech companies may also have received similar WikiLeaks-related requests. But what is unusual in this story is that Twitter resisted. Which raises an interesting question: Assuming that Twitter was not the only company to have been served a secret subpoena order, why was it the only company that fought back?
Twitter Must Give User Info in Wikileaks Probe
Post Tech - Federal judge denies bid of three linked to Wikileaks to keep Twitter information secret