TW - Boutons pour Twitter
TwitThis - Twitter Promoter, Follower, and URL Shortening Servic. Rick's HideOut – Twitter for WordPress. Twitter for WordPress displays yours latest tweets in your WordPress blog.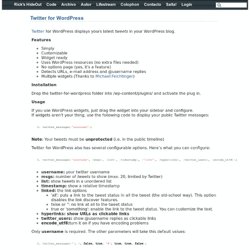 Features Simply Customizable Widget ready Uses WordPress resources (no extra files needed) No options page (yes, it's a feature) Detects URLs, e-mail address and @username replies Multiple widgets (Thanks to Michael Feichtinger ) 30+ Twitter Icons für Websites | Downloads, Icons, Twitter | Dr. Wer noch keinen Vogel hat, lädt sich halt einen runter.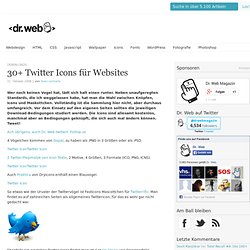 Neben unaufgeregten Standards, die ich weggelassen habe, hat man die Wahl zwischen Knöpfen, Icons und Maskottchen. Vollständig ist die Sammlung hier nicht, aber durchaus umfangreich. Vor dem Einsatz auf den eigenen Seiten sollten die jeweiligen Download-Bedingungen studiert werden. 30 Free Vector Twitter Buttons | Siah Design. Get Free Twitter Buttons - Great for a Blog, Forum, or Website. Twitter My Site - Get customized buttons for Twitter. Twitterati Badge. Here's an example from Case-Hardened JavaScript, the Twitterati badge.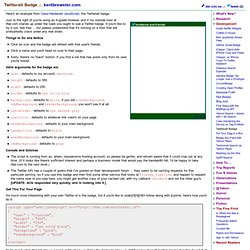 Just to the right (if you're using an A-grade browser, and if my outside host at r8ar.com stands up under the load) you ought to see a Twitter badge. If you'd like to try it out, feel free ... but please understand that it's running on a host that will undoubtedly crack under any real strain. Things to Do and Notice. Twitter multi follow. Plus de 200 000 icônes gratuites sur Icones.pro !
---