Twitter (TW)
(english below)
Bienvenue dans cette équipe Twitter ! Si vous voulez alimenter ce Pearltree, je vous demanderais de respecter la structure de base suivante :
- ce qui sert à utiliser Twitter globalement : clients twitter, services pour habiller le compte ou encore pour sauvegarder les tweets ;
- ce qui sert pour la publication : raccourciceurs d'URL, suivi et gestion de tweets ;
- ce qui sert pour gérer et développer ses contacts sur Twitter (y compris pages de conseils pour le faire) ;
- faire de la veille avec Twitter (outils, conseils).
Pour le reste il n'y a pas vraiment d'organisation, les pearls ayant été créées au fur et à mesure des découvertes.
Merci.

English version :
Welcome in this "Twitter" team ! If you wish to participate, please feel free but respect this basic structure :
- what is devoted to the use of Twitter "in general" : Twitter clients, tweets back-ups, help to change the aspect of a Twitter account ;
- what is devoted to the use of tweets : URL shorteners, tweet scheduling, etc. ;
- what is devoted to help find new contacts and manage them ;
- how to use Twitter to get informed and find informations.
Many other pearls do not suit this basic organization, feel free to organize and review them. Feel free to create new ones but please I would rather prefer that you do it in french :)
Thank you. castorp Mar 21
Android Ainol 8 Items, 2 Members Ainol make a tablet PC android with OS 4.1 jellybean, now What is a Jelly Bean? Perhaps the name sounds strange, but in fact it is a system on the Android 4.0 Ice Cream Sandwich (ICS), but I say if OS Party Jelly Bean is still in the development stage, but can still be accessed on the official si...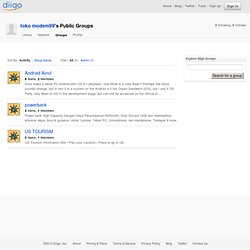 toko modem99's Groups
Profil Saya
Get/grow/gain/exchange/boost FREE Facebook likes, Country Targeted Facebook Likes, Facebook Shares, Facebook Photo Likes, Twitter Followers, Retweets, Google Plus Ones (+1), YouTube Views, YouTube Likes, YouTube Favorites, YouTube Subscribes, Linkedin shares, Digg followers, Digg Shares, MySpace Friends, SoundCloud shares, ReverbNation Fans, Free Pinterest Followers and Pins (Pin it), Banner impressions, Reciprocal backlinks, Website views, traffic and earn money while doing it. We allow you to pick and choose who you want to follow, like, friend, view, share, subscribe or visit and skip those who you're not interested in. With this tool you can also GET MORE REFERRALS on other Social Exchangers FOR FREE. You can also buy similar social exchanger script or similar page already running online... Facebook and Google contest fro ours users. We abide by Twitter's Rules and Facebook's Policies.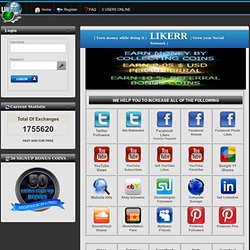 Castworp on TW
Language: English Bahasa Indonesia Bahasa Melayu
TW - Mieux utiliser son compte Twitter
TW - Logiciels pour mieux utiliser Twitter
TW - sites pour mieux utiliser Twitter
TW - Habiller son compte Twitter
TW - Annuaires de sites pour Twitter
TW - Tweeter - publier/republier sur TW
TW - raccourciceurs d'URL
Publication d'images sur Twitter
TW - Plannification envoi de tweet
TW - Développer ses contacts
TW - Gérer ses abonnés/abonnements
TW - Faire de la veille avec Twitter
TW - Intelligence collective (Q/R)
TW - Sites faisant un tri dans les Tweets
TW - Evaluation/popularité sur Twitter
TW - Geolocalisation et Twitter
TW - Pub - argent sur Twitter
TW - Visualiser les Tweets autrement
TW - Faire des sondages sur Twitter
TW - Conseils et analyses sur Twitter
TW - Twitter en entreprise
TW - En savoir plus sur Twitter
TW - Utile/futile Twitter
TW - #fail : services qui ne marchent plus