Webmaster
Comment gérer automatiquement un compte Twitter. Twittrd.ericson.net: My Foursquare | Display your Foursquare badges, mayorships & checkins. Driven by Facebook and Twitter, time spent on social networks so. Between December 2008 and 2009, the total time spent on social networks rose by a massive 82% -- from an average of three hours a month, to almost six!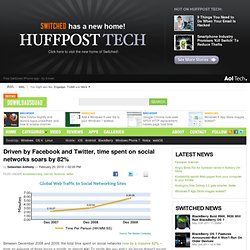 To nerds like you and I, six hours doesn't sound like a huge amount, but when you figure in the 'casuals' that bring the average down -- like your grandmother -- it's a little scary. And it's all because of darned Twitter and Facebook! Twitter follow stats, graphs and widgets | Twitter Counter. Tweet My design - Promote your design and your Twitter. Get Twitter Splitter. Twitter Widget : Twitter Tool : Update Twitter : Embed On Your W. TweetEffect. 139 Ressources Javascript et jQuery.
Twit2Tel.com. NKM pour «des règles du jeu transparentes» sur le web #grandempr. Un twitter sachant tweeter est un ... Vous êtes de plus en plus nombreux à utiliser Twitter, à tweeter comme on dit dans le jargon, mais nombreux sont ceux qui buttent encore devant l'interface ou qui ne savent pas par quel "bout" commencer.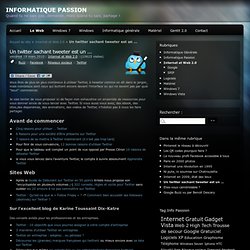 Je vais tenter de vous proposer ici de façon non exhaustive un ensemble de ressources pour vous donner envie de vous lancer avec Twitter. Si vous aussi vous avez, des ebook, des sites,des diaporamas, des animations, des vidéos de Twitter, n'hésitez pas à nous les faire partager. Avant de commencer. Twitter Friends & Followers Widget - A jQuery Plugin! There is a Facebook fans widget, Google friends widget, what about a Twitter friends widget?!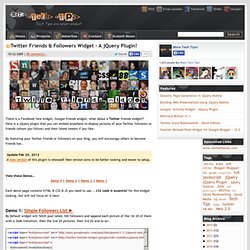 Here is a jQuery plugin that you can embed anywhere to display pictures of your Twitter followers or friends (whom you follow) and their latest tweets if you like. By featuring your Twitter friends or followers on your blog, you will encourage others to become friends too.. Update Feb 20, 2012 A new version of this plugin is released!
---