Best Choices
Twtebook: Partager, lire et télécharger les livres sur Twitter
Twtebook est une application qui permet aux utilisateurs de ce réseau de partager leurs ebooks préférés .
Twables: The Twitter Application Platform
Twopcharts
Information Architects — Web Trend Map 4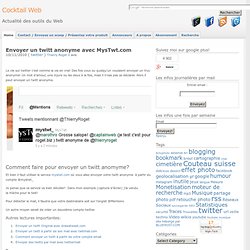 Le vie sur twitter c'est comme la vie en vrai! Des fois vous ou quelqu'un voulaient envoyer un truc anonyme! Un mot d'amour, une injure ou les deux à la fois, mais il n'ose pas se déclarer. Alors il peut envoyer un twitt anonyme. Et bien il faut utiliser le service mystwt.com où vous allez envoyer votre twitt anonyme à partir du compte @mystwt_
Envoyer un twitt anonyme avec MysTwt.com
85 Twitter Tools | The Daily Anchor
Here's a look at some of the tools that have been feeding my Twitter addiction, and some other highly-recommended tools that I'll be checking out this week. As Twitter co-founder Jack Dorsey said in our meeting last week, the strength of Twitter lies in its open API and 3rd party tools; the platform itself is incredibly simple. If you're looking to get the most out of Twitter, these tools will help you do just that.