[+]Twıtter
Top Twitter Apps and websites
[+]Security. Twitter. @twıtterstorıes. 2010 Year in Review. Twitter's 2011 Year in review. Golden Tweets 2012. 2013 Year on Twitter. Twitter Translation Center. We're looking for translators in: Afrikaans, Albanian, Arabic, Basque, Belarusian, Bengali, Bulgarian, Catalan, Croatian, Czech, Danish, Dutch, English (UK), Farsi, Filipino, Finnish, French, Galician, German, Greek, Hebrew, Hindi, Hungarian, Indonesian, Irish, Italian, Japanese, Kannada, Korean, Kurdish (Central), Kurdish (Northern), Latin, Latvian, Lolcat, Malay, Norwegian, Polish, Portuguese (Brazil), Romanian, Russian, Serbian, Simplified Chinese, Slovak, Spanish, Swedish, Tamil, Thai, Traditional Chinese, Turkish, Ukrainian, Urdu, Vietnamese, and Welsh.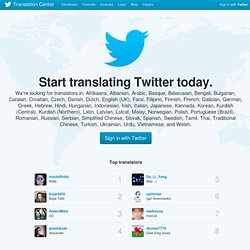 [+]FunStuff. [+]Wıdget. [+]Sharing. [+]Followers & Followıng. [+]Stats. [+]Search. [+]Clıent. [+]Vısual.
---
criativos_by_silviobraz Aug 11 2011

like firefox ... although sometimes slow ... but if there was another .. thanks Phillip Benages
a hug! silviobraz

rabidmuskrat Aug 11 2011

Already using firefox. I suppose I could try some other browsers though...

criativos_by_silviobraz Aug 10 2011

use mozilla firefox can give to solve ...

rabidmuskrat Aug 10 2011

logged off and logged back in, same problems. :-/

heikoidensen Aug 9 2011

: I wonder - perhaps you try to logoff and than login again - your*re to be a regular member of this group :-)

rabidmuskrat Aug 8 2011

Ok, I can't seem to add anything at all. Was I booted off this team?

rabidmuskrat Aug 1 2011

I'm seeing some odd behavior here. I'm suddenly not able to create new subpearltrees, and the team twitter pearl seems to be pearl of it's own tree. Anybody else seeing this?

captainblighty Jul 27 2011

This team is growing bigger every day

Francois Jul 26 2011

Yes, you can create some subpearltrees (click the button "new pearltree" at the bottom left of your account) and classify all those by categories. Hope it helps!

rabidmuskrat Jul 22 2011

I was invited to work on this tree but currently we're out of space. Any ideas on how we would restructure this so that we can keep it growing?
---