Vray
Le Blog des Tutos Vray et 3dsMax en français par mattguetta. Presenting a Brand using 3ds Max. When designing an identity and brand materials for a client, good presentation is crucial!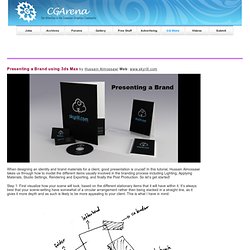 In this tutorial, Hussain Almossawi takes us through how to model the different items usually involved in the branding process including Lighting, Applying Materials, Studio Settings, Rendering and Exporting, and finally the Post Production. So let's get started! Step 1: First visualize how your scene will look, based on the different stationary items that it will have within it. It's always best that your scene-setting have somewhat of a circular arrangement rather then being stacked in a straight line, as it gives it more depth and as such is likely to be more appealing to your client.
Vray for 3d Studio Max Tutorials | The importance of true high dynamic range in HDRI maps. The dynamic range of a HDRI map is usually expressed in number of EV's or F-stops.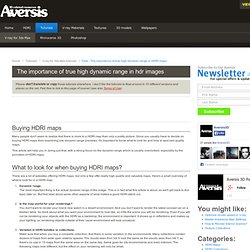 EV stands for exposure value, and 1EV corresponds to one full stop of light on a camera. For example going from 1/400s exposure time to 1/200s, is going up one full stop, or 1EV. The number of EV's is not directly related to the number of pictures that are used to create the HDRI map. Vray for 3d Studio Max Tutorials | Vray Basic material settings.
So we loaded a hdri map in the vray reflection environment slot.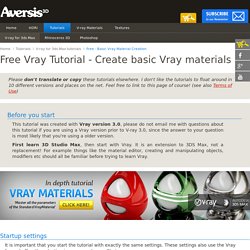 Hit render and look at the result. The reflections look very strong! Actually the material didn't become more reflective, it just got a complete environment to reflect so the reflections are simply more prominent now! Our material has a medium grey reflection color, which means about 50% reflection strength, this is actually a lot. Refraction Layer - VRay for Rhino Manual. VRay for Rhino Manual Refraction Layer Open file: Cups-Refraction Original.3dm.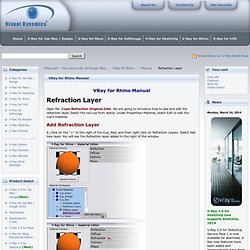 We are going to introduce how to add and edit the refraction layer. Select the red cup from above.
---