Syrie
Senators: U.S. Forces at Risk Due to Syrian Chemical Weapons - DOTMIL
Several senators are raising concerns that unrest in Syria could allow that nation's chemical and other weapons to be used against U.S. forces and allies in the region. "The growing breakdown of order and security in Syria could place its significant stockpiles of poison gases and operational chemical weapons at risk," Maine Republican Susan Collins, New York Democrat Kirsten Gillibrand, and New Hampshire Democrat Jeanne Shaheen wrote in a February 17 letter to Secretary of State Hillary Clinton. DOTMIL obtained a copy of the letter. [See pictures of the violence in Syria] The senators want the Obama administration to spell out the planning it has done to prepare for and "address" the potential that the Assad regime's stockpiles of chemical weapons might go missing.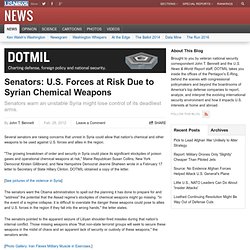 By: Rakan al-Fakih TRIPOLI – When 10-year-old Khaled awoke at Tripoli Public Hospital over the weekend, he had been unconscious for two days and he was missing a leg. A missile hit his home near Homs 17 days go, but it took him two weeks to make it to a hospital.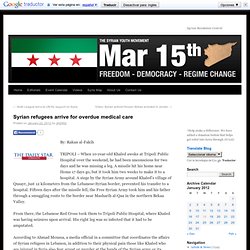 Syrian refugees arrive for overdue medical care |
Telecomix Web IRC (qwebirc)
Telecomix | Hacking en Syrie | RéZoCitoyen
Message from Anonymous: Operation Syria
Anonymous | Syrie (Suriyah / سوريا)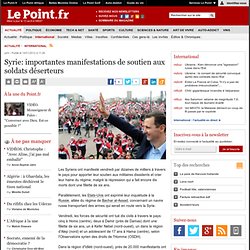 Syrie: importantes manifestations de soutien aux soldats déserteurs
Les Syriens ont manifesté vendredi par dizaines de milliers à travers le pays pour apporter leur soutien aux militaires dissidents et crier leur haine du régime, malgré la répression qui a fait encore dix morts dont une fillette de six ans. Parallèlement, les Etats-Unis ont exprimé leur inquiétude à la Russie, alliée du régime de Bachar al-Assad, concernant un navire russe transportant des armes qui serait en route vers la Syrie. Vendredi, les forces de sécurité ont tué dix civils à travers le pays: cinq à Homs (centre), deux à Damir (près de Damas) dont une fillette de six ans, un à Kefer Nebel (nord-ouest), un dans la région d'Alep (nord) et un adolescent de 17 ans à Hama (centre), selon l'Observatoire syrien des droits de l'Homme (OSDH).
Facebook
L'émir du Qatar est favorable à l'envoi d'une force arabe en Syrie
Le Monde.fr avec AFP et Reuters | • Mis à jour le La Ligue arabe devrait "étudier" l'idée d'envoyer de troupes en Syrie, évoquée par l'émir du Qatar, affirme, dimanche 15 janvier, Amr Moussa, ex-chef de l'organisation panarabe et candidat à la présidentielle égyptienne. "C'est une proposition très importante.