PROTESTERS FB GROUPS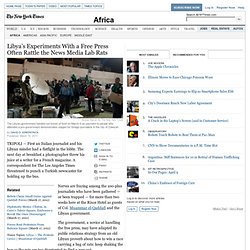 Libya Free Press Experiments Often Jar News Media Lab Rats
Moises Saman for The New York Times The Libyan government handed out boxes of food on March 9 as payment to people who attended a pro-government demonstration staged for foreign journalists in the city of Zawiyah. Nerves are fraying among the 100-plus journalists who have been gathered — or been trapped — for more than two weeks here at the Rixos Hotel as guests of Col. and the Libyan government. The government, a novice at handling the free press, may have adapted its public relations strategy from an old Libyan proverb about how to win a race carrying a bag of rats: keep shaking the bag so the rats are too disoriented to find a way out.
Kadhafi Infrastructure
#OpLibya : Chat on OpLibya IRC channel
Frequences to jam / protesters request.
Libyan Youth Movement | Facebook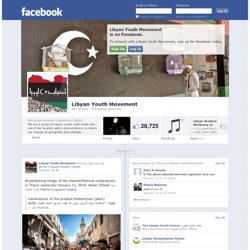 Statement by the Libyan Youth Forum and the Libyan Youth Movement for the immediate release of the mass civilians being held hostage in Zintan; 01/11/2014 Armed gang hold up to 30 people including elderly hostage in Zintan With the deter...iorating security situation, every day security breaches, torture, killings and kidnappings of civilians in Libya. Today, after 11:30 am in the Beer Ayat Checkpoint, approximately 15 km from Yefren, Western Mountains up to 30 people, the largest number of civilian to date were taken hostage at gun point these include elderly, with reports of one civilian of 65 years old and those in need of medical attention. These civilians were on route to there family homes today in the villages in the Western Mountains including Yefren and Al Qalaa to spend time with their families in preparation for the national public holiday to celebrate the birth of Prophet Mohammed.