PROTESTERS FB GROUPS
Libya Free Press Experiments Often Jar News Media Lab Rats. Moises Saman for The New York Times The Libyan government handed out boxes of food on March 9 as payment to people who attended a pro-government demonstration staged for foreign journalists in the city of Zawiyah.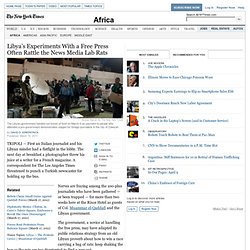 Nerves are fraying among the 100-plus journalists who have been gathered — or been trapped — for more than two weeks here at the Rixos Hotel as guests of Col. and the Libyan government. The government, a novice at handling the free press, may have adapted its public relations strategy from an old Libyan proverb about how to win a race carrying a bag of rats: keep shaking the bag so the rats are too disoriented to find a way out.
Kadhafi Infrastructure. #OpLibya : Chat on OpLibya IRC channel. Frequences to jam / protesters request. Libyan Youth Movement.
---