TUMBLR world
get crunchy
COULEURS
Ne t'arrête pas de respirer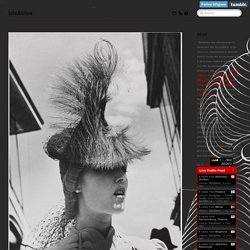 Notes: 12 / 5 days ago favorite #sunset spot (at Beogradska tvrđava | Belgrade Fortress) Notes: 585 / 2 months ago from bookmarklet Gerhard Riebicke, Gieb acht, mein lieber Jägermann,13/10/1934Sports photographer from Berlin known especially from the nudes from the film "Wege zu Kraft und Schönheit" (1925). In 1940 large parts of his archives were destroyed during a bombing. Vintage Riebicke prints have become very rare. He was the most important sport, dance and nudism photographer in Germany between 1925 and 1935.
bits&bites
==D~~~~
Dark Silence In Suburbia
Sorry na…Pero I'm really a fan of them. haha :DI don't know but whenever I see this two together KINIKILIG ako.Feeling ko in love na rin ako. Maybe because feeling ko pareho kami ni Kim ng pinagdaanan. (feeling ko lang yun) haha :D And seeing her finally moving on and having Xian in her life, ehh sobrang natutuwa ako.Kahit na pang-love team lang sila o for real, the two of them gives me hope and made me realize na we should not give up on love. :)Praying and waiting to find my own Xian in God's time. Yung ganyan din tumitig at mag-alaga sa babae.Sa ngayon sila muna ang nagpapa-kilig sakin at si God.
grayriver.tumblr
La Muse Verte
› French town probes 'second' Lascaux cave - The Local archaeology: Authorities in the southwestern French town of Montignac are investigating the extraordinary possibility that, just 4km from the famous Lascaux caves, there may exist another set of prehistoric paintings hidden away in a separate underground cavern.The rumours of a second cave covered in pre-historic artwork have been circulating for years, but it appears local authorities are now ready to take them seriously after one local family shared an extraordinary secret they had kept to themselves for half a century.According to French media reports this week, preliminary investigations by the town's mayor, as well as authorities in the Dordogne region, have proved promising enough to warrant a more detailed probe into a patch of land 4 km from the site of the Lascaux caves.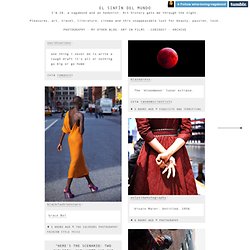 Nabokov hunting butterflies above Gstaad, summer 1971, "as a fat hairless old man in shorts" Hello followers, this is me, the creator, inserting myself Pale Fire-style, into the "narrative." Sorry that this tumblr has been fallow for so long. It's okay if you've totally forgotten you're even following. I should explain why this tumblr even exists. It began as a final project for a memoir class, so it sat in stasis while I waited for it to be graded, and I got distracted by final exams and papers and whatnot.
v. sirin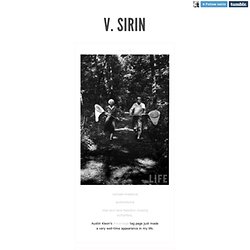 Narcolepsy
reblololo
reblololo.tumblr ⟿ Portfolio Site☺ Facebook Posts:15/45776 Maintained by qubibi namtaf: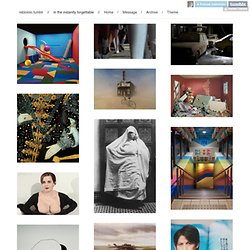 things laid down
dear ada
varia
Pictured above, Robert Duncan (born 7 January 1919; died 3 February 1988), in a 1985 photograph by John Tranter The Temple of the Animals The temple of the animals has fallen into disrepair. The pad of feet has faded.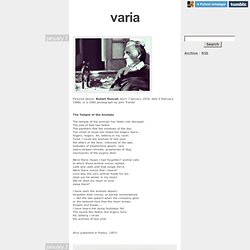 Musiques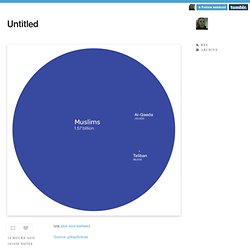 Clara BacouDr. Rosenhan'Dr Rosenhan' is an illustrated short, telling the story of renowned psychiatrist David Rosenhan who was able to demonstrate in his famous social experiment that the medical approach to abnormality is wholly unreliable. He was part of the anti-psychiatry movement who fiercely criticised the medical model during the 1960s.
Ne t'arrête pas de respirer
COULEURS
gh2u
arsvitaest
tongue depressors
Vladimir Nabokov. (Fuck, Yeah.)
Documentary following writer and broadcaster Stephen Smith on the trail of Vladimir Nabokov, the elusive man behind the controversial novel and 1962 film, Lolita. The journey takes him from the shores of Lake Geneva to Nabokov's childhood haunts in the Russian countryside south of St Petersburg to the streets of New York City and a road trip through the anonymous world of small-town America. Along the way Smith meets fellow Nabokov admirer Martin Amis and puts in a cheeky visit to Playboy's literary editor who is publishing an extract of Nabokov's last work.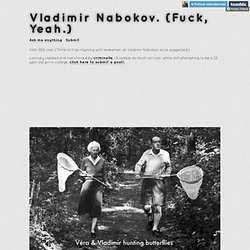 A Writer's Ruminations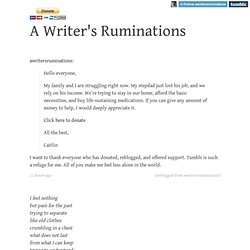 Happy 123rd birthday Zora Neale Hurston (7 January 1891 - 28 January 1960) To work deliberately in the form of the fragment can be seen as stopping or appearing to stop a work closer, in the process, to what Blanchot would call the origin of writing, the centre rather than the sphere. It may be seen as a formal integration, an integration into the form itself, of a question about the process of writing. It can be seen as a response to the philosophical problem of seeing the written thing replace the subject of the writing. If we catch only a little of our subject, or only badly, clumsily, incoherently, perhaps we have not destroyed it. We have written about it, written it and allowed it to live on at the same time, allowed it to live on in our ellipses, our silences.
[...]
Ne t'arrête pas de respirer
decapitate animals