Specific Methods
Are you following unnecessary rules? | The Sparkologist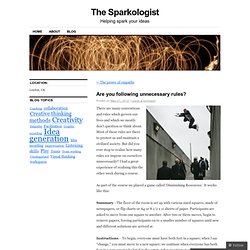 There are many conventions and rules which govern our lives and which we mostly don't question or think about. Most of these rules are there to protect us and maintain a civilised society. But did you ever stop to realise how many rules we impose on ourselves unnecessarily?
The following is a collection of definitions of Appreciative Inquiry which have developed over the years. We invite you to quote these definitions or develop your own. Let us know how people respond to these as you share them with clients, students, colleagues, and inquirers. "Appreciative Inquiry is the cooperative search for the best in people, their organizations, and the world around them. It involves systematic discover of what gives a system 'life' when it is most effective and capable in economic, ecological, and human terms.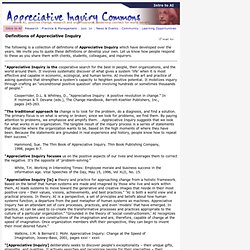 AI Definitions - The Appreciative Inquiry Commons
Participatory Facilitation Techniques | Michelle Laurie rants and raves
A few weeks ago I facilitated a 1.5 day meeting for young leaders on the topic of the Columbia River Treaty (CRT). The CRT is an international agreement between Canada and the United States which governs how water is managed in our region (You can learn more at http://www.cbt.org/crt). The ultimate goal was that young residents in the region are knowledgeable about the CRT and comfortable talking about it as a formal consultation process begins in late spring with the Province of British Columbia.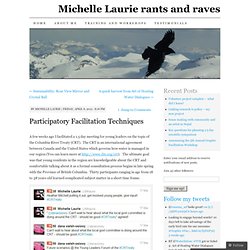 Sandbox | Facilitation
Art of Hosting
Learnings form Civic Engagement An article by Tim Merry exploring participatory leadership, civic engagement, democracy and trust.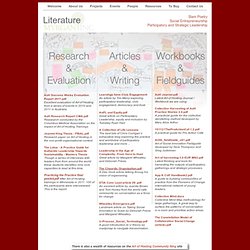 Board Game - BrainTornado
BrainTornado The BrainTornado is a unique brainstorm tool to generate innovative and practical ideas. It is a board game to play with your entire team in a workshop.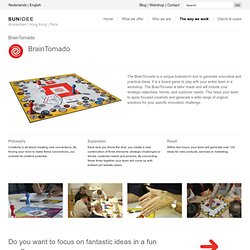 Working with Games- Facilitation Toolkit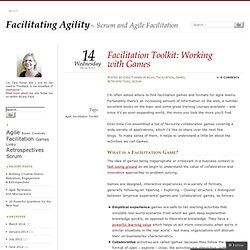 I'm often asked where to find facilitation games and formats for agile teams.
check in, warm ups, icebreakers
CrowdSourcing
Gamification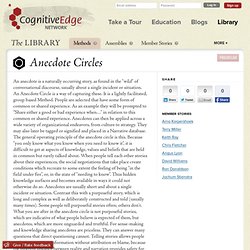 An anecdote is a naturally occurring story, as found in the "wild" of conversational discourse, usually about a single incident or situation. An Anecdote Circle is a way of capturing these.
Anecdote Circles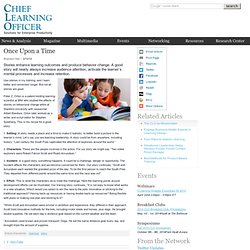 Story telling
Stories enhance learning outcomes and produce behavior change.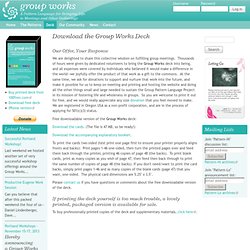 Group Works Deck
Our Offer, Your Response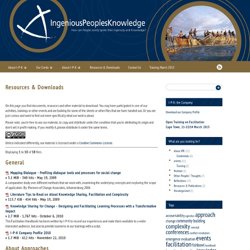 Various specific method resources
On this page you find documents, resources and other material to download. You may have participated in one of our activities, trainings or other events and are looking for some of the sheets or other files that we have handed out.
Idea Generation
Idea Generation with specific novelty goals
In a field experiment with students, we show that a specific, difficult novelty goal, whether presented alone or in conjunction with brainstorming rules, improves novelty and creativity in individuals' idea generation relative to brainstorming rules alone when goal commitment is high. Because creativity is often correlated with idea quantity in brainstorming studies, we controlled for idea quantity in order to demonstrate that the improvement is not due to changes in the number of ideas generated.
C-K Theory, CPS and TRIZ #1
Argenta works with a large, international engineering company to run an Innovation Programme based on developing the ability of their project teams to plan and facilitate problem-solving Boosters. The Booster approach is based on a customised version of CPS (creative problem-solving).